Over Labor Day Weekend we went tent camping at Hot Springs Campground in Hot Springs, NC with friends!
I have seriously been counting down to this trip ever since I stayed up until midnight over a year ago waiting for the campsite reservations to open for LDW. I was super lucky to secure the ginormous riverside group deluxe tent site (F1 if you're trying to book it) for our third annual camping weekend. This was hands down the best campsite we've ever had. Not only was it incredibly spacious, the site included two picnic tables, a fire pit ring, a water spigot, an electrical hook-up, and the best part — it is right on the French Broad River!
Hot Springs Campground was right around a 3-hour drive for us from Charlotte. We arrived early Saturday afternoon and the dads immediately got to work setting up our campsite while the kids played on the riverbank.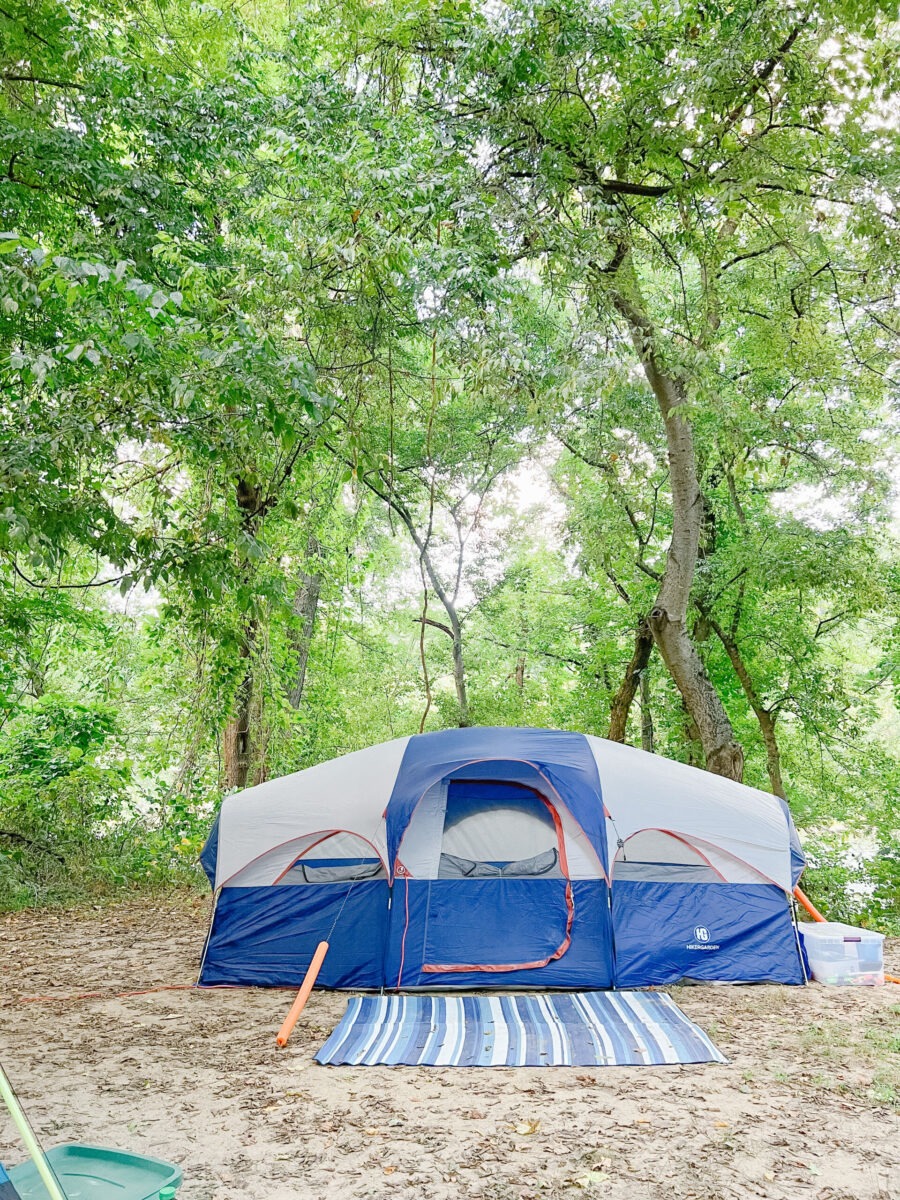 Meanwhile, the mamas headed across the street for a 90-minute natural mineral bath. Oh my gosh, this was SO lovely. Back when I booked our campsite, I put a reminder on the calendar to book our mineral baths closer to our trip date and was ecstatic to secure two bath appointments over the weekend — one for the mamas (tub #5) and one for the whole group (tub #4)!
The health-giving properties of the campground's hot mineral waters have been famous since 1778 and are known to help relieve stress and fatigue from the mind and body, ease stiffness and pain of the muscles and joints, help increase circulation and oxygen flow and has been known to help most circulatory illnesses.
We absolutely LOVED the mineral bath and our skin felt SO soft afterward too!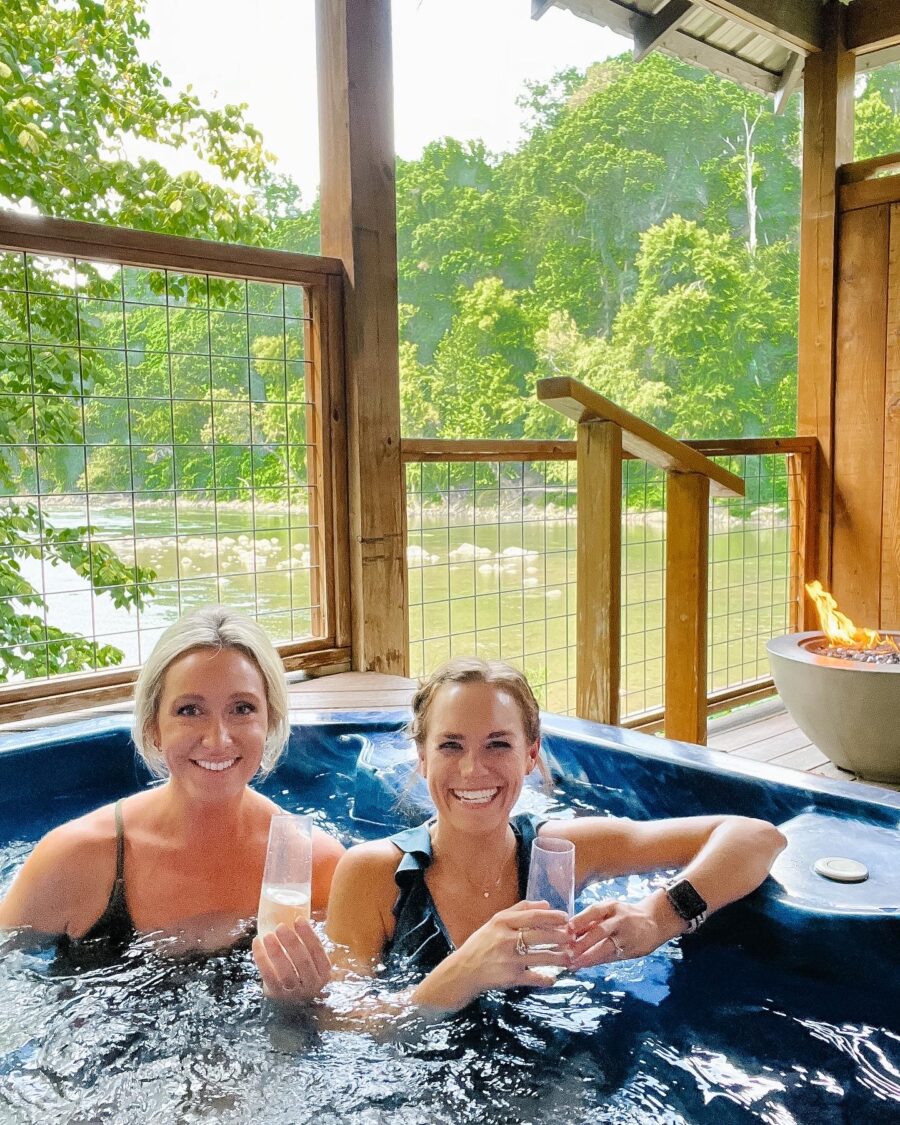 We arrived back at camp just in time to help the boys finish setting up the last few things and then started getting everything ready for dinner.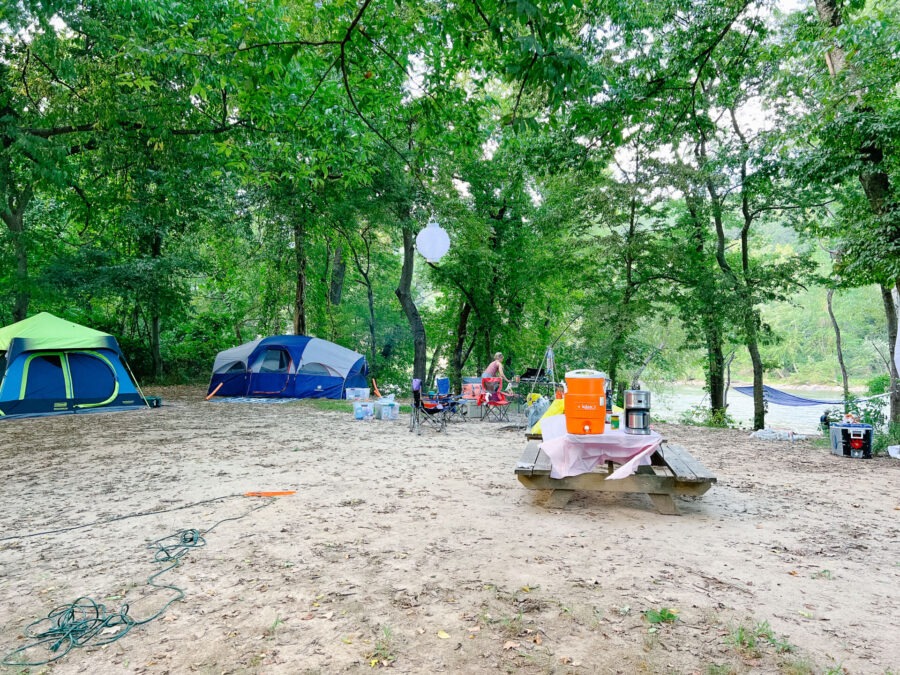 For our first camping meal, we made pita pizzas! This is always such a fun dinner for the kids to make. After all the toppings are piled on, we slow cook them on the tri-pod grill which gives the crust the most perfect crunch.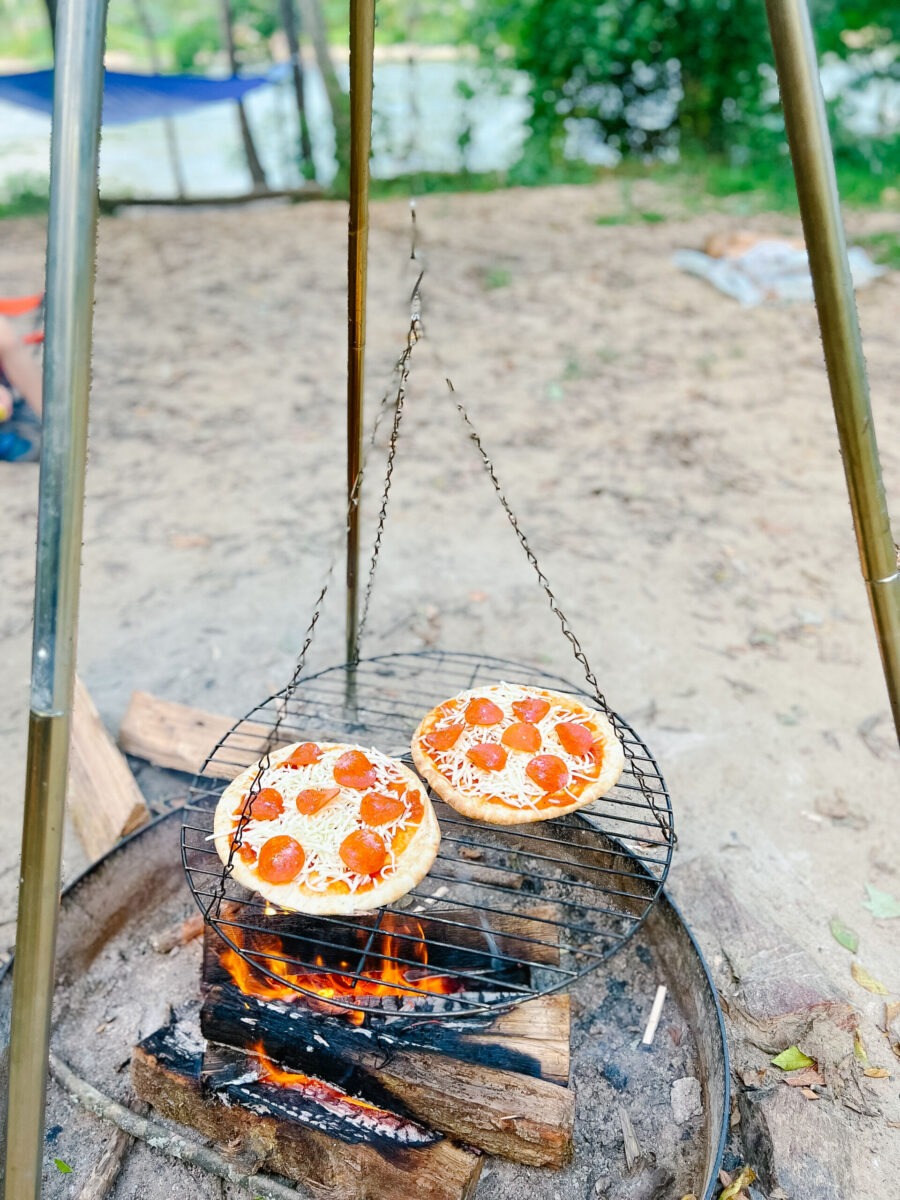 Saturday night Ohio State played their first game of the season and Matt made it his mission to stream this game on our projector. Despite the worst wi-fi of all time, we somehow pulled off streaming the game and Matt was SO, SO, SO happy. And Ohio state won!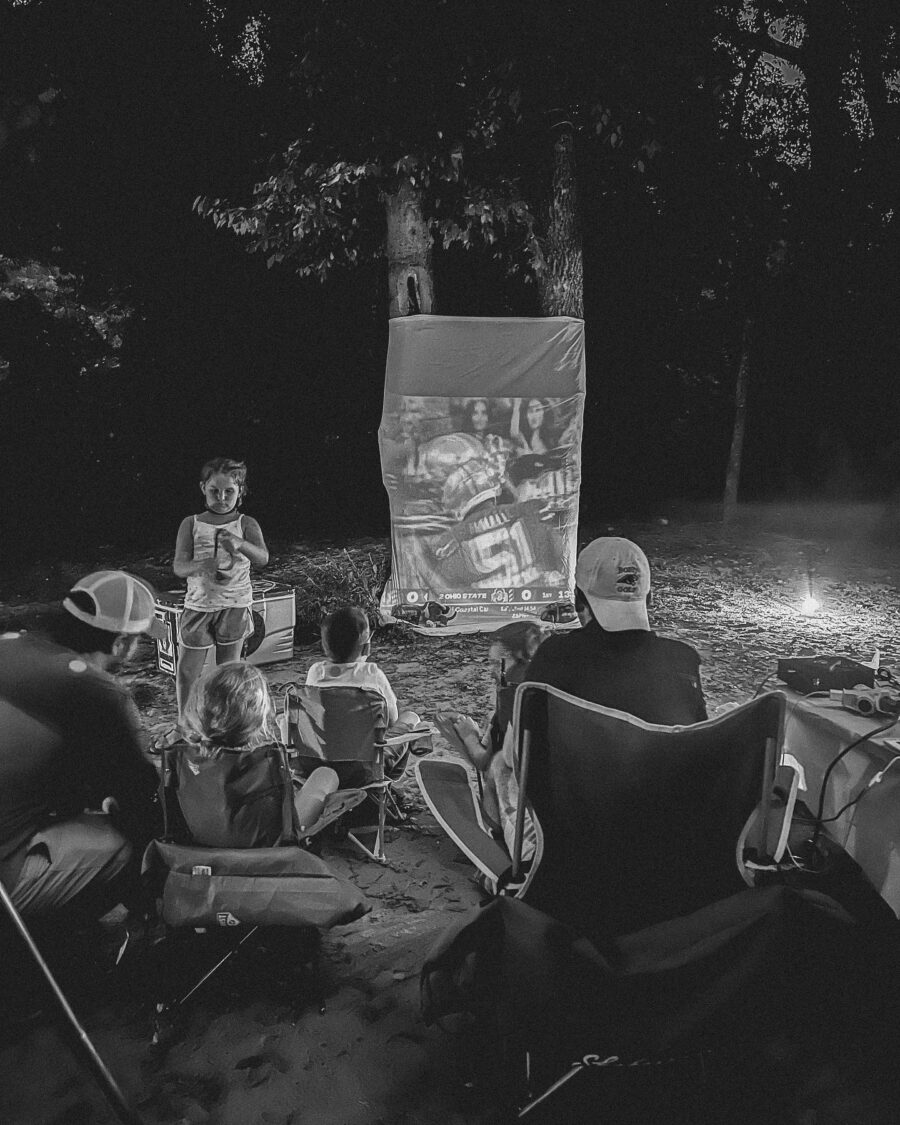 Late Saturday night a huge storm rolled through and destroyed our campsite…as well as Matt's car because I forgot to roll the window up before we went to bed. Whoops. Thankfully, we had all gotten into bed before the storm hit and stayed dry in our tents while it poured for hours.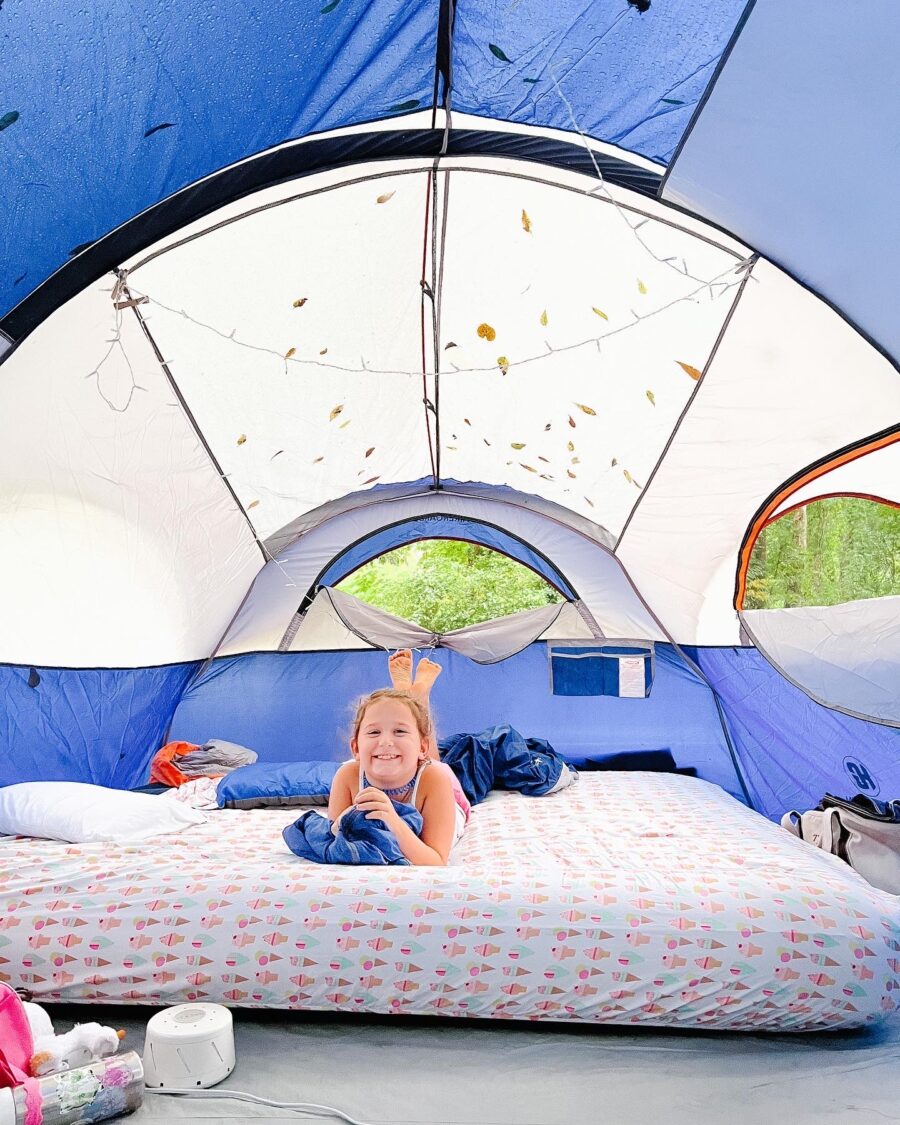 A Note about our tent:
A few years ago, I spent hours and hours agonizing over which tent to purchase for our family. I must have read a thousand reviews and had our options narrowed down to 4 tents until finally selecting the 8-person Hikergarden Campros tent. The features that ultimately sold me were the number of mesh windows to allow for max airflow and the curtain room divider so the kids could have their own space separate from ours. We can fit two queen-size air mattresses inside and still have a ton of room for all of our bags, toys, etc. We also string twinkle lights inside the tent which is so fun at night!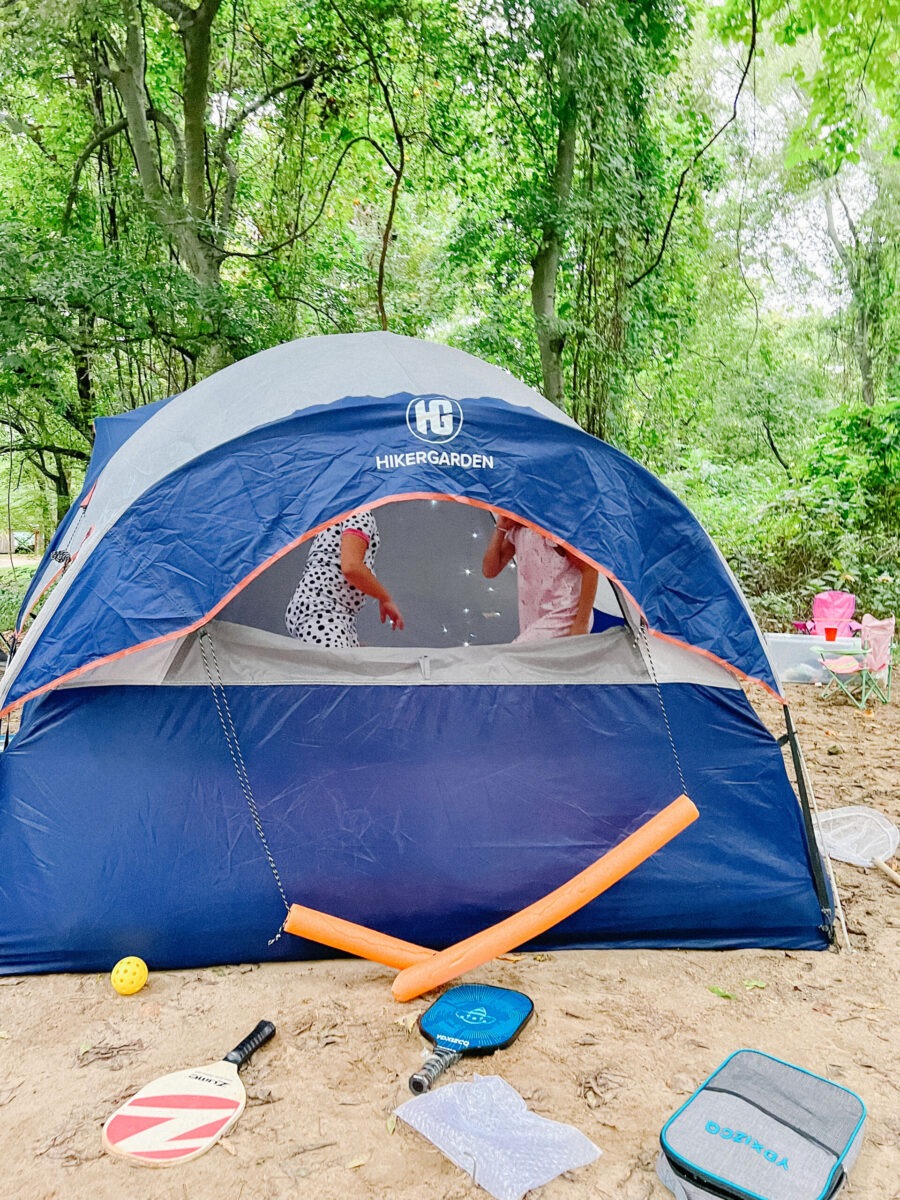 Sunday morning the kids were up with the sun. And I was too…because I don't think I ever really went to sleep. As much as I love camping…it is definitely the worst sleep ever.
Anyway, for breakfast, the mamas prepared a feast of scrambled eggs, bacon, bagels, and cereal.
Afterward, the kids played in the river literally all day. They fished, collected rocks, chased each other around, and just had the very best time.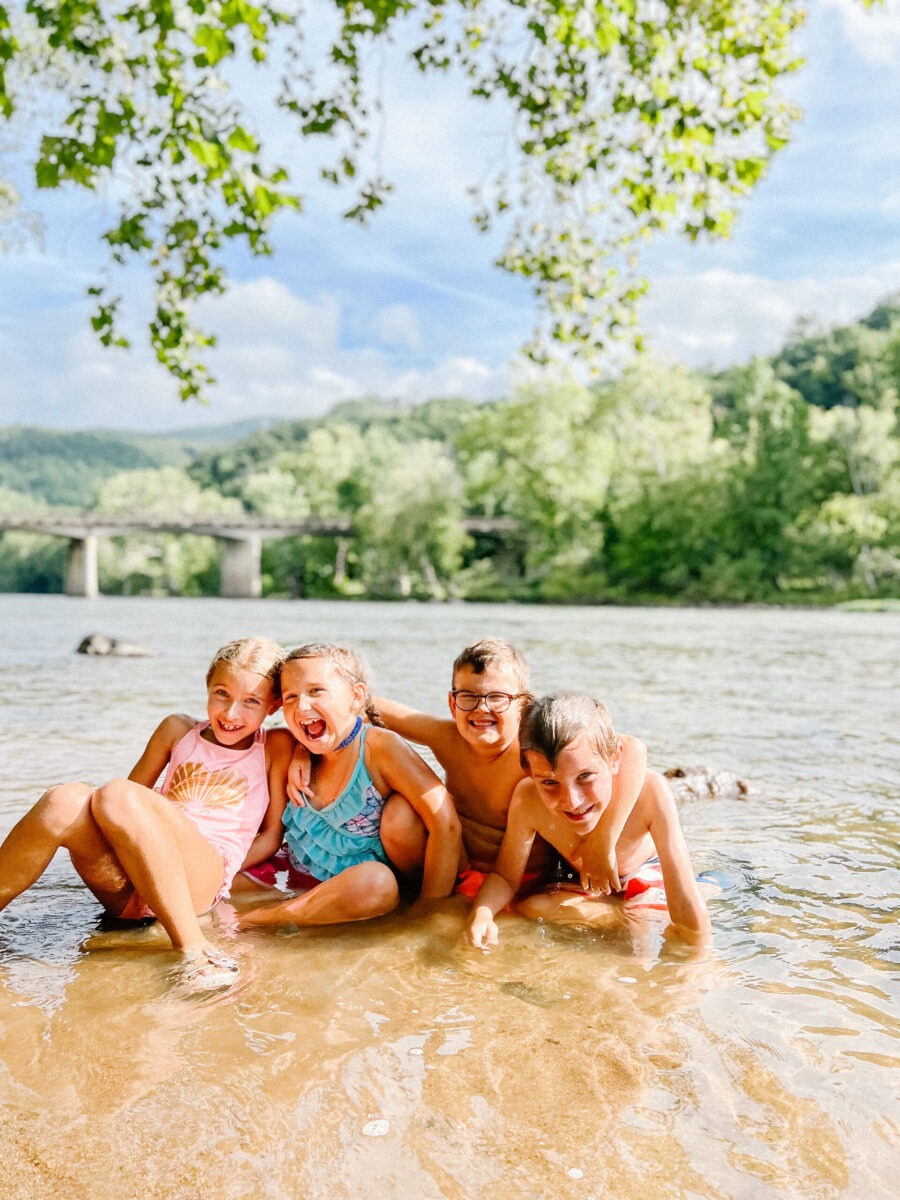 And the parents had a blast too.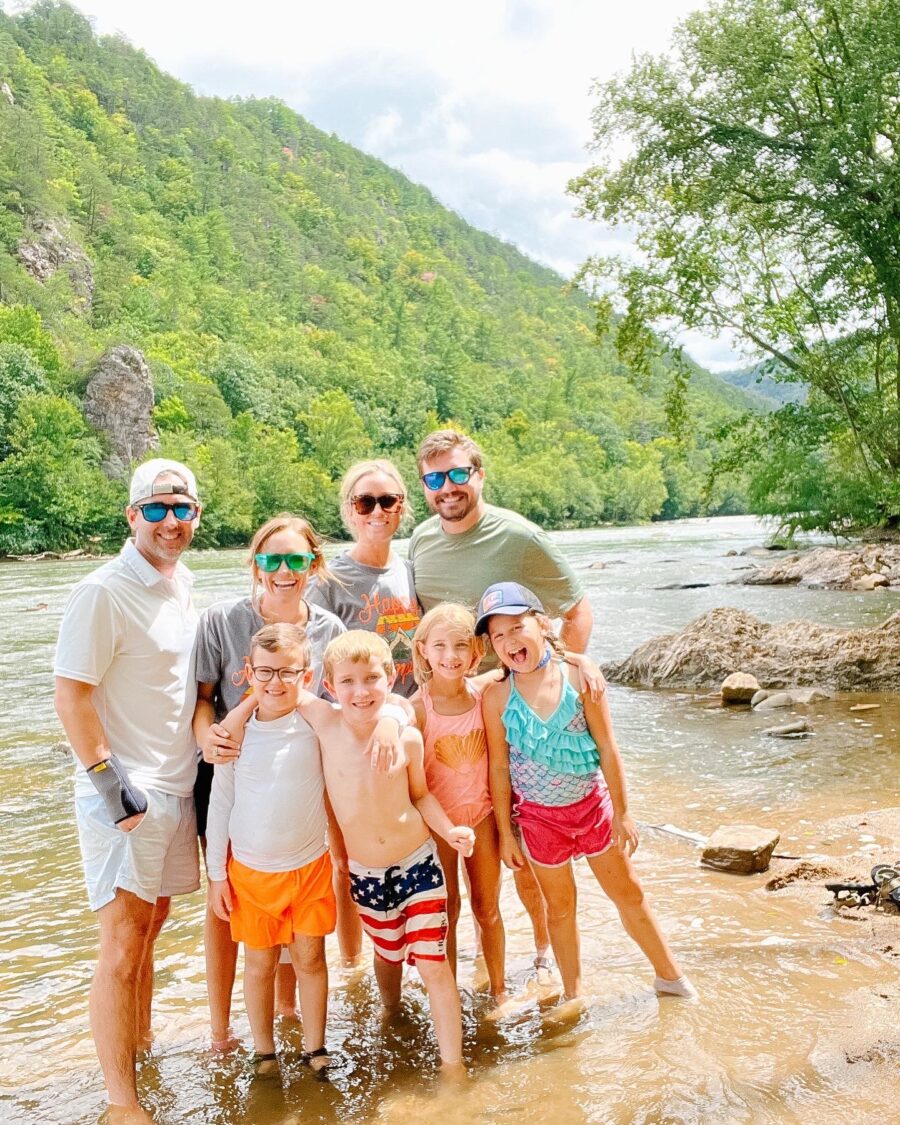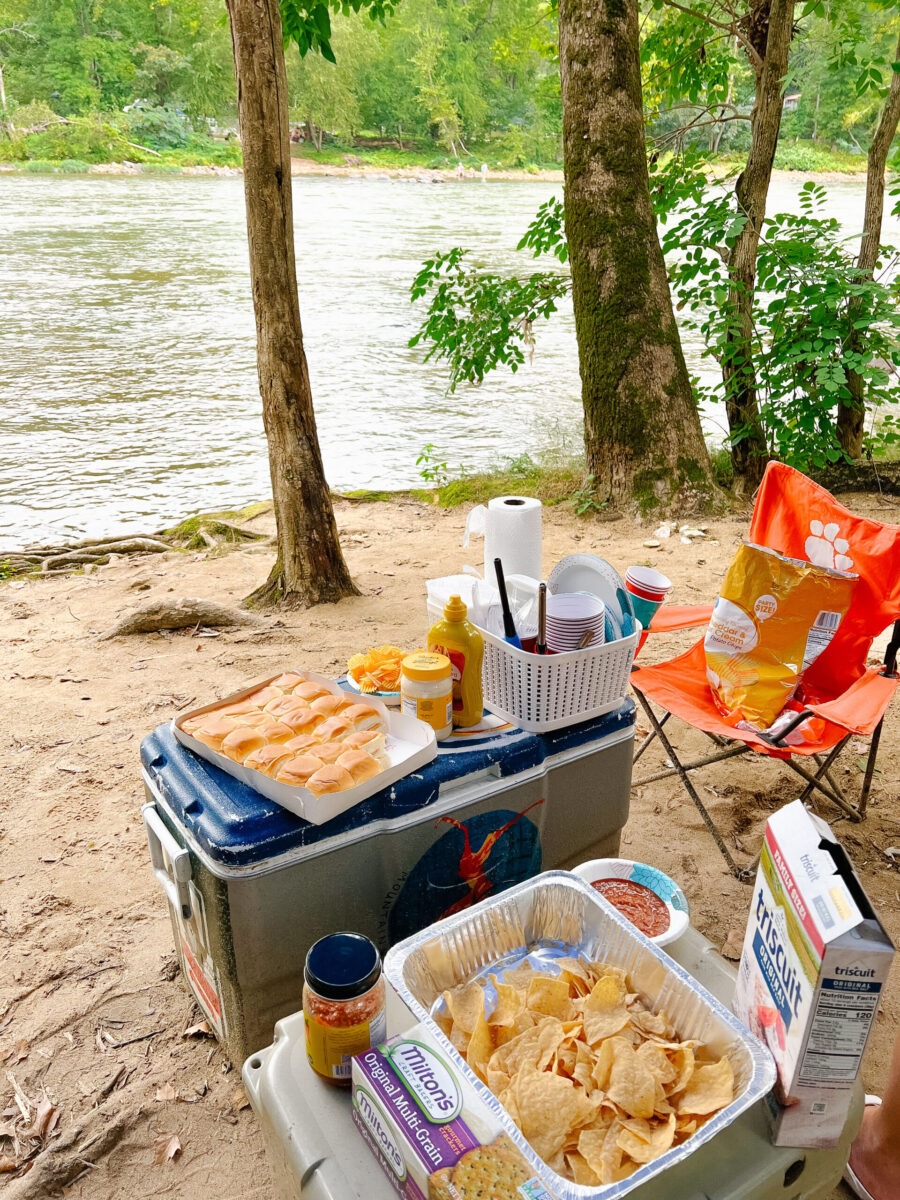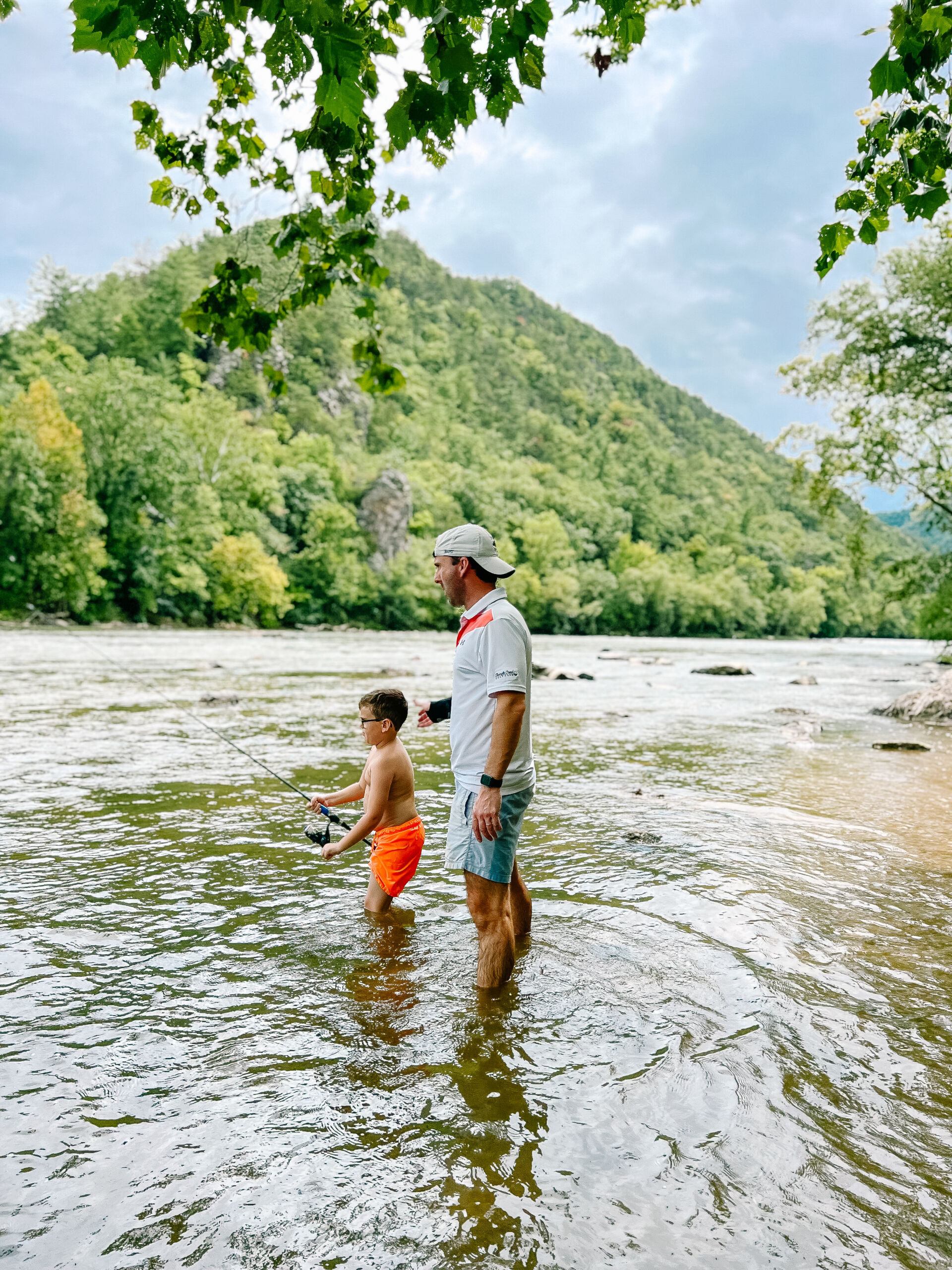 A Note about Mosquito Repellent Patches
One of my readers shared these Mosquito Repellent Patches with me a few months ago and I decided to give them a try for camping. Y'all — these WORK. I loaded up all the kids (and adults) with these little stickers and I didn't get bit once, which says a LOT because I am a mosquito magnet. Anyway, I highly recommend these!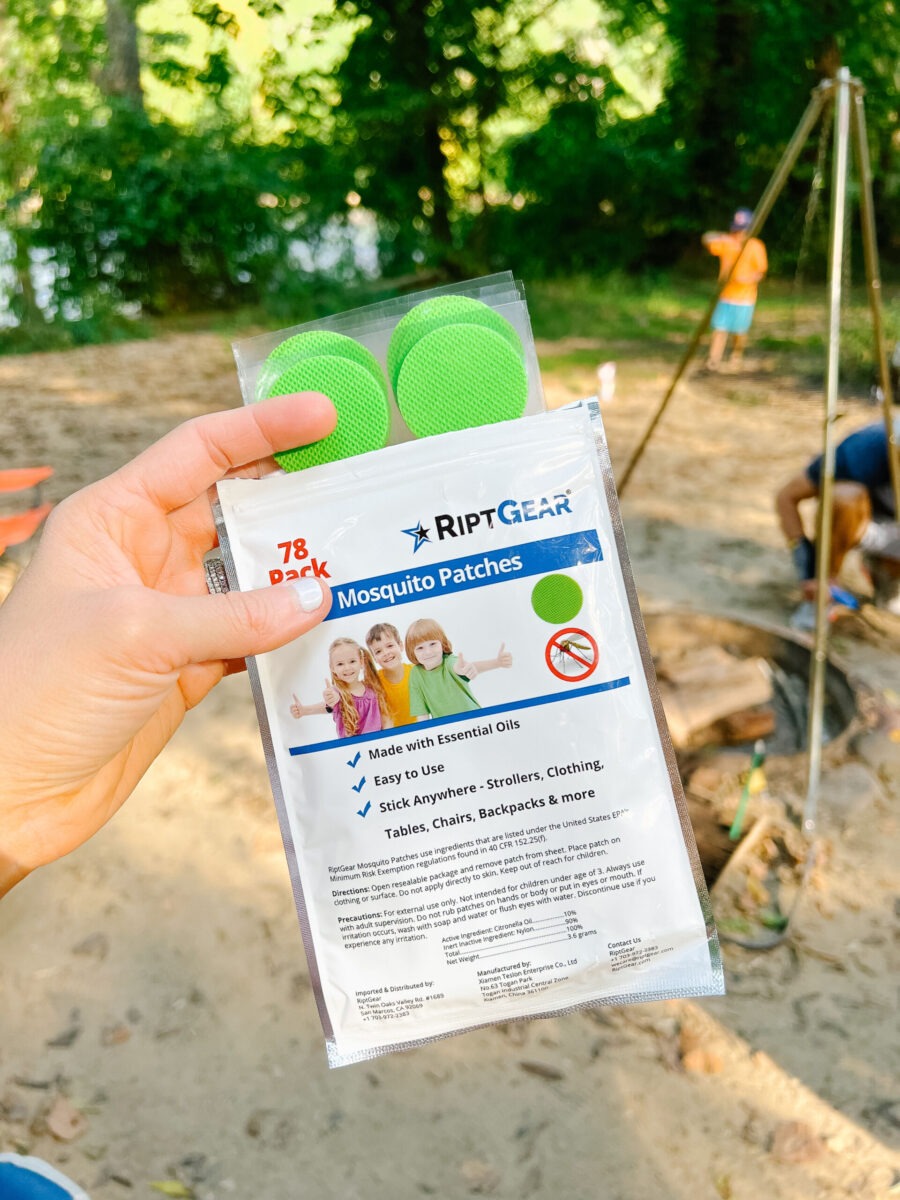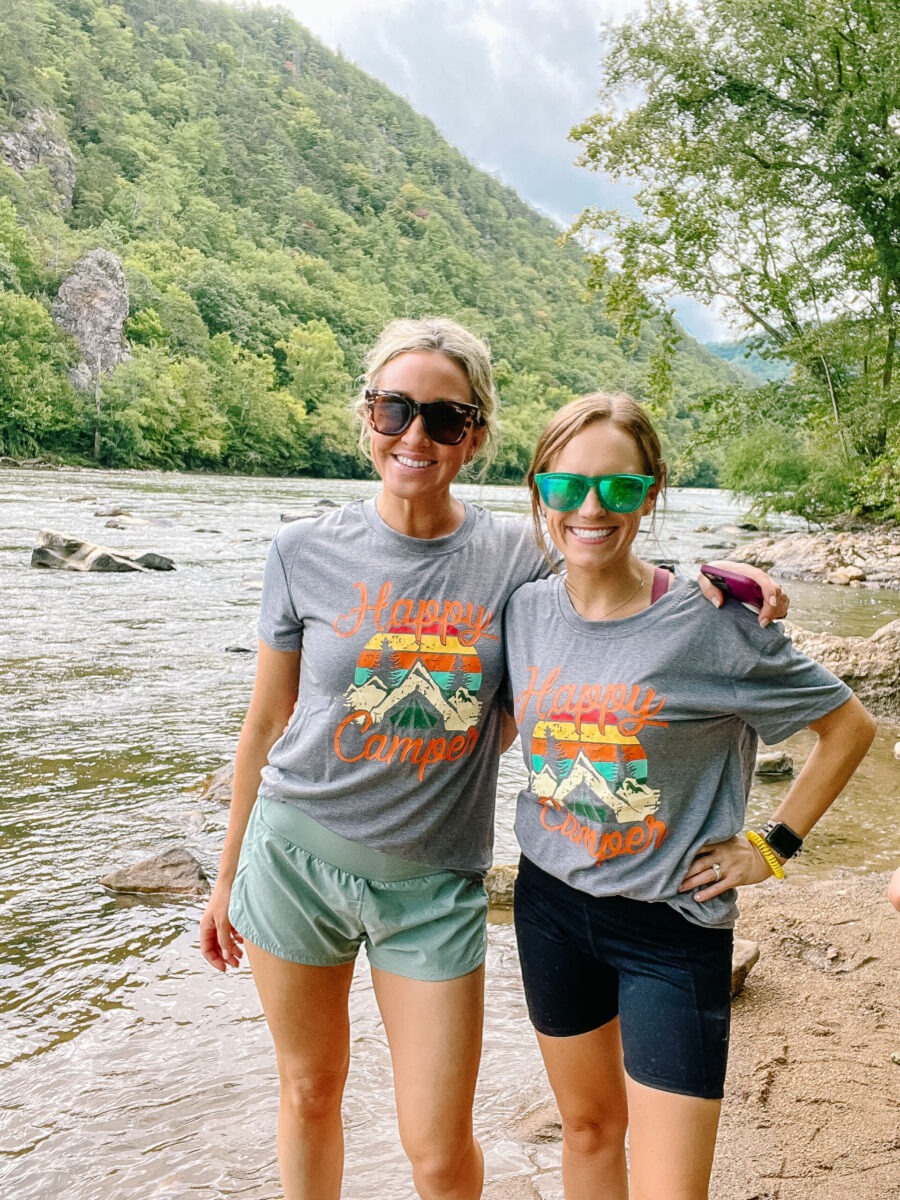 Late Sunday afternoon we had our family mineral soak! It wasn't nearly as relaxing as the day before when it was just me and Kristin, but it was still really fun — and the kids LOVED it.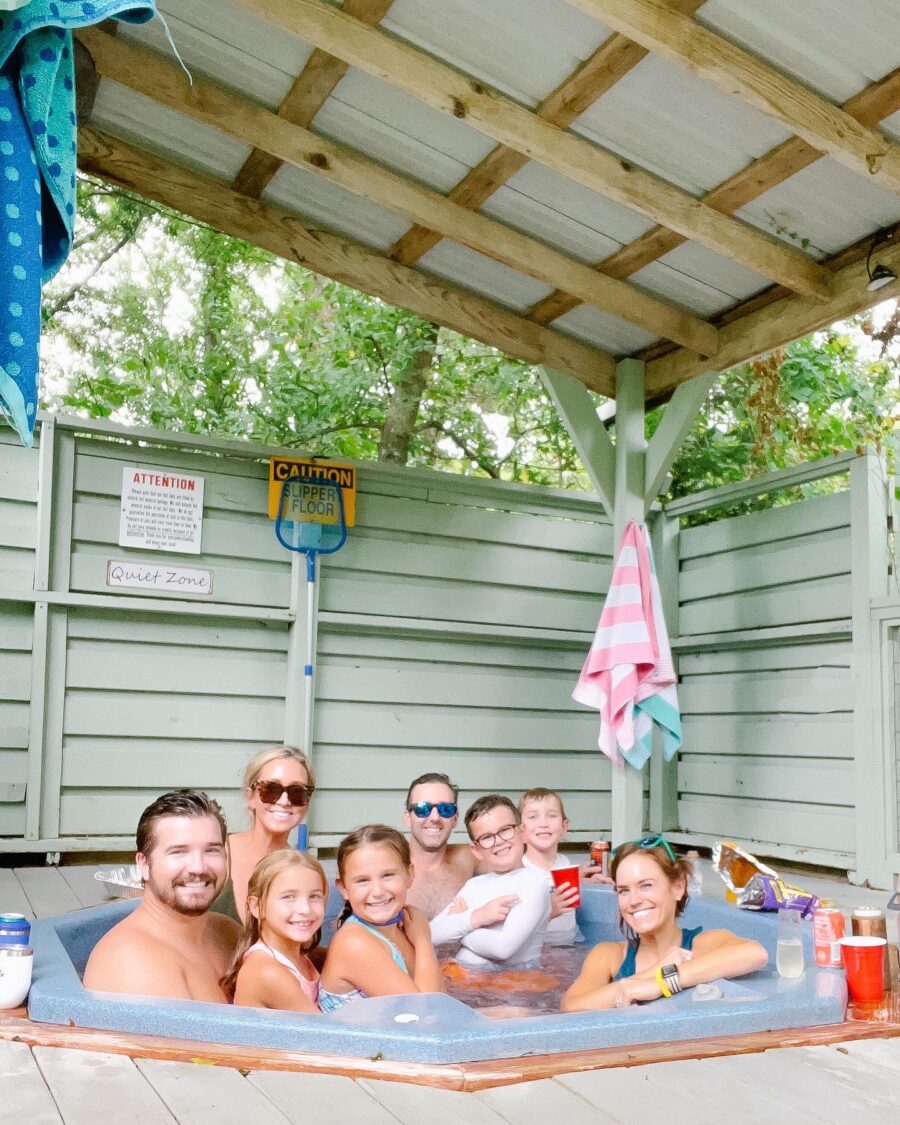 For dinner, we made tacos-in-a-bag or "walking tacos" which everyone loved! We slightly crush mini bags of Doritos, add the taco meat, then pile on all the toppings (diced tomato, shredded lettuce, green onion, shredded mexican cheese, etc.). This was definitely a favorite campfire meal of the trip. It was so easy and delicious!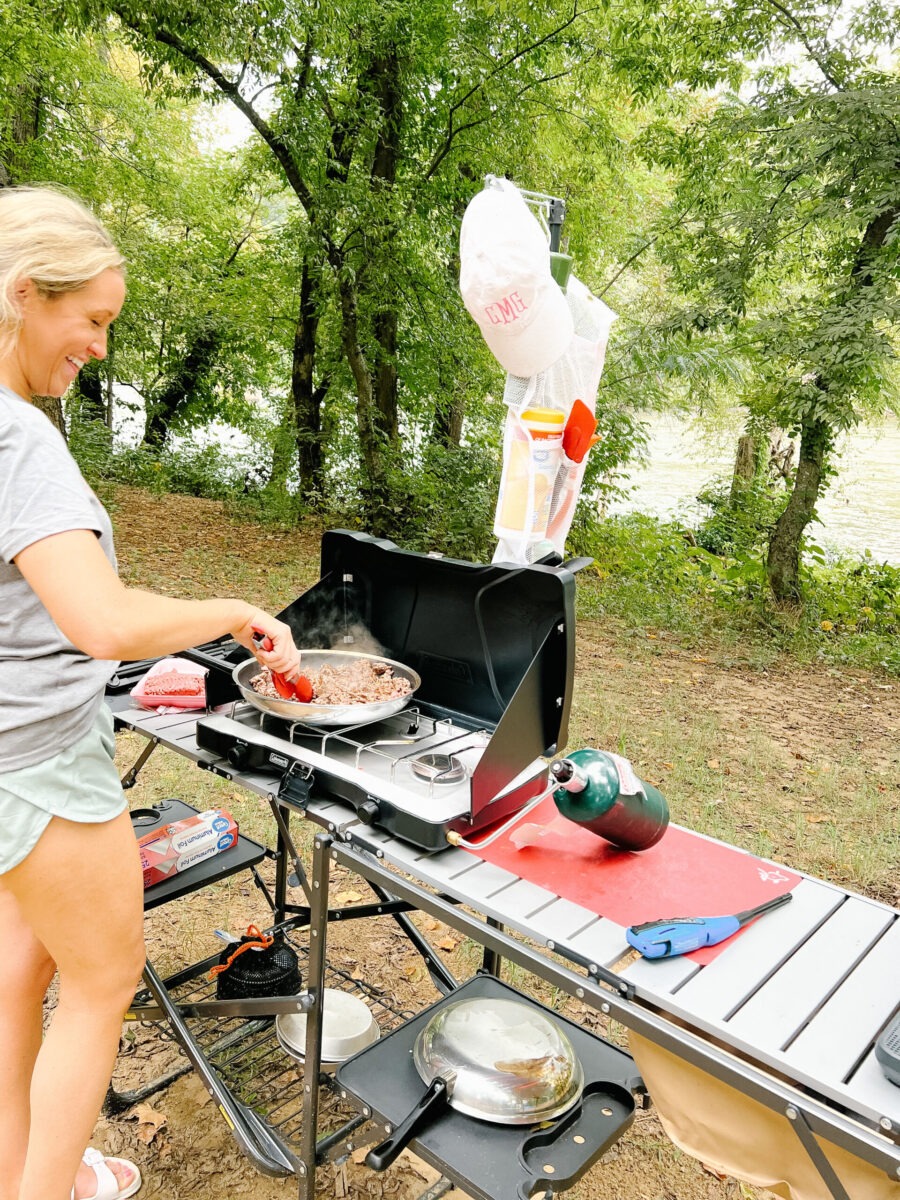 Camping table Note
For this trip, we decided to purchase a camping table and it was a total game changer. Not only was it nice not having to share our cooking station with our dining picnic table, this folding table has a lot of awesome features too. There's plenty of counter space to accommodate our stove, cooking utensils & cookware, a storage rack for paper towels, a collapsible sink, and a lantern pole!
For dessert, we roasted campfire cones — again! In a waffle cone, we loaded up mini marshmallows, M&M's, and mini Reese's cups, then roasted them over the fire for about 15 minutes. Holy moly — SO GOOD.
We had another huge storm roll through overnight and again awoke to a sopping wet campsite. While it drizzled rain, we packed up our site as fast as possible and headed home to the most glorious showers of all time.
And that was a wrap on another fun camping trip!
Don't forget to check out my Car Camping Essentials and Packing Lists post! It has a printable packing list and LOTS of tips!