Over Labor Day Weekend we tent camped in Hunting Island SC!
This was the 4th camping trip we've done with our kids, the second time we've camped at the beach with our good friends — and our first trip with Mabel! It was awesome.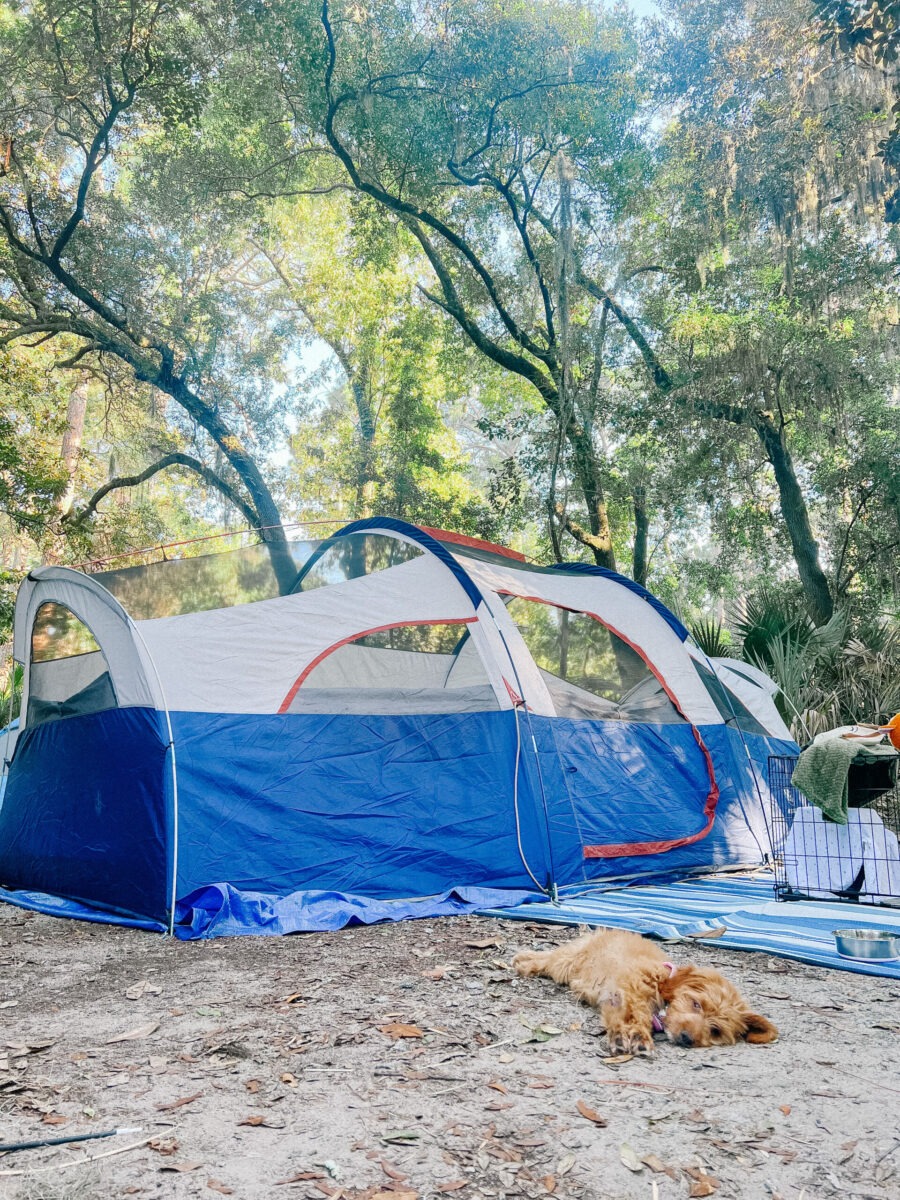 Hunting Island SC Campground was right around a 4-hour drive for us from Charlotte. We arrived Saturday afternoon and immediately got to work setting up our campsite while the kids ran around together.
While I liked the campground, our actual campsite was my least favorite out of all our trips. We were really spoiled last year at Hot Springs Campground with a ginormous, gorgeous site right on the river and close to the showers/bathroom. However, I was warned a few years ago that this campground completely books up within minutes when reservations open as it is one of the most popular state parks in South Carolina. So I stayed up late 13 months ago to snag our site and true to the park ranger's word, all the sites went quickly so I was lucky to just get a reservation at all!
Anyway, once we got settled, we started prepping dinner!
Our first camping dinner is always tacos-in-a-bag or "walking tacos" which is everyone's favorite! We slightly crush mini bags of Doritos, add the taco meat, and then pile on all the toppings (diced tomato, shredded lettuce, green onion, shredded Mexican cheese, etc.). It is so delicious and to keep things easy, I usually pre-cook and season the taco meat at home before we leave, so all we have to and warm the meat in an aluminum pan on the stove. This also cuts down on cookware to clean afterward.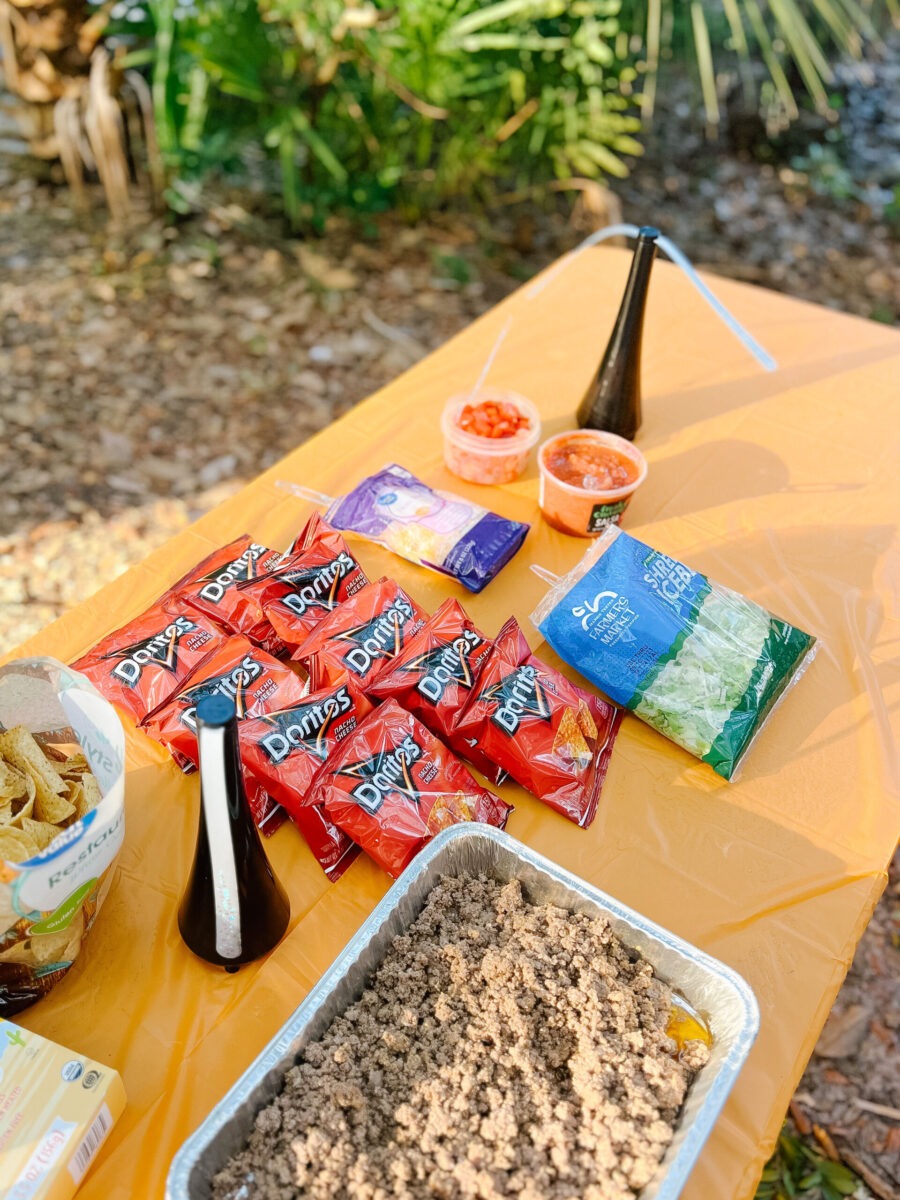 After dinner, Matt set up the TV projector and screen so we could watch the football games around the fire.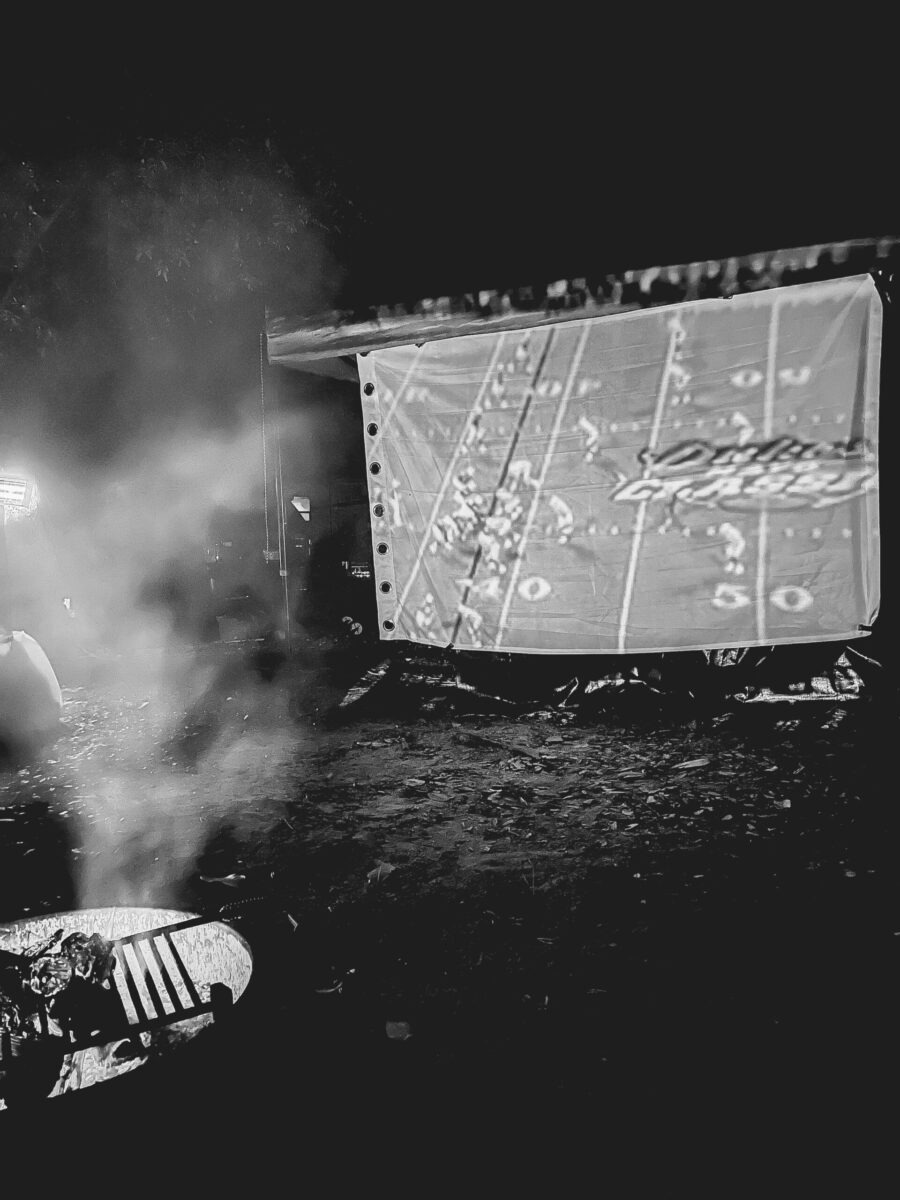 Meanwhile, we roasted campfire cones which I personally think are so much better (and less messy) than traditional s'mores! In a waffle cone, we loaded up mini marshmallows, M&M's, and mini Reese's cups, then roasted them over the fire for about 15 minutes. Holy moly — SO GOOD.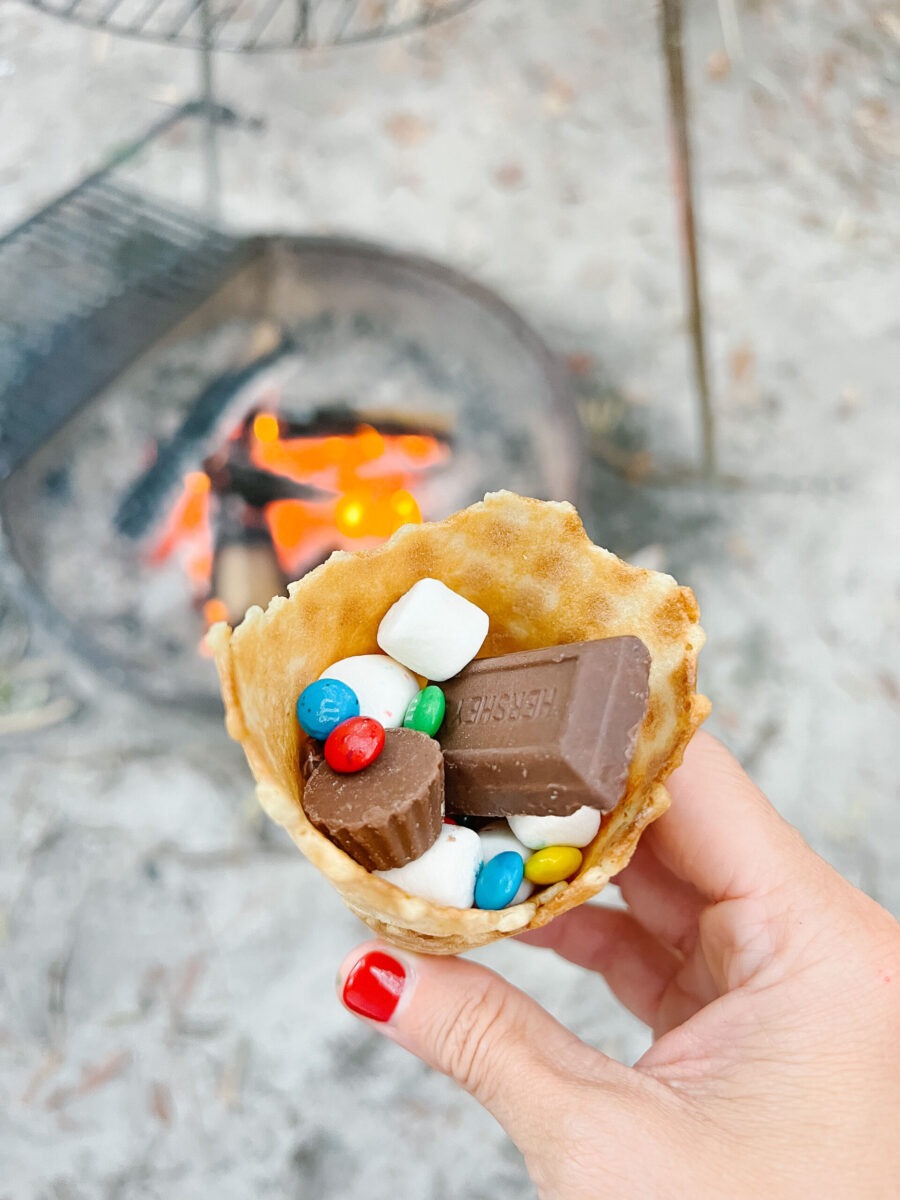 Sunday morning we were all up with the sun.
As much as I love camping…it is always the worst sleep ever. However, Mabel did terrific (which is what I was most worried about). We brought her crate with us and set it up inside the tent each night for her to sleep in. She was so exhausted by bedtime that she didn't make a peep all night (both nights), even though she was sleeping just a few inches from all of us.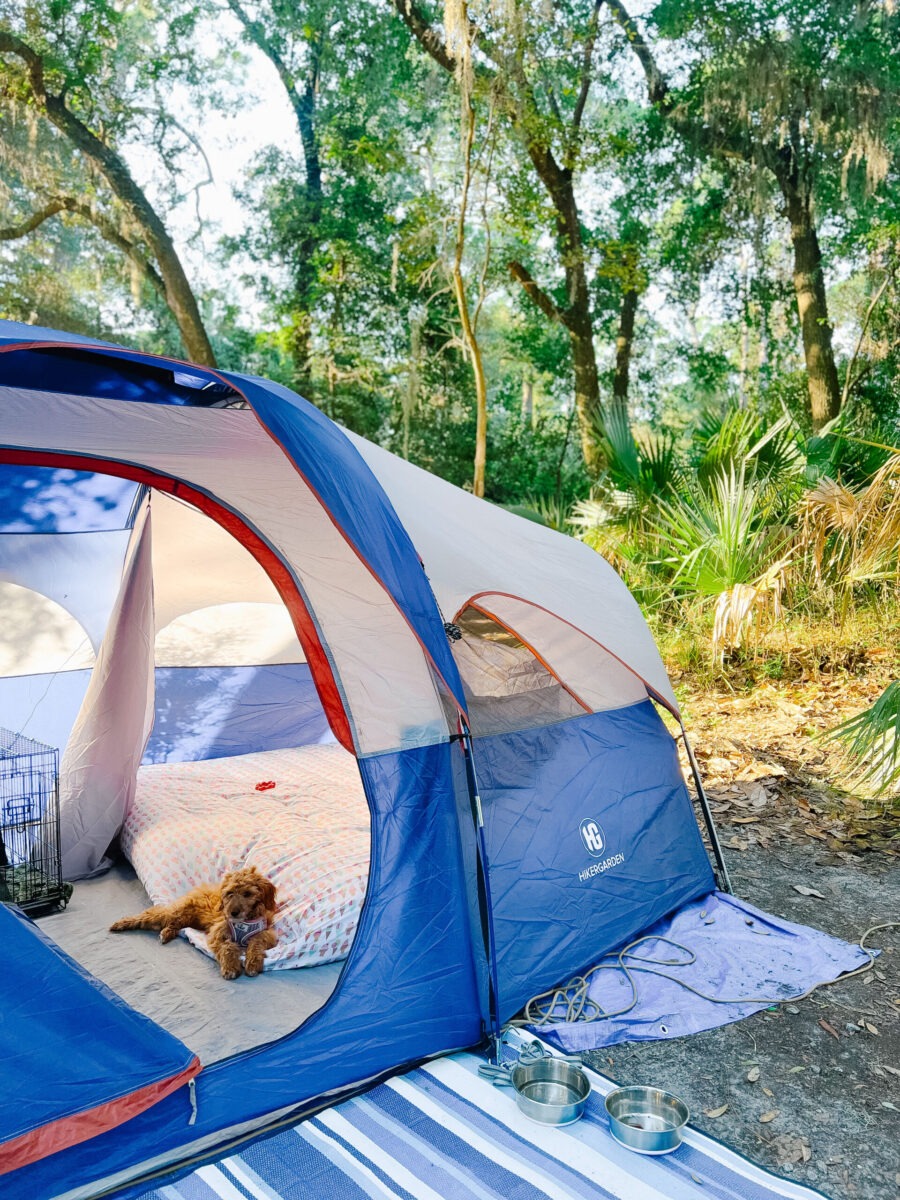 For breakfast, we prepared a feast of scrambled eggs, bacon, bagels, and cereal. Then we packed up the wagons and coolers and hit the beach for the day.
Similar to our last beach camping experience in Edisto Island, it was a TON of work to plan and pack for this trip because you're basically packing for two trips — the beach and camping. But it's totally worth it to spend the day at the beach!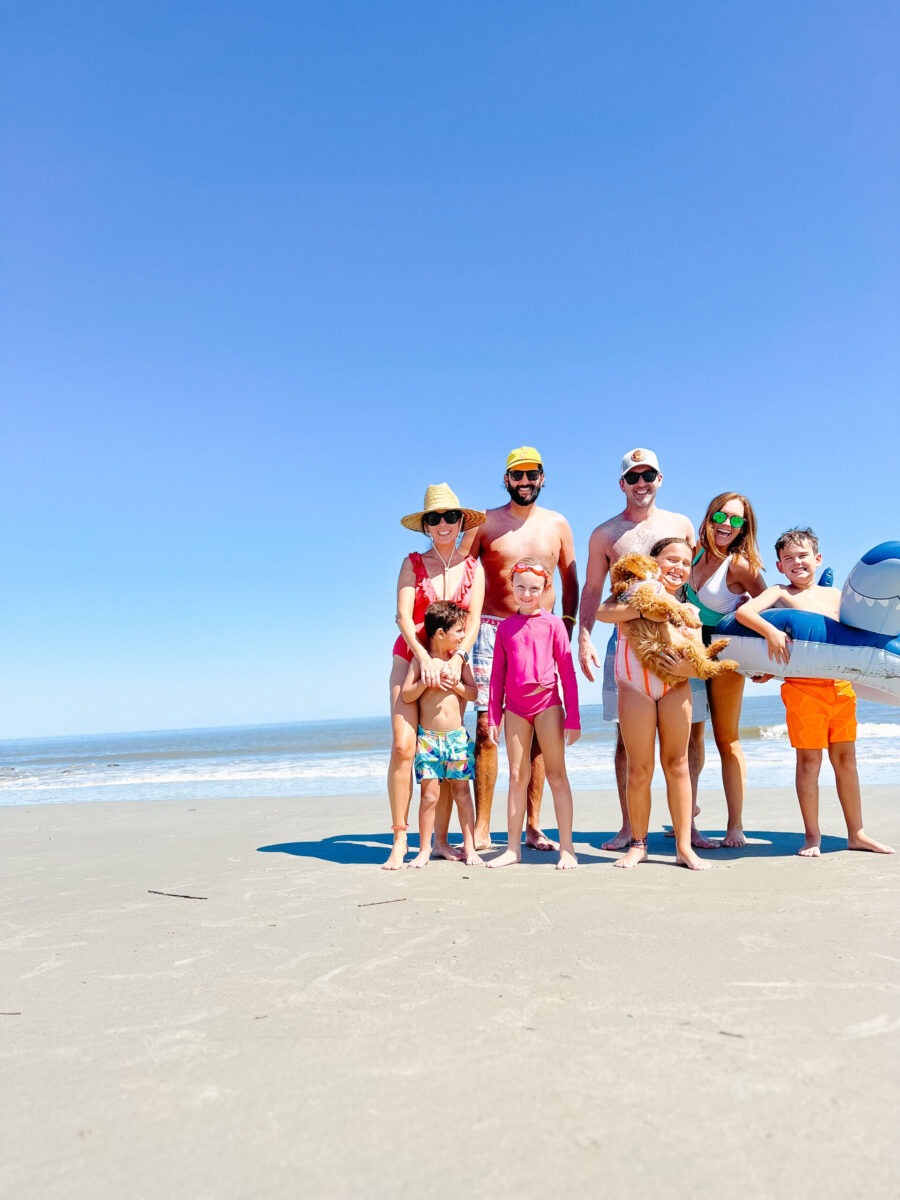 The kids spent the entire day floating in the ocean together having a blast. It was also Mabel's first time at the beach and she lived her best life all day, taking nap breaks under the tent when she wasn't chasing balls across the sand.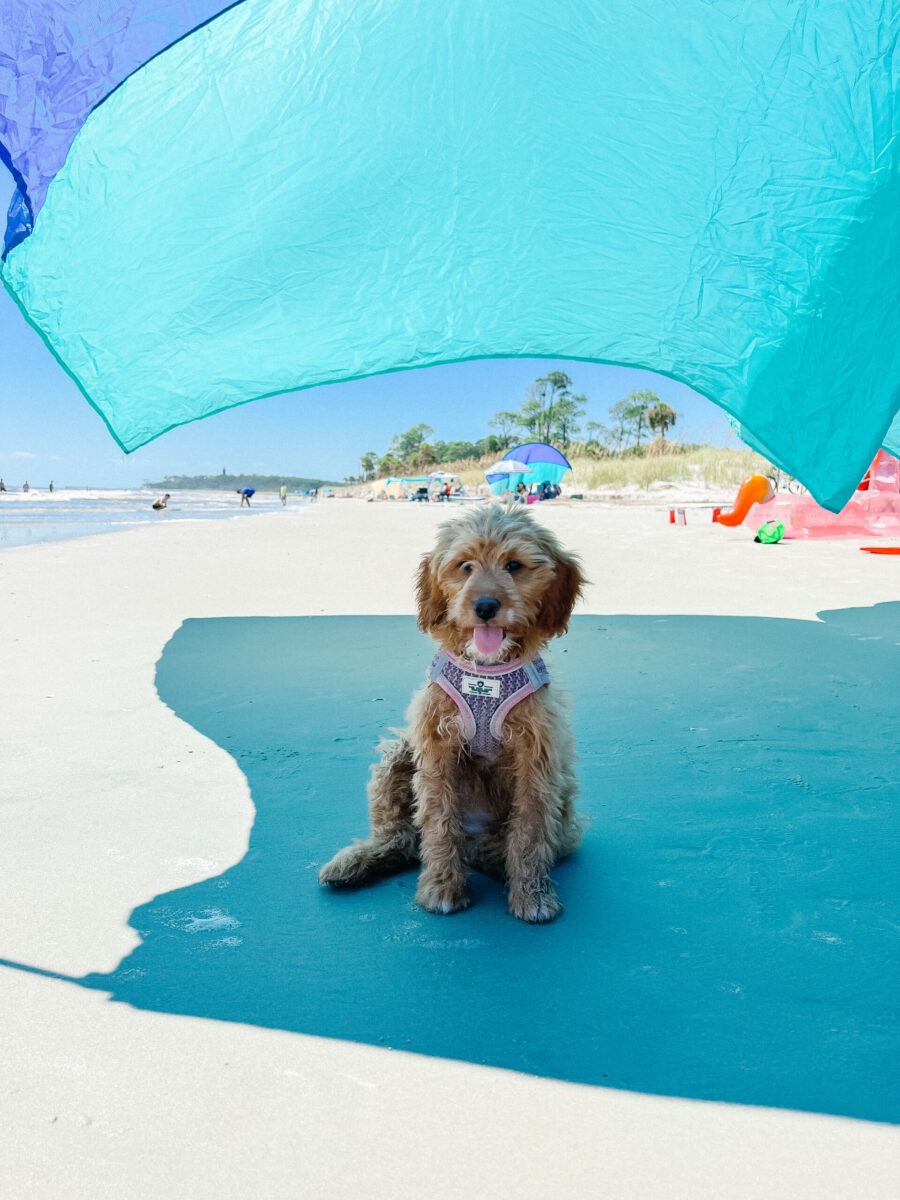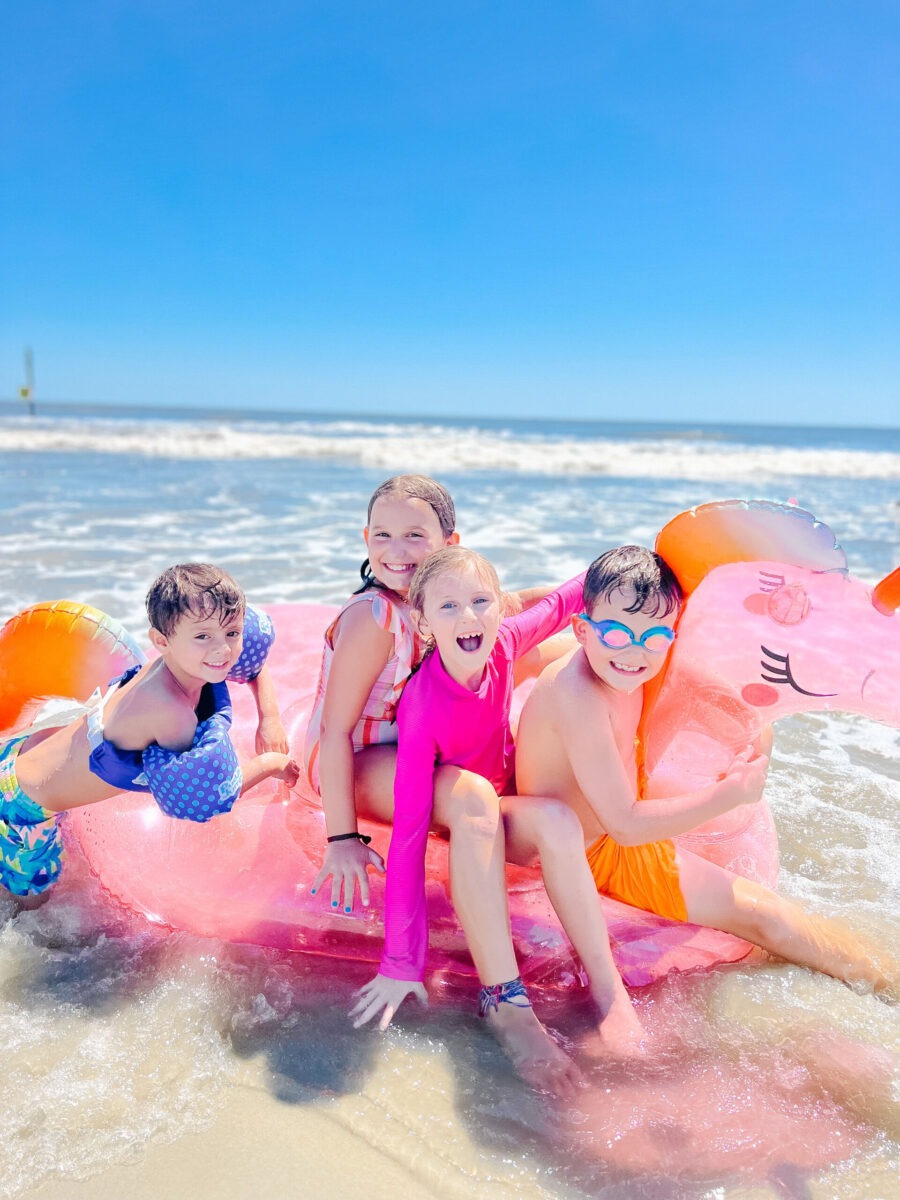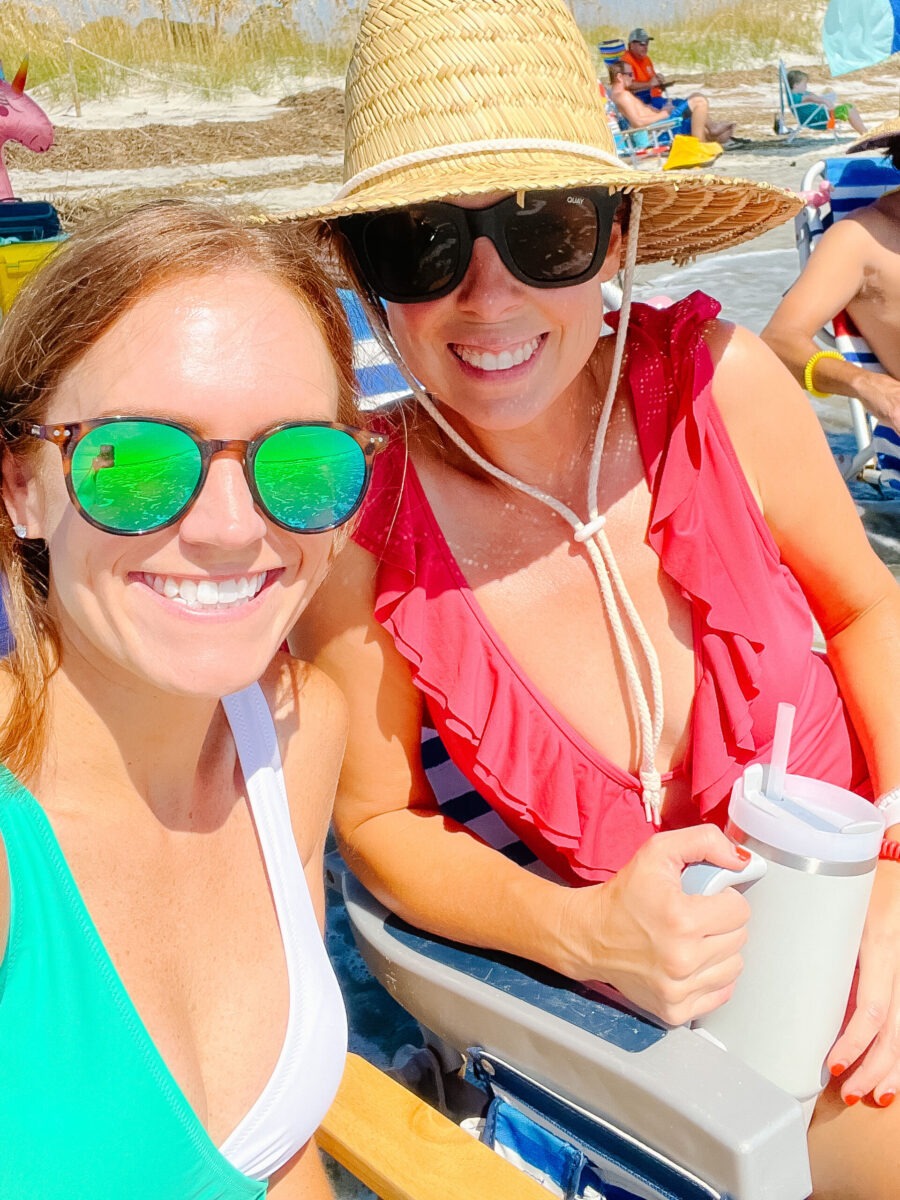 After a fun beach day, we headed back to our site for showers (including Mabel) and got a fire going for dinner. We made our second favorite camping meal for dinner — pizzas, which we slow cook on the tri-pod grill for the most perfect crispy edges and flavorful pizza.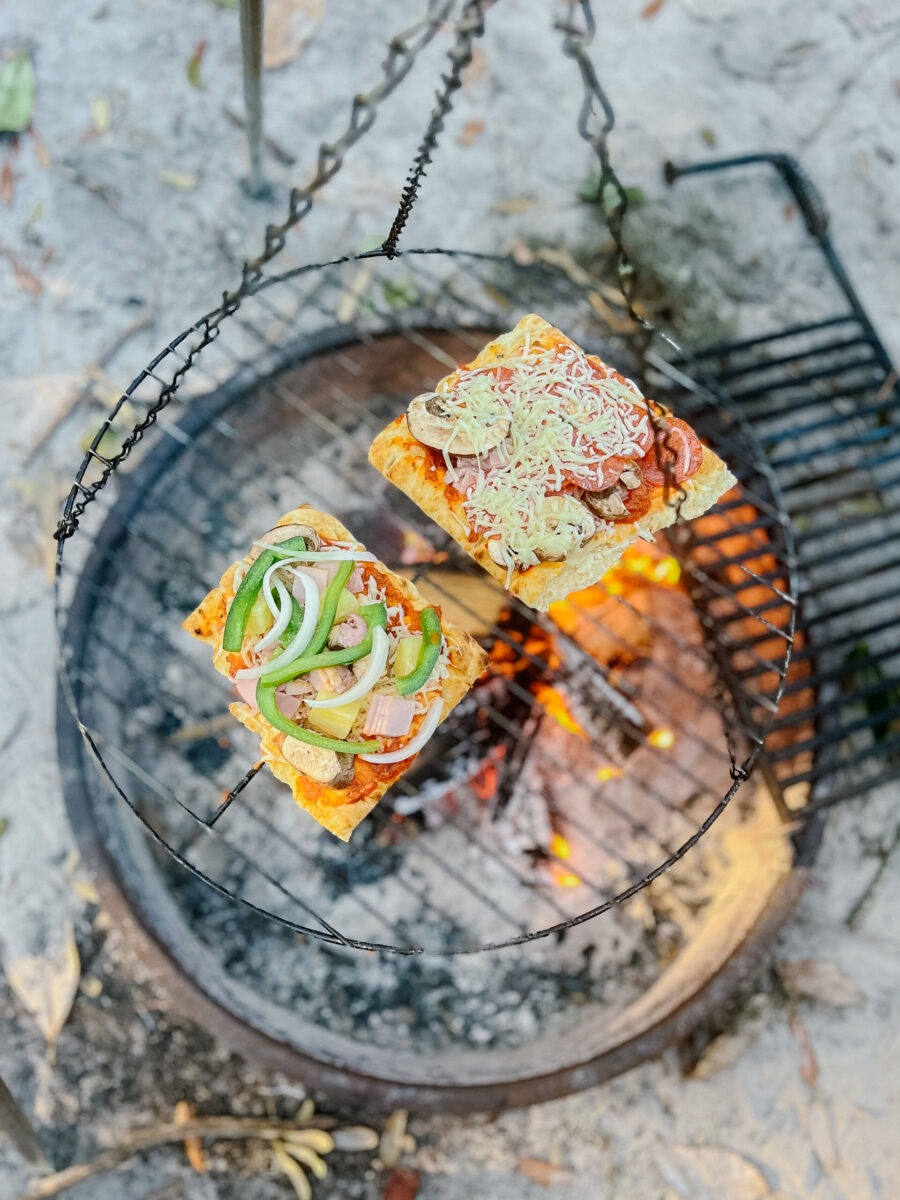 The kids were absolutely spent after a day at the beach so we put a movie on the projector for them while they ate their s'mores cones. Then they crashed into bed while the parents hung around the fire for awhile.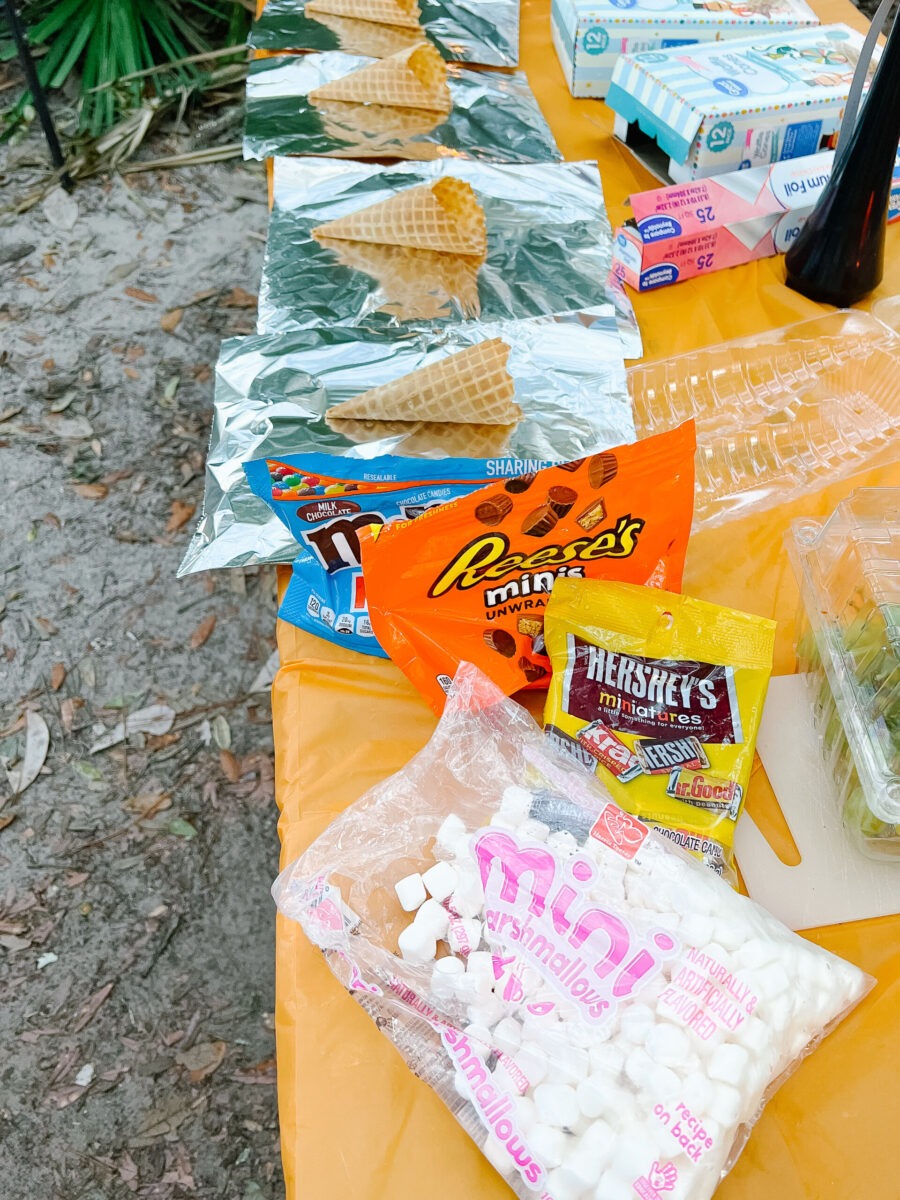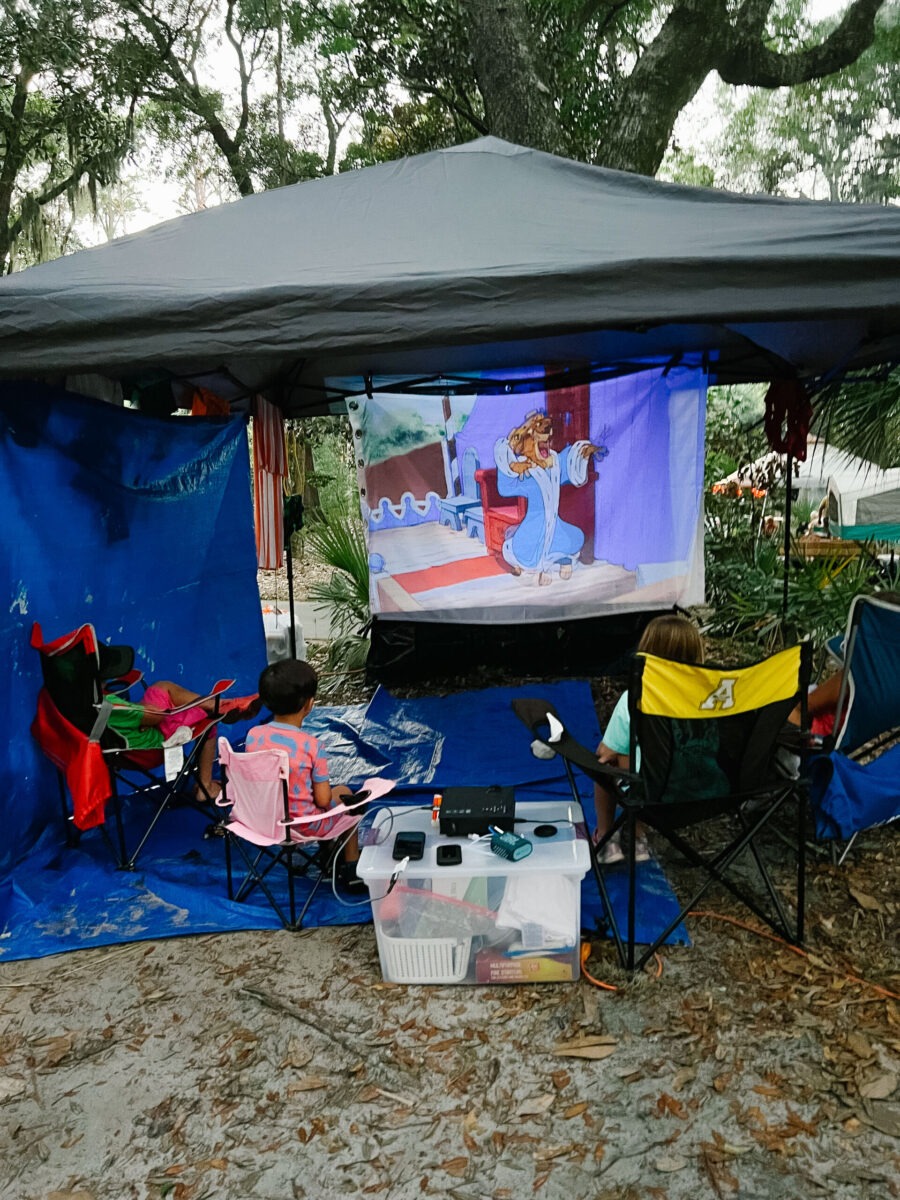 And that was a wrap on our camping trip!
Camping Posts You May Like