We recently hosted a murder mystery party! It was our first one and definitely not our last. I received TONS of questions about our party so today I'm going to cover everything from hostess tips to party sources.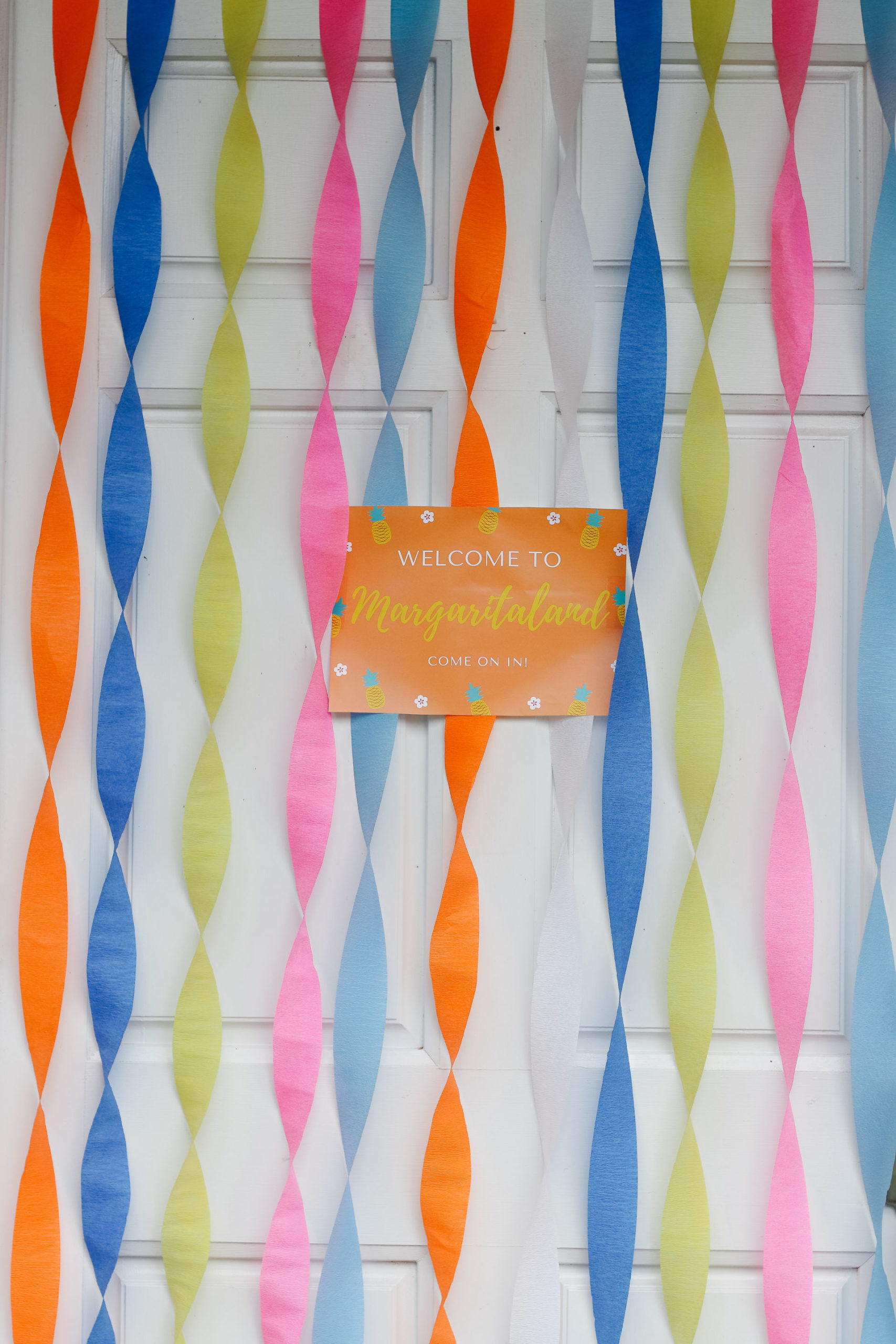 Co-Hosting, Planning & Participants
I was super grateful my friend Michelle agreed to co-host the party with me. The party requires a ton of planning so dividing up the tasks helped tremendously. I was in charge of materials and decorations, and Michelle handled the food and prizes.
Once we decided on a date we created a guest list and made sure to include friends who we thought would feel comfortable acting their part and be willing to stay in character all night.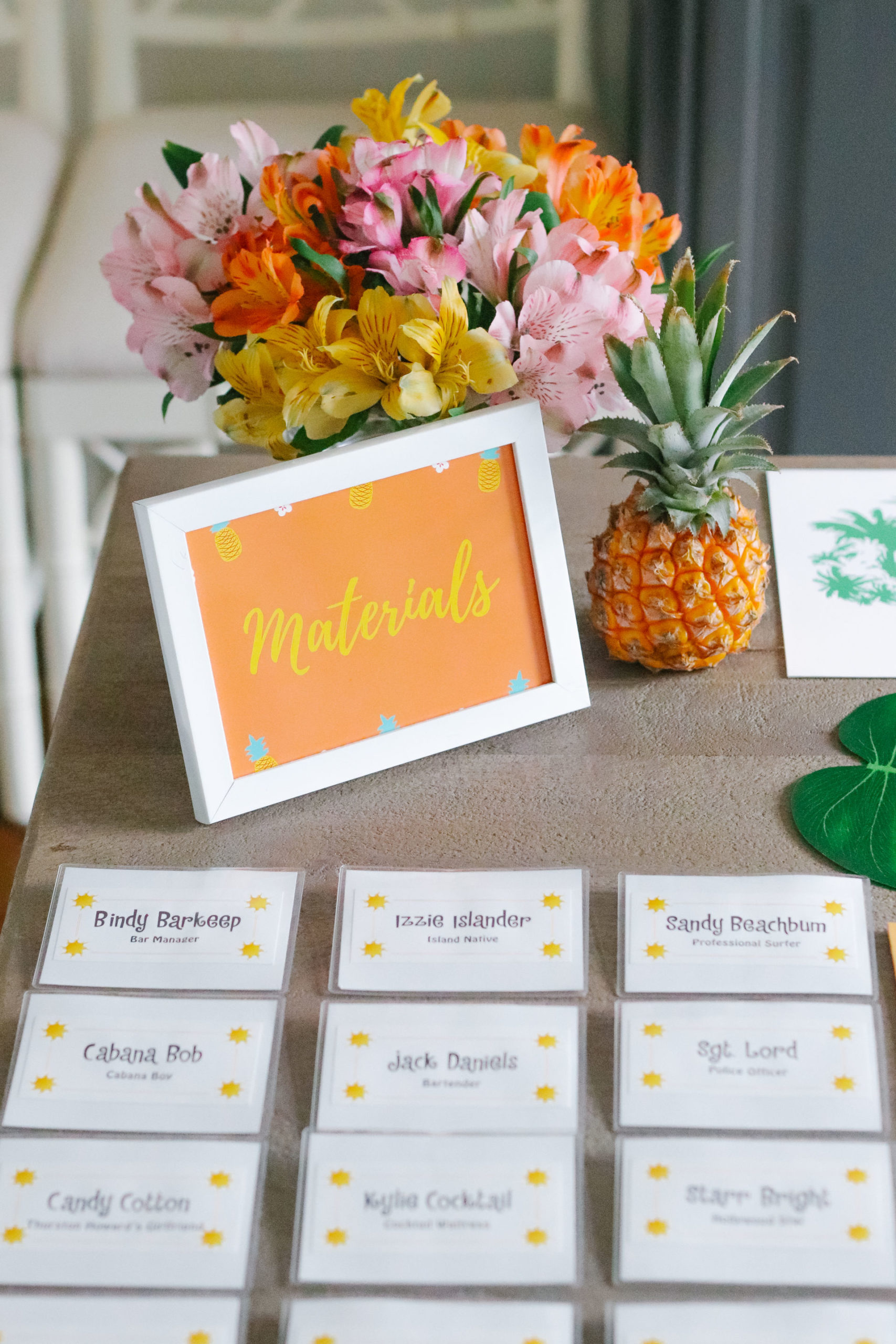 The Party Kit & Theme
Because the party is dependent on the number of guests participating, we purchased our kit after we received commitments from everyone.
There are so many companies and themes to pick from that it can be overwhelming. When I polled y'all for your murder mystery party company recommendations, the two most popular companies were Night of Mystery and My Mystery Party, both of which offer tons of themes and flexible packages for party sizes ranging from 6 – 80 players. There were also a lot of recommendations for this Roaring 20s party.
It took us days to pick a theme. We ended up picking the Murder in Margaritaland party kit from Night of Mystery because 1. Matt really wanted a theme that included a bartender role 2. we thought a warm weathered theme would be fun to do in the middle of winter and 3. we already had a ton of party decor from Caroline's Flamingo Fiesta that we could use.
The kit is available for download instantly and included tons of materials with clear instructions on how to set up the party.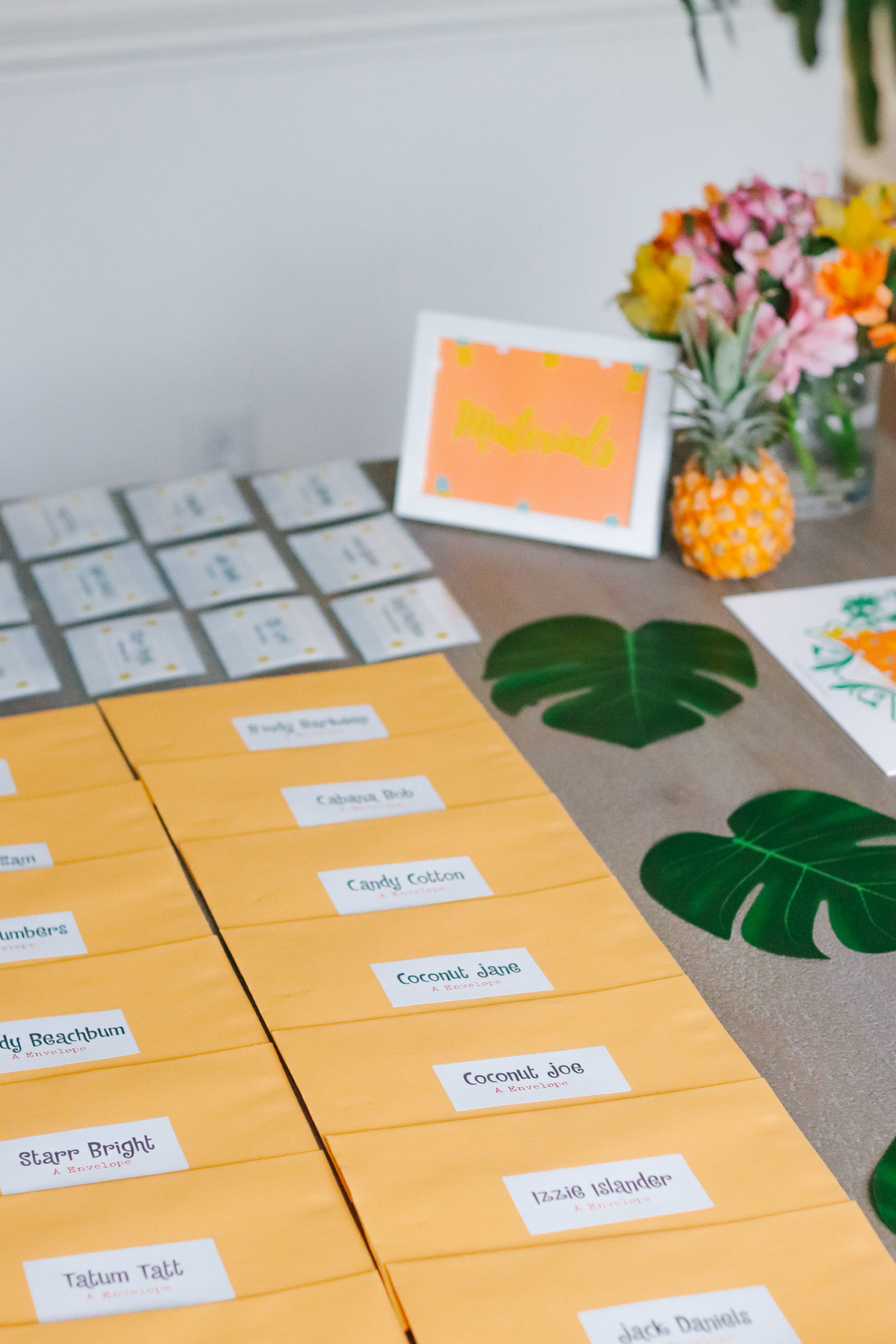 Character Assignments
After downloading all of the materials, Matt and I read through the plot and characters, then matched each character with the guest we thought was best suited to play the part. The kit outlines the most important characters in the game and notes which ones can be eliminated in the event someone cancels.
As the hosts, we had the option to know who the murderer is and we decided to participate WITHOUT knowing. The kit makes this easy by including instructions on which pages not to read if you want to play along.
To ensure everyone had plenty of time to prepare their costumes, I mailed hard copies of the character assignments 3 weeks in advance and then followed up 1 week before the party with PDF copies by email along with some reminders and information on the party.
I was thrilled with how serious everyone took their role from the moment they arrived. Bindy the Bar Manager brought an entire cooler of Jell-O shots. Tattum Tat the Tattoo Artist applied temporary tattoos to the other guests all night. Sandy the Surfer arrived in a wet suit, nose covered in zinc and brought a surfboard. Starr Bright the Movie Star chain smoked fake cigarettes (and sold the rest from her pack to other guests). And more. The performances were absolutely hysterical.
I also loved how the murder happens at the party and the killer does not know they are the murderer until they open their first envelope. The victim also finds out at the beginning of the party that he or she is the victim. The way the game is set up, the victim has the option to re-enter the game as the Investigator (which he did) so we made sure to have a police hat, shirt and handcuffs available.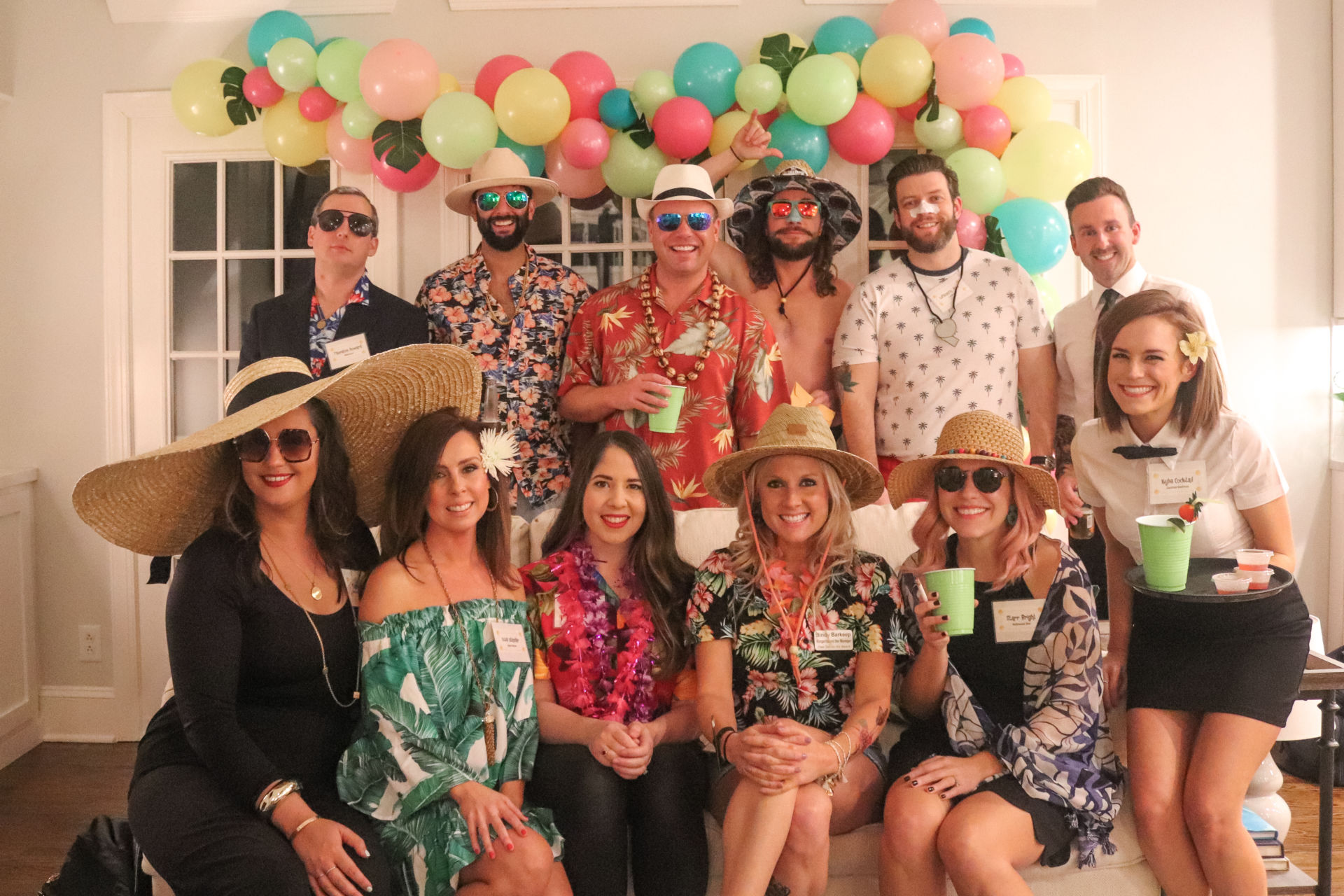 My character was Kylie Cocktail, the resort's sneaky, selfish, gold-digging cocktail waitress. Matt was Jack Daniels, the bartender known as the Casanova of the pool bar. We went through SO many outfits before finally landing on these — and I loved them!! Matt's tattoo sleeve was perfection.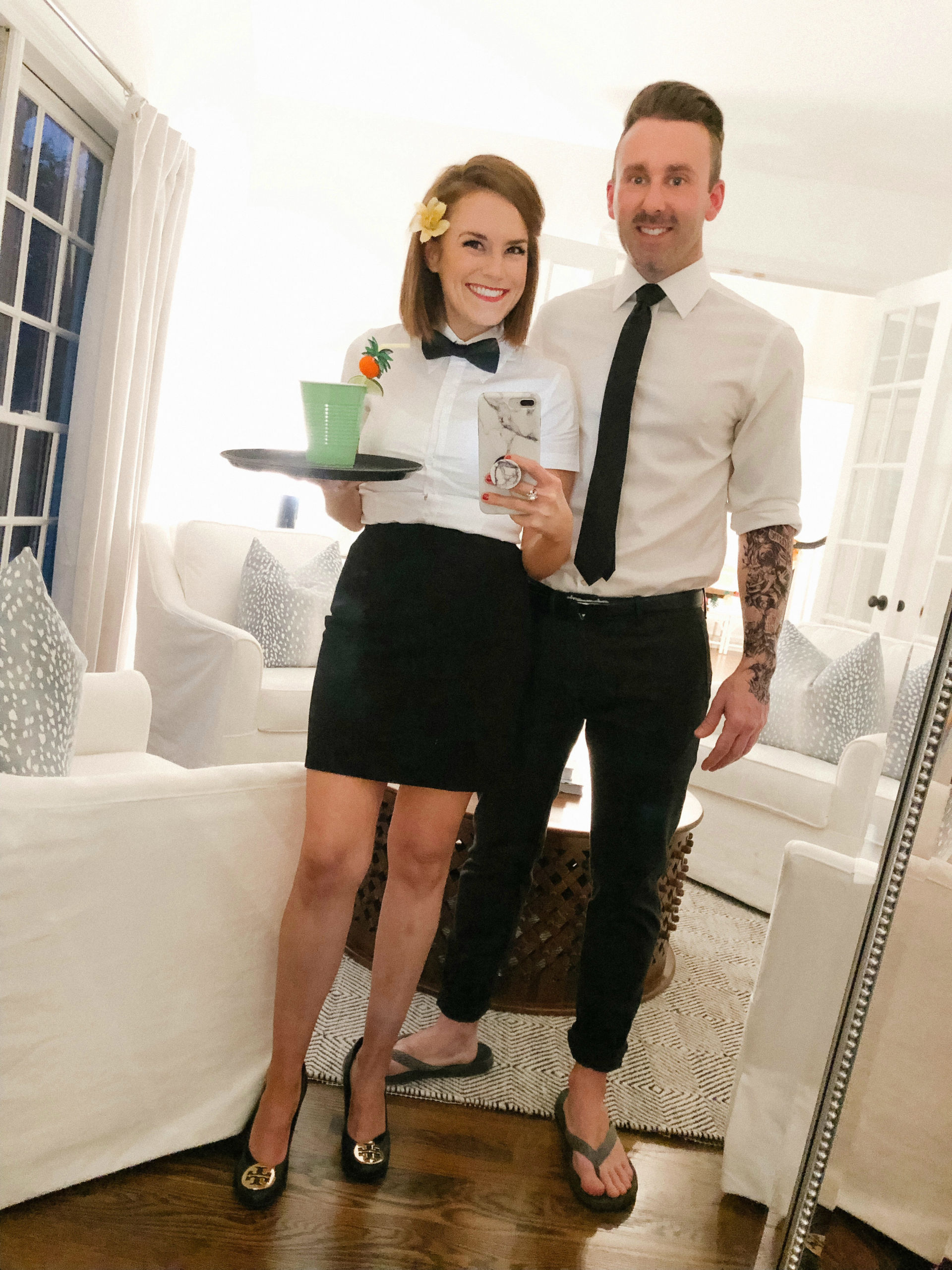 Kylie Cocktail Outfit Sources: Skirt / Shirt / Bow Tie / Wedges / Drink Tray
The Decorations
It was SO fun transforming our home into a tropical resort while it was snowing outside! The kids loved helping us too.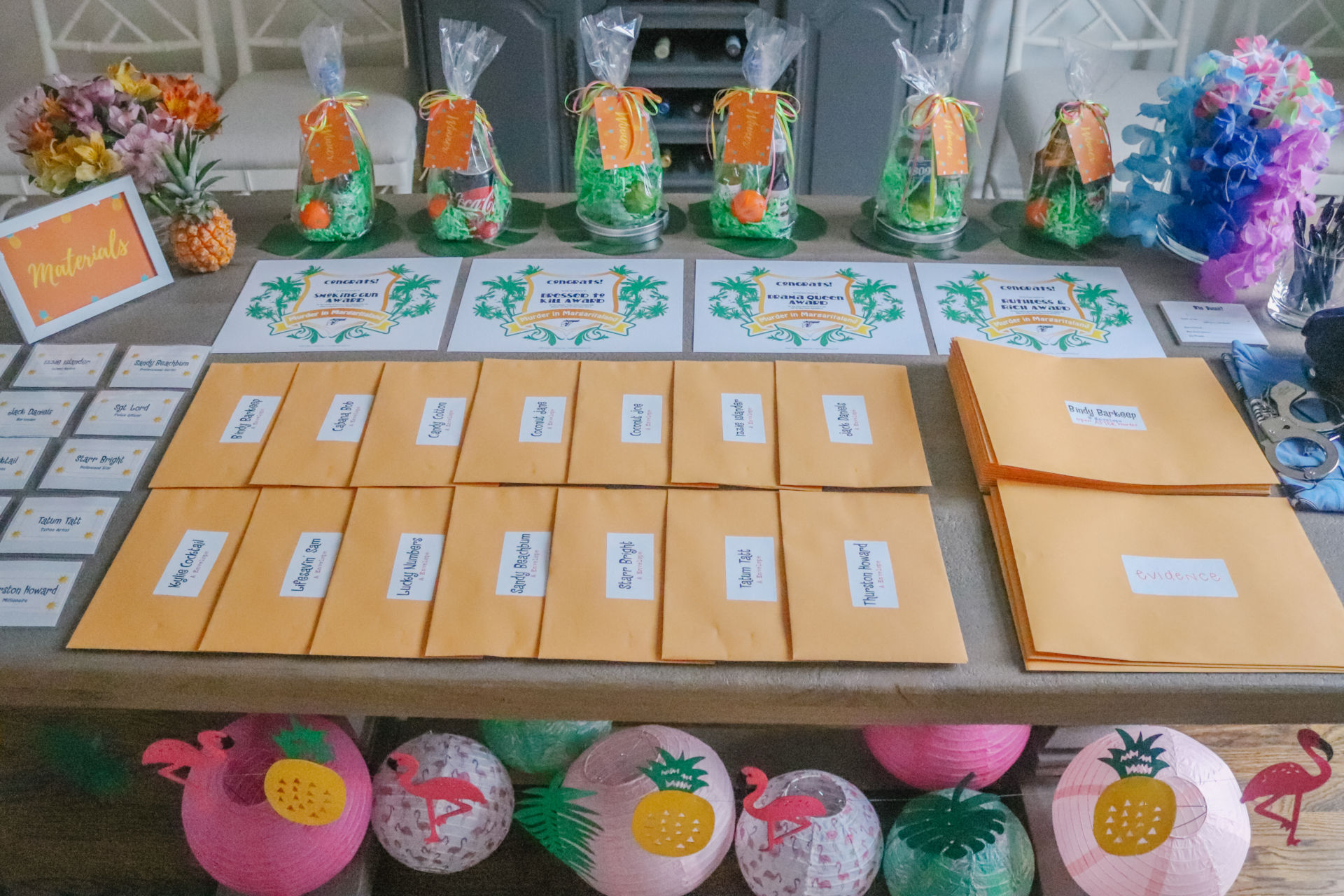 flamingo garland / paper lanterns / leis / tropical leaves / play money / fake cigarette
Tropical Balloon Garland
The balloon garland was super easy to put together and really made the room pop! It took about an hour to inflate 92 balloons and add them to the plastic strip.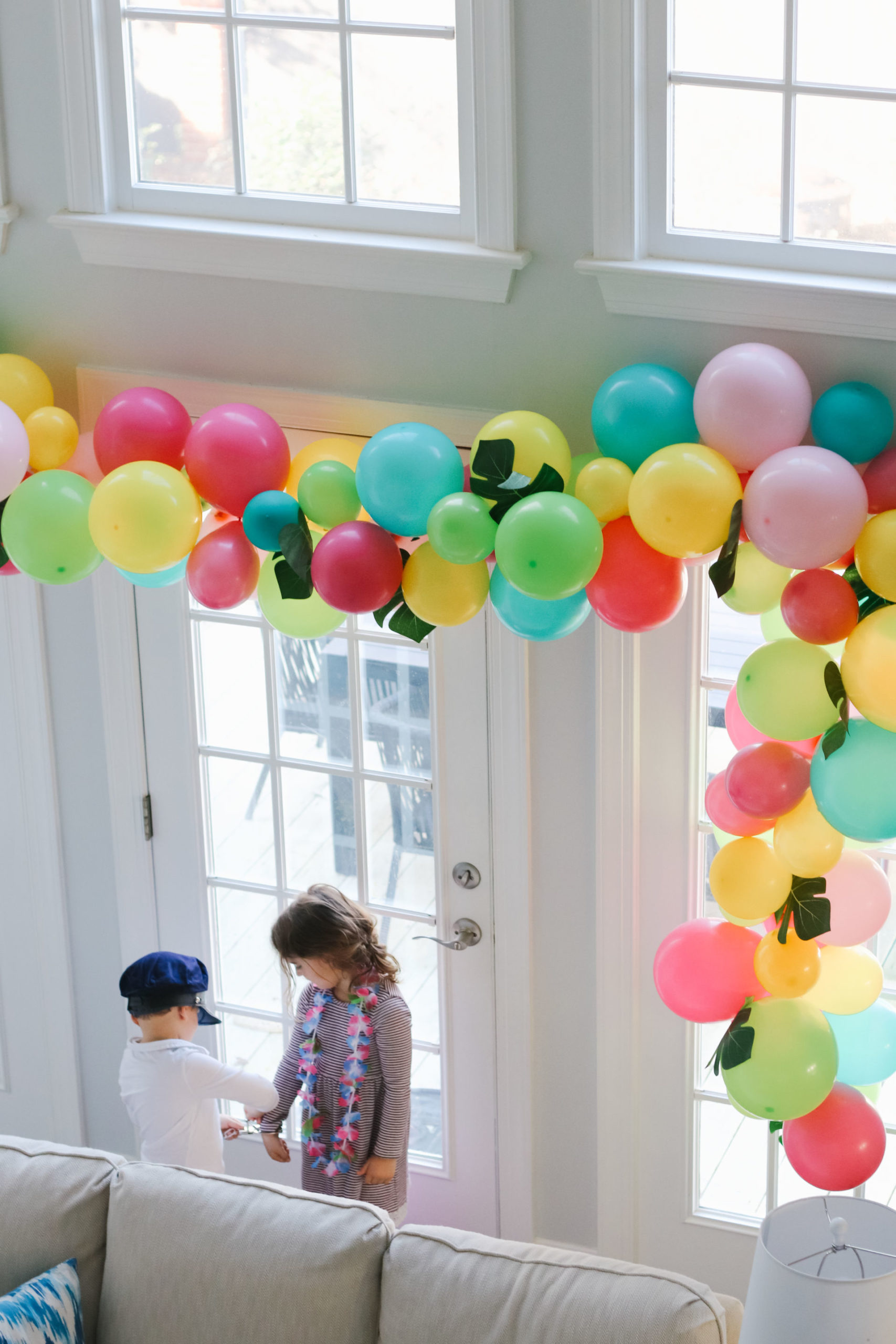 Tiki Bar
Matt really killed it with his tiki bar. He offered an assortment of liquor, beer on tap, bottled beer, wine and his specialty cocktail was the paloma (which was a huge hit)!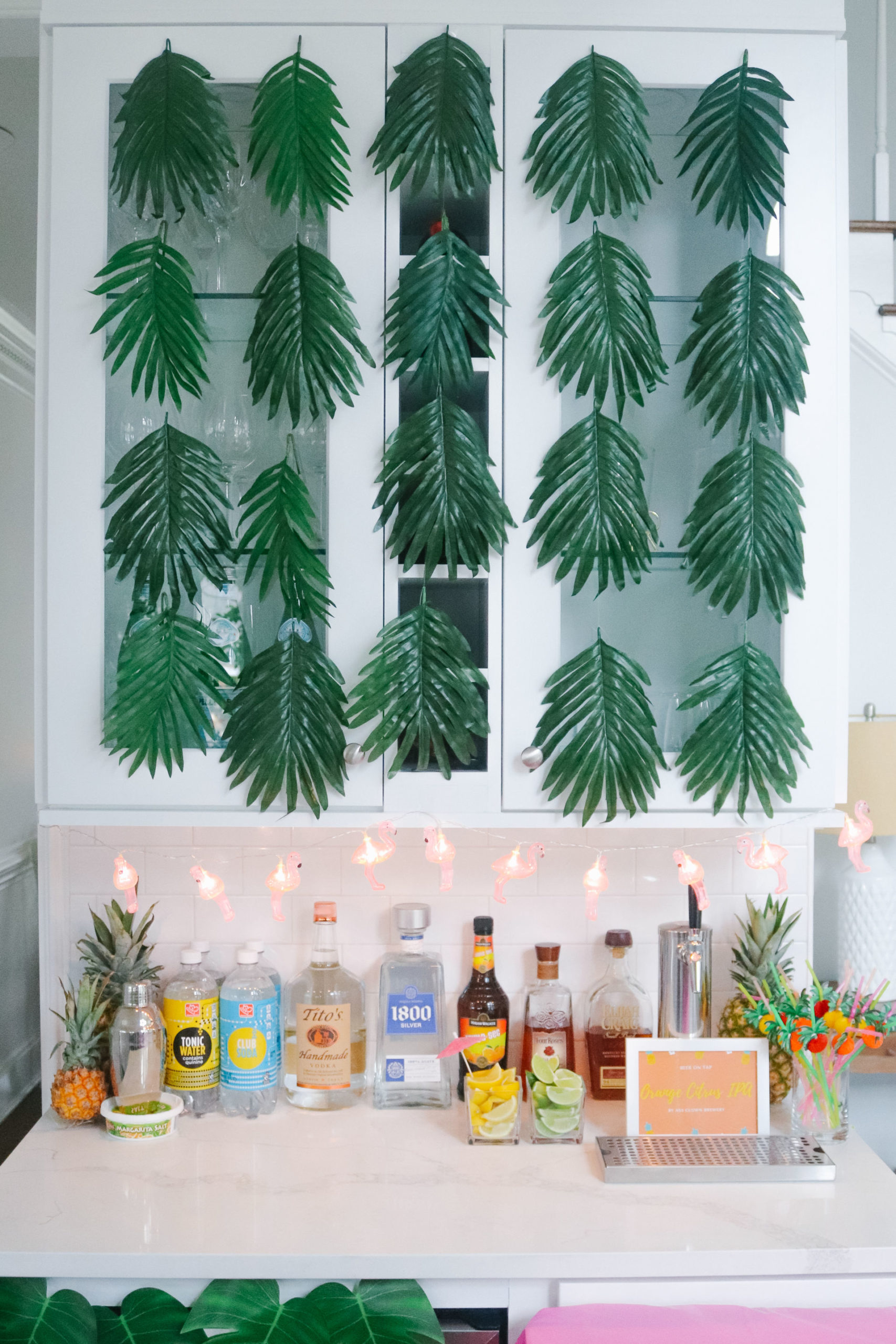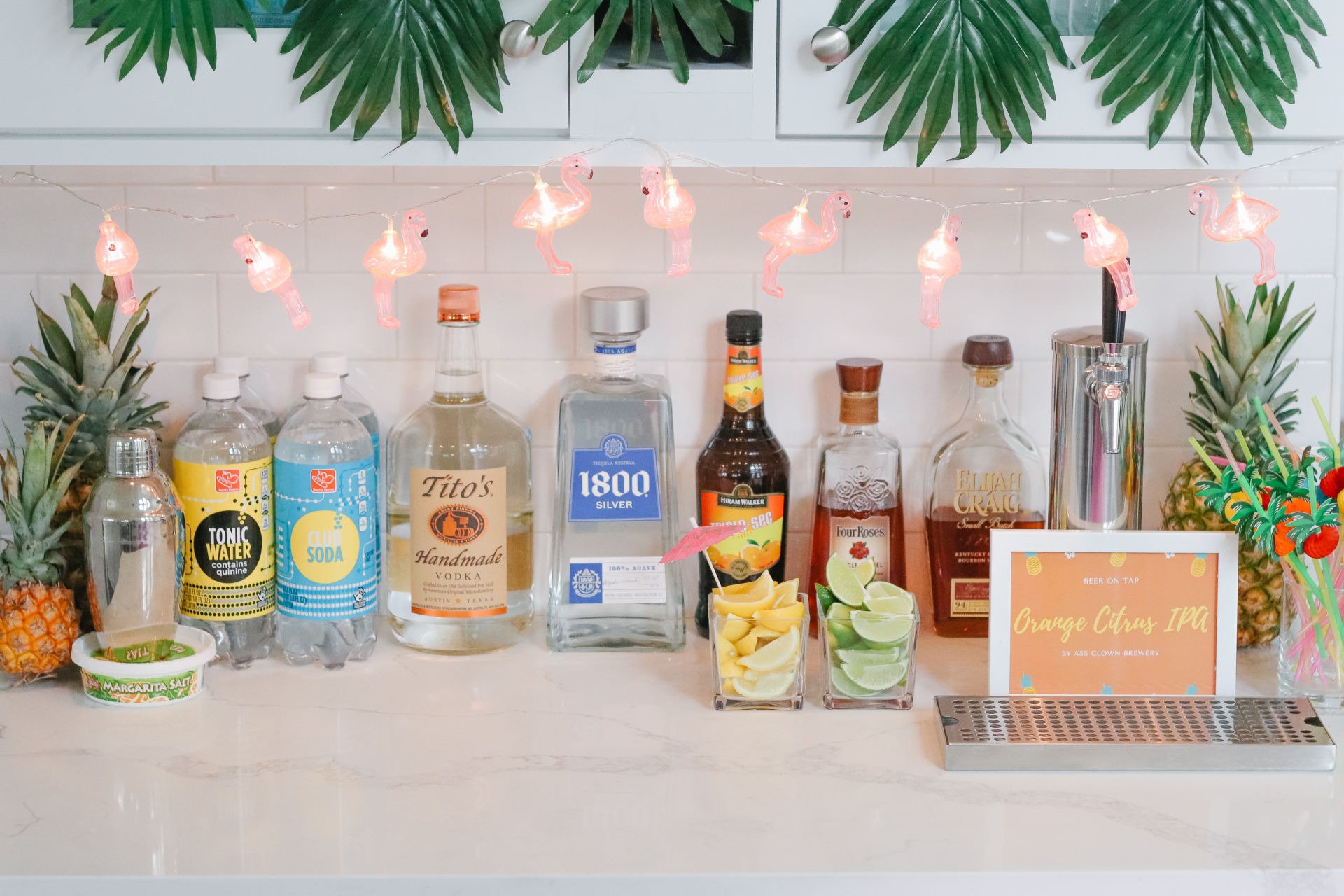 tropical leaves / umbrella picks / pineapples straws / flamingo lights / grass skirt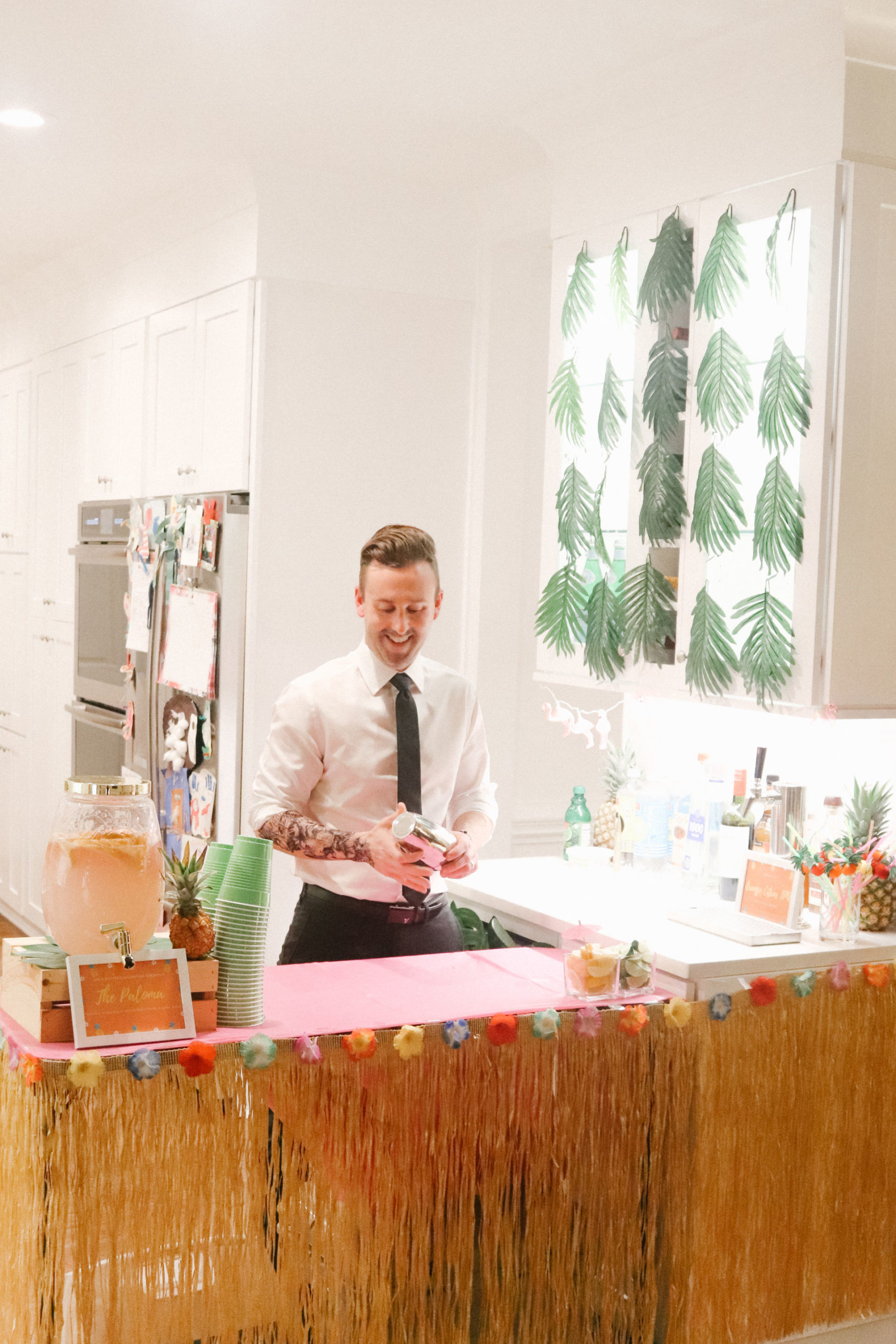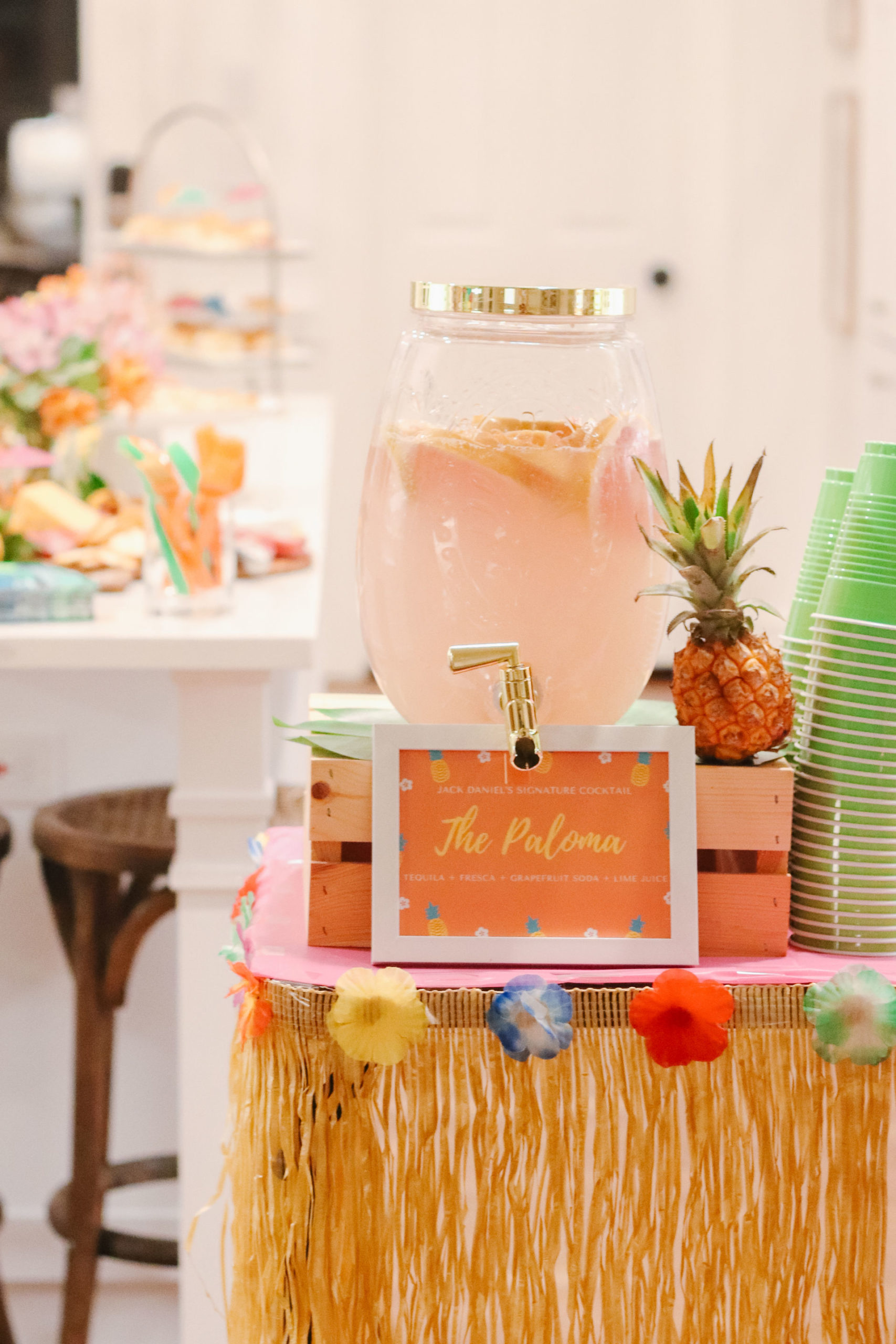 Centerpieces
I died when I saw baby pineapples at the grocery store and bought every single one they had. They were tiny and adorable and made the best decorations. I also snipped some leaves from our backyard plants to add some fresh greenery then sprinkled in lots of fruit (oranges, limes and lemons). Oh, and I added some fun umbrellas and flowers too!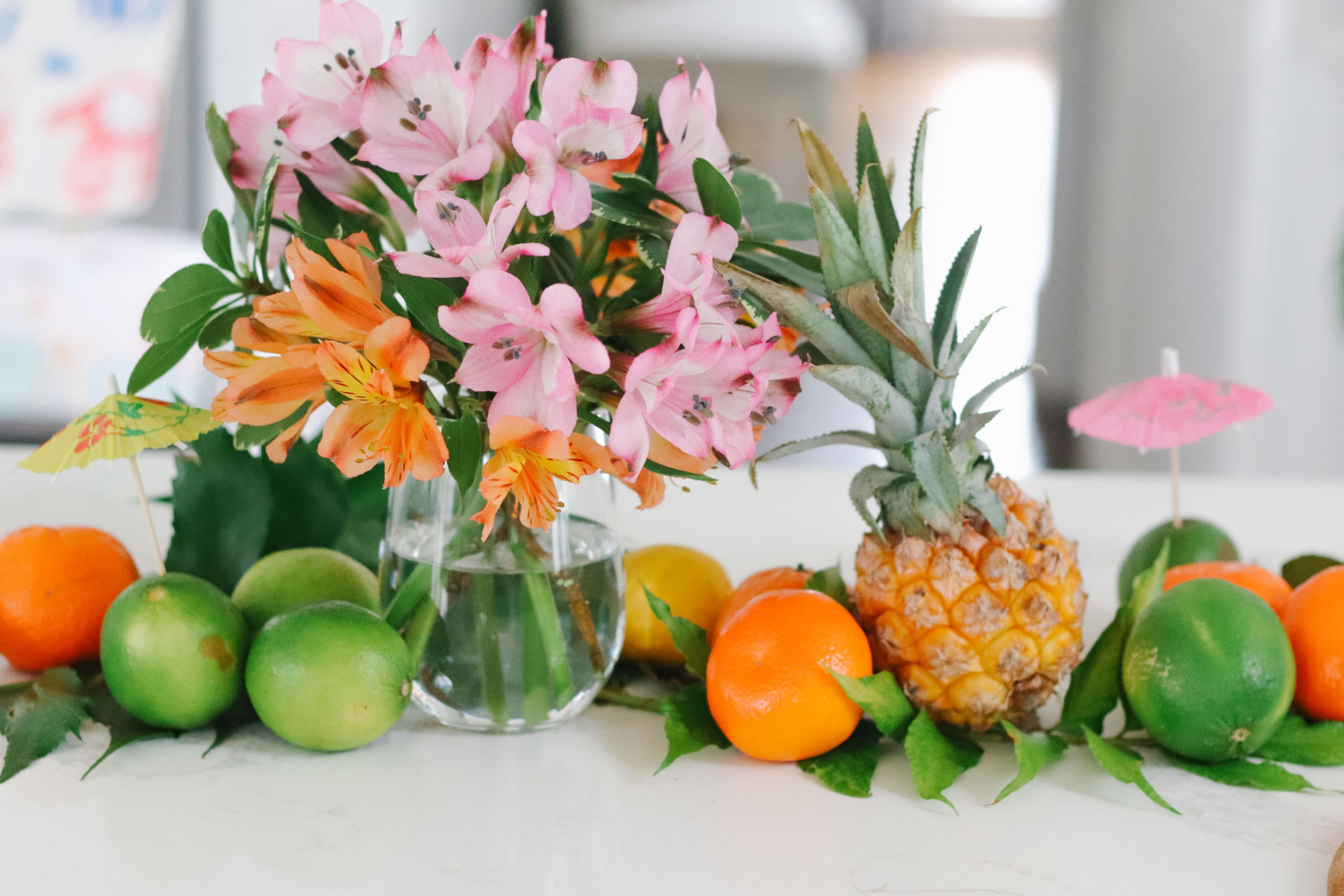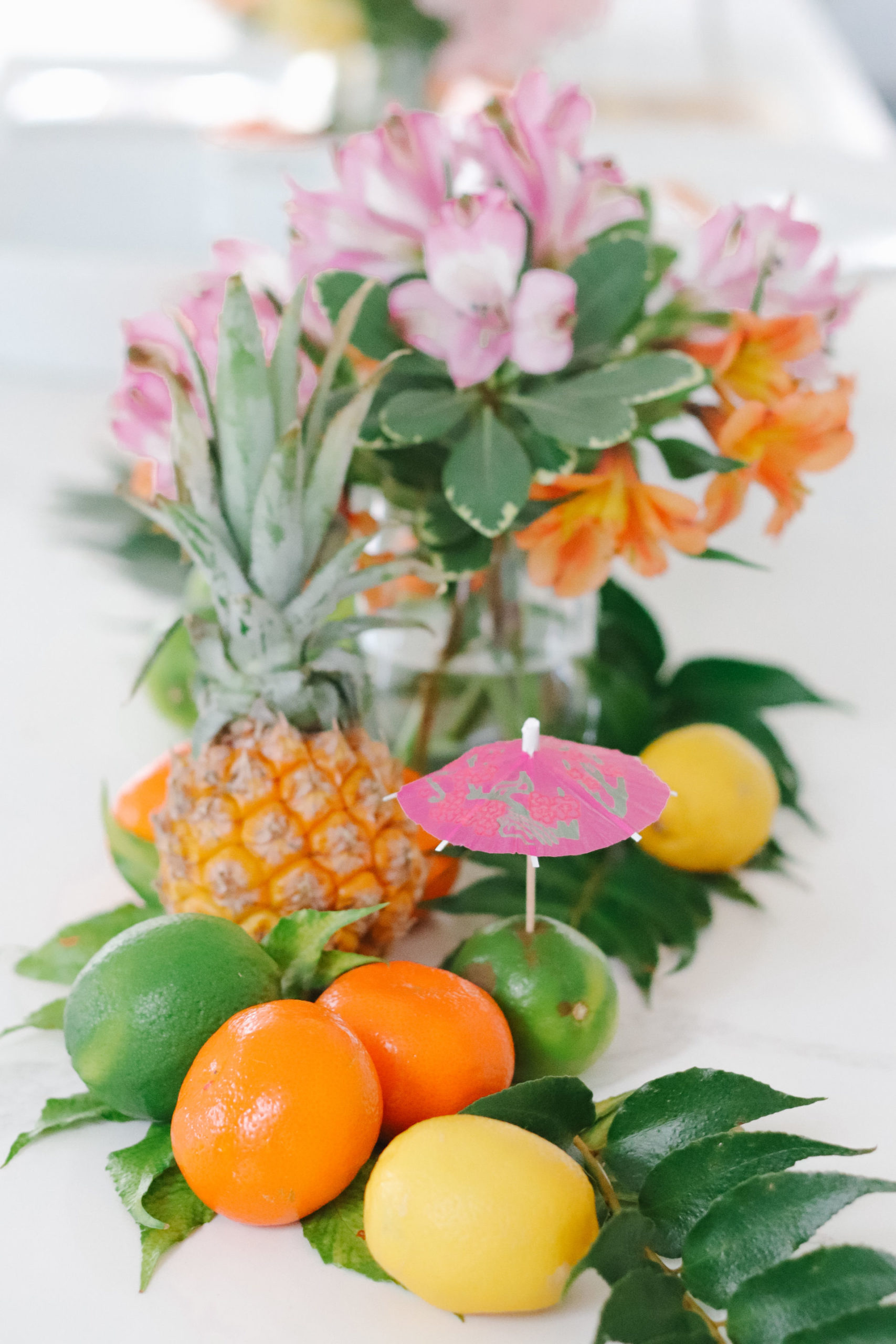 Candles & Music
To make our home smell festive, I lit a few coconut pineapple candles. And of course, we had Caribbean music playing all night! Both of these details really helped set the island vibe!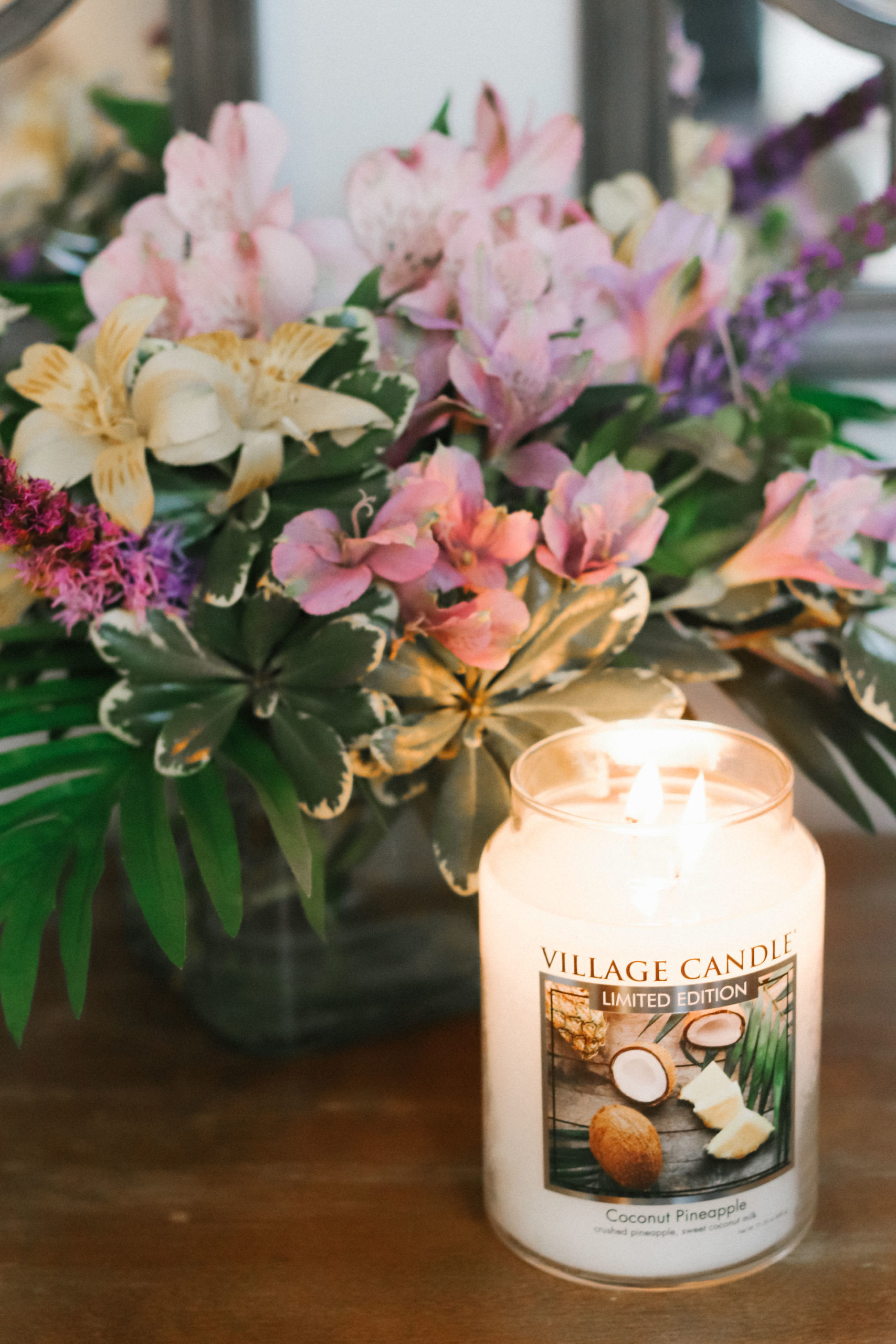 Food
We served a lot of small bites so guests could easily grab and go. I made my favorite hawaiian ham sliders and Michelle took care of the rest! She brought tons of chips, 3 types of salsas, chocolate covered pretzels, mini tacos (Trader Joe's), two types of pizzas (California Pizza Kitchen) — Hawaiian & BBQ chicken, the best homemade guacamole, fruit kabobs, nuts, a meat & cheese board and more (not all pictured below). So we had tons of food…and by the end of the night guests were definitely diving into it.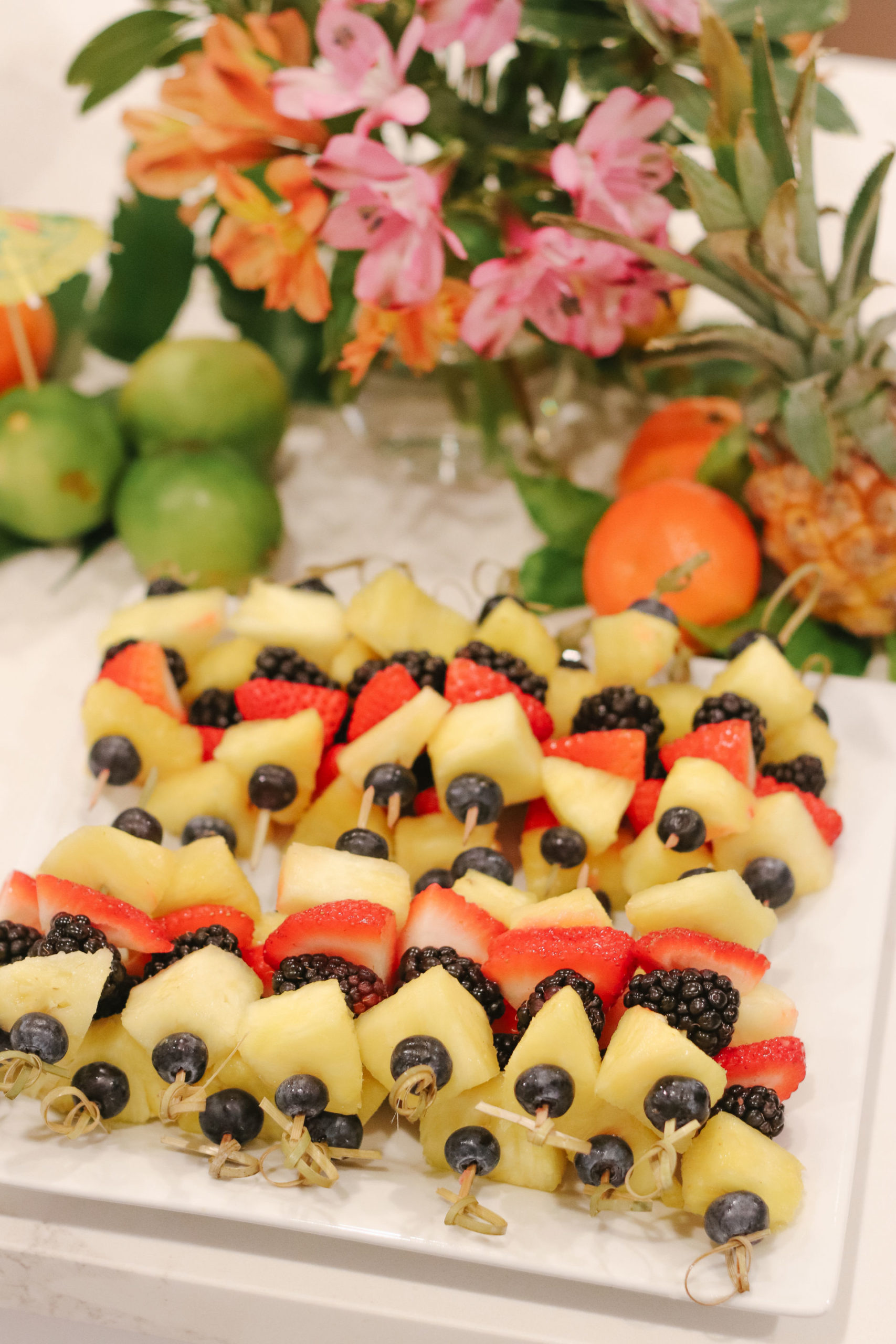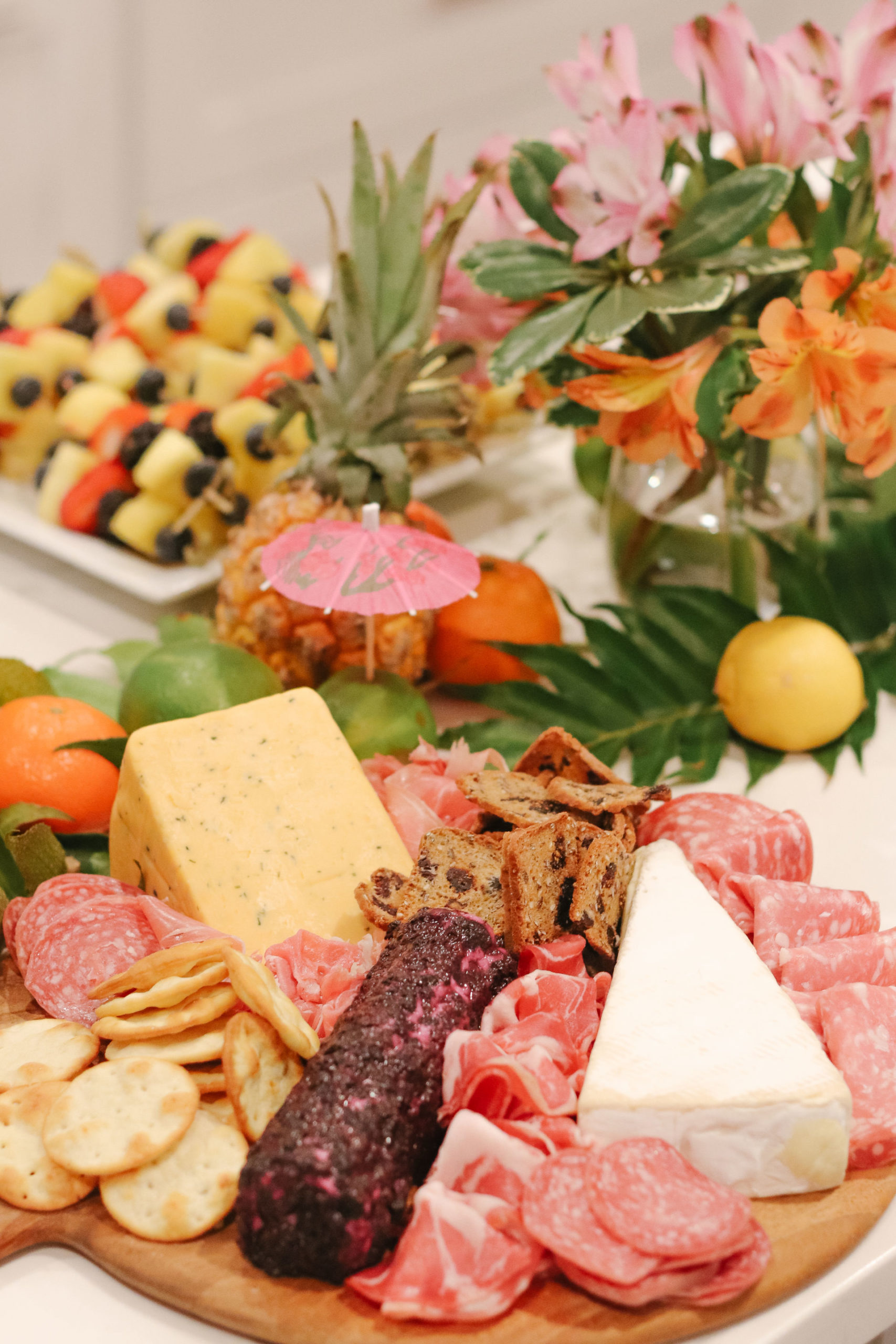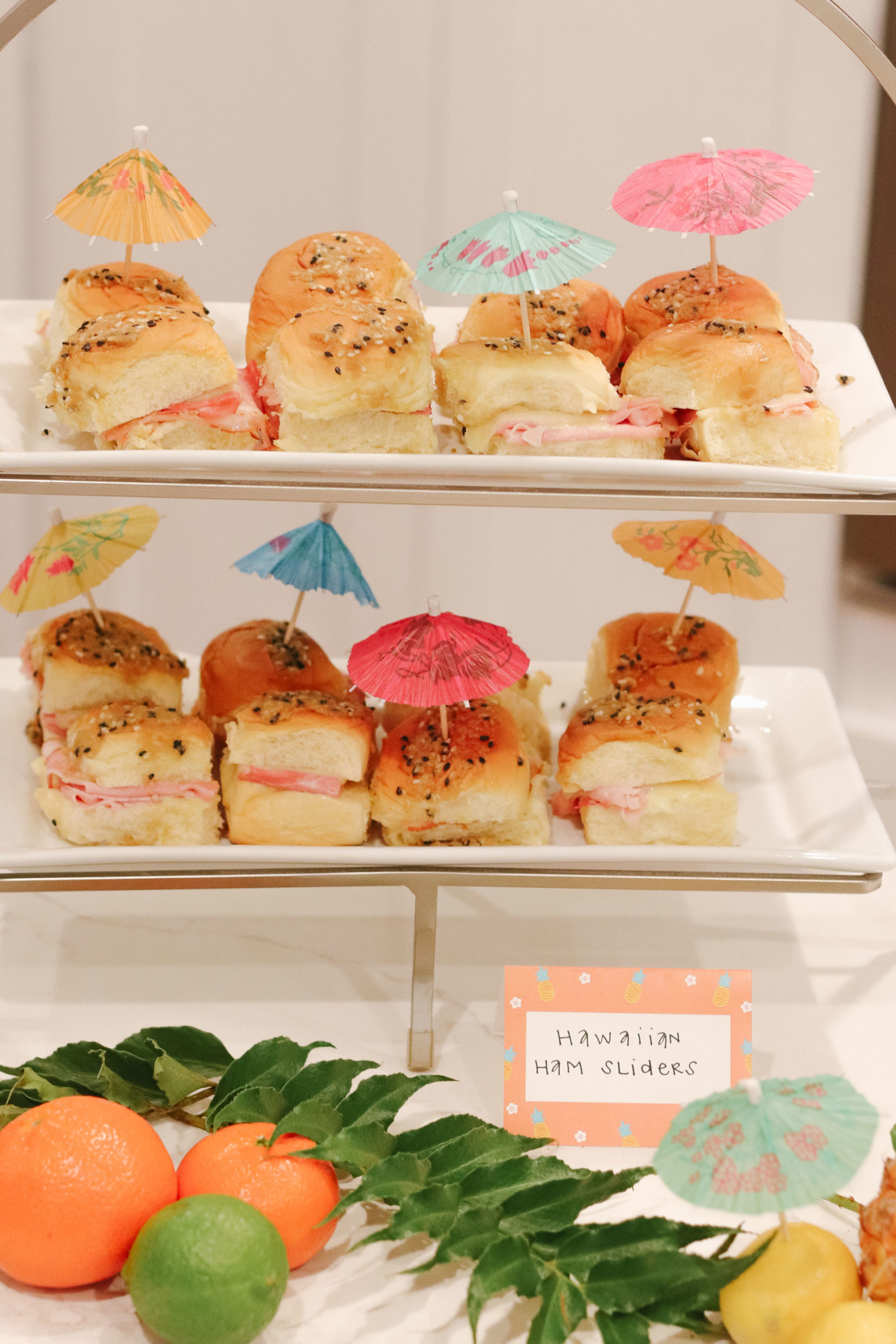 The Materials & How to Play
I highly recommend preparing your materials as early as possible to get this step out of the way. This takes a TON of time and you have to print a million pieces of paper, cut a bunch of things up and stuff + label all the envelopes.
Round 1
Upon arrival, each guest receives a name tag, an envelope with their objectives for the first half of the game and fake money. The kit comes with fake money you can print but I really liked this play money that looked realistic (and I didn't have to cut out 150 bills). After everyone completes their objectives, the lights go off and there's a loud bang noise (we used a cap gun)! The victim is revealed when the lights are back on and the Detective outlines the body with masking tape! I wish I had snapped a few pictures throughout the game (especially of the hilarious masking tape outlined body), but honestly we were all so in character that it didn't cross my mind to grab my camera.
Round 2
Guests then receive a second envelope which includes their objectives for the second half of the game (and some characters receive pieces of evidence)! By this time in the night everyone had really loosened up thanks to Bindy Barkeep's jello shots and the performances were getting more and more hysterical. After everyone completes their objectives, the Detective presents all of the evidence and hands out accusation sheets for guests to write down who they think is the killer and vote for best dressed, best performance and the amount of money they have.
Conclusion
After the host adds up all the votes, he or she announces the winner and hands out the prizes!
The kit estimated 2-4 hours to play the game, and we completed our mystery just a little over two hours. And then everyone stayed 3 hours longer to hang out and continue the fun.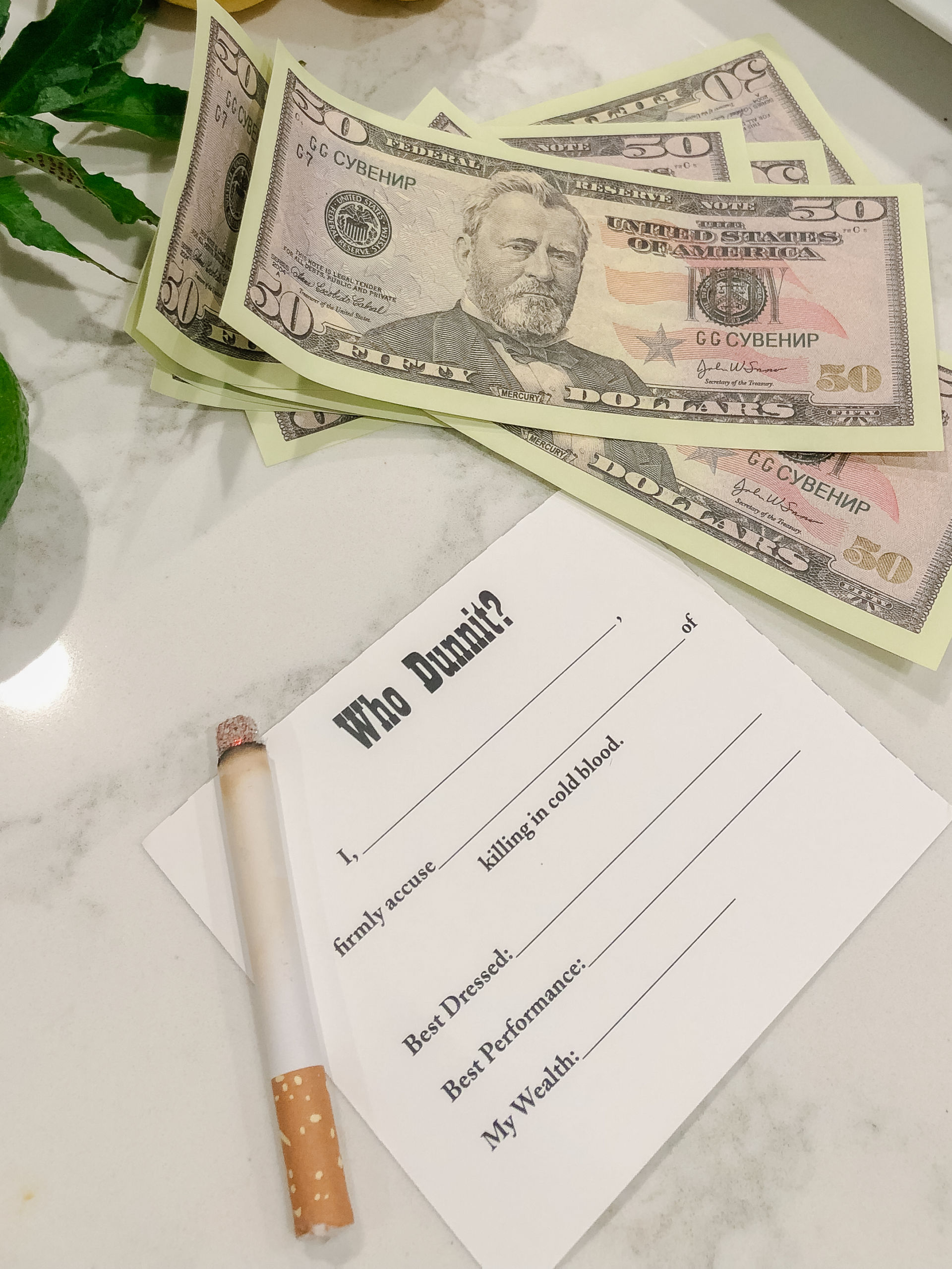 Prizes
At the end of the game we handed out prizes for Best Dressed, Best Performance, Most Wealth and Mystery Solver. Michelle made the cutest prizes ever — cocktails in a bag! She had a variety of cocktails from margarita kits to jack & coke kits. They were a huge hit!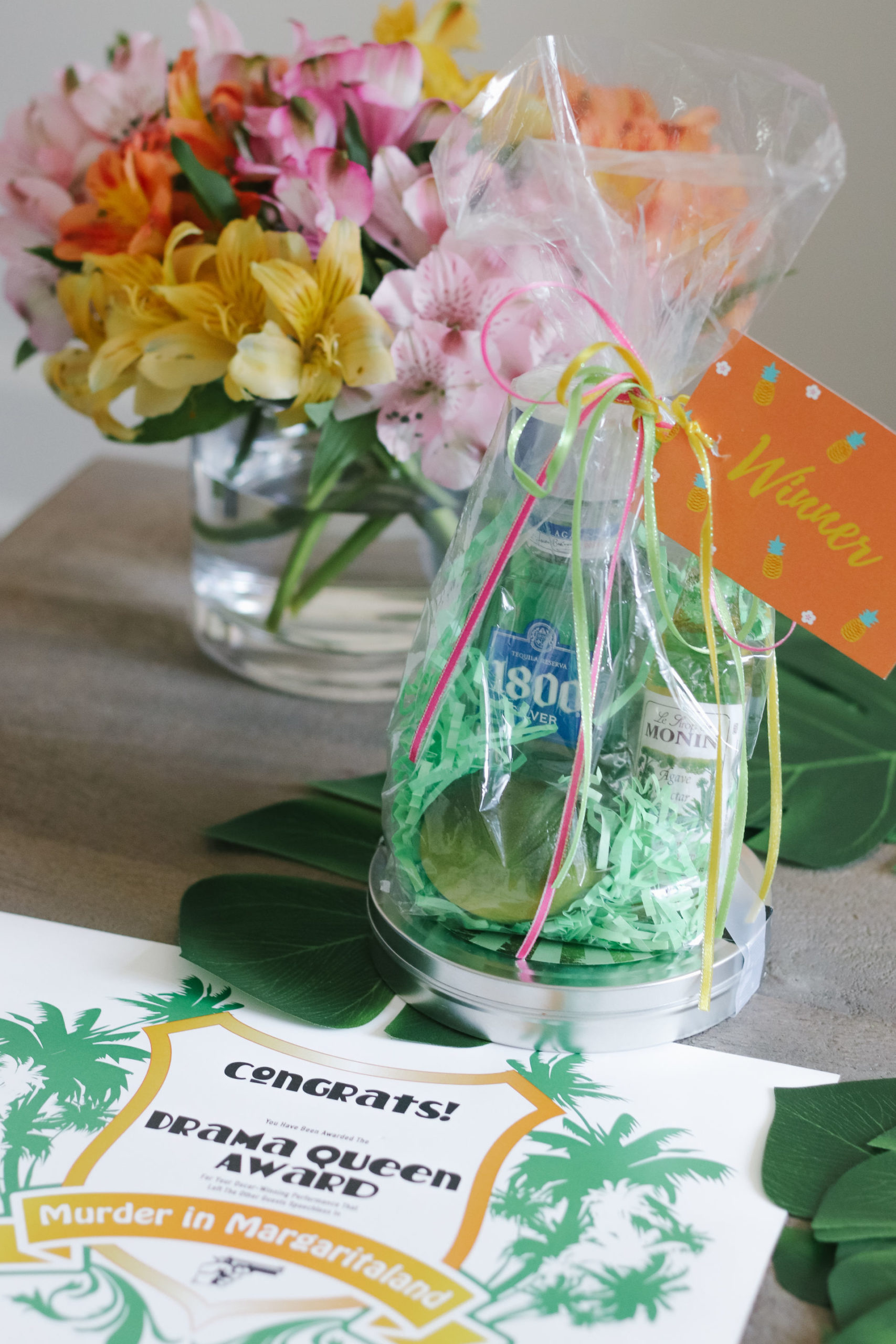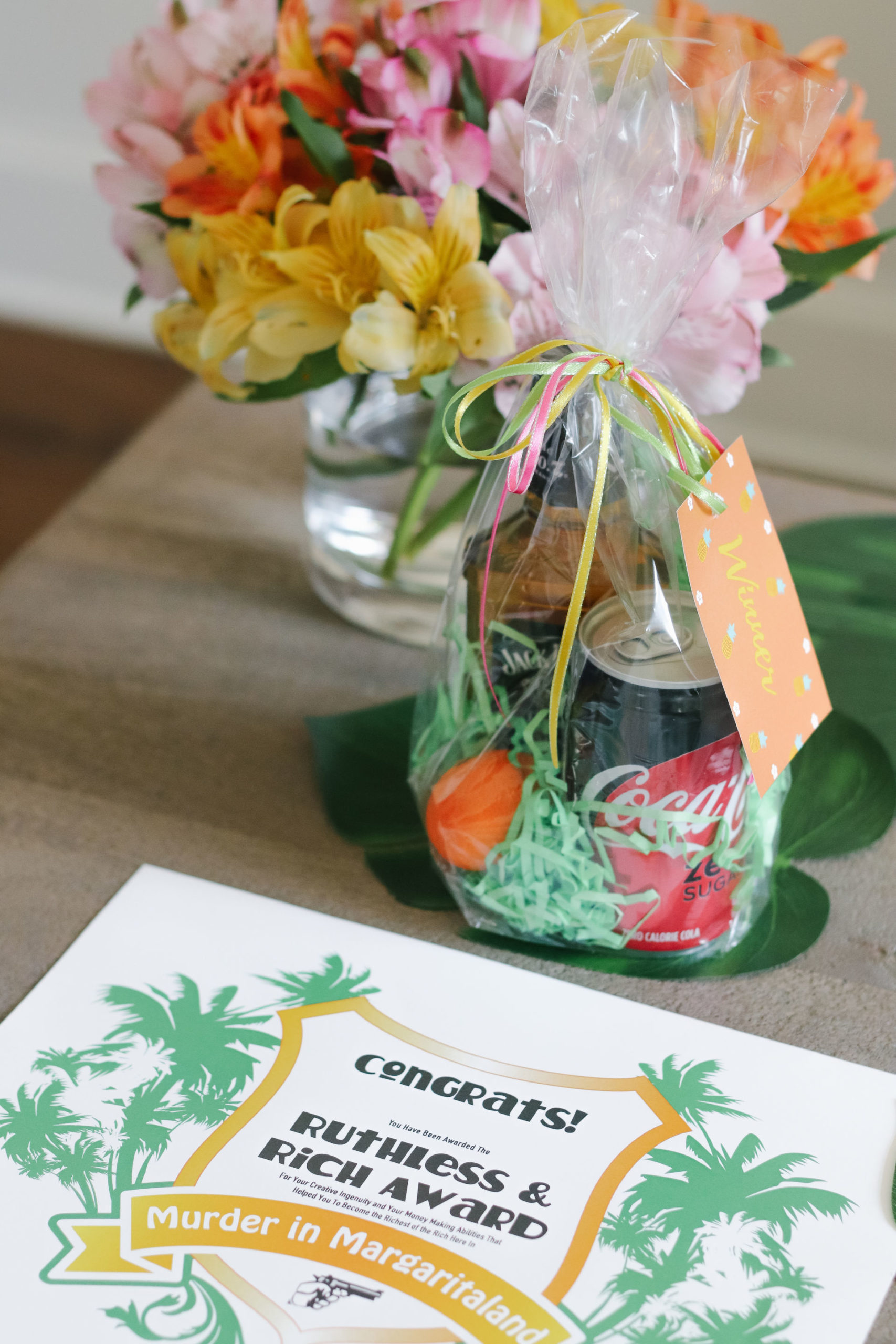 The night was an absolute blast and we will definitely, definitely, definitely be hosting another murder mystery party in the future!
Party Sources
Decorations
tropical leaves / yard flamingos / plates + napkins / flamingo garland / paper lanterns / flamingo lights / umbrella picks / pineapples straws
Materials
Murder in Margaritaland party kit / name tag holders / envelopes / play money / cap gun + caps / masking tape
Costumes
police hat + shirt + handcuffs for Investigator / Skirt + Shirt + Bow Tie + Wedges + Drink Tray for Kylie Cocktail / tattoo sleeve for Jack Daniels / leis / fake cigarettes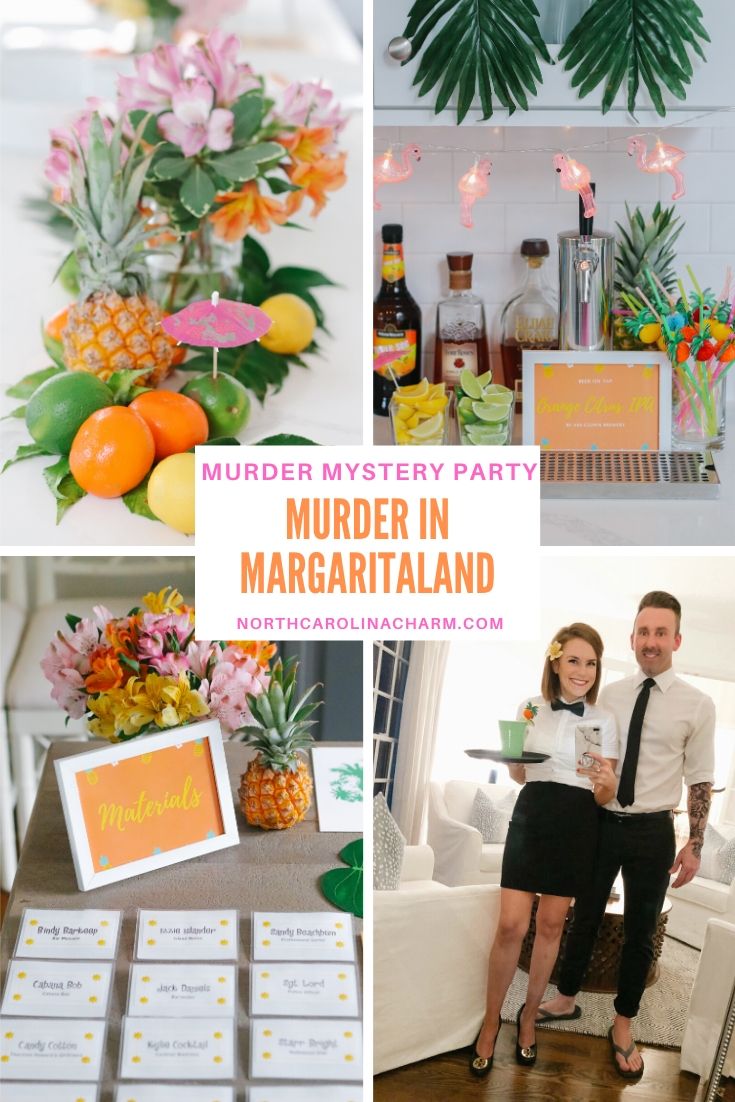 10 Tips For Hosting a Murder Mystery Party
Find a co-host. The party requires a ton of planning so dividing up the tasks helped tremendously. I was in charge of materials and decorations, and Michelle handled the food and prizes.
Consider the guest list. Invite friends who you think will feel comfortable acting their part and be willing to stay in character all night.
Preparation. Do as much preparation in advance as possible including getting the invitations and character assignments out as early.
Anticipate cancellations. The flu struck some of our guests the day of our party and we had to shuffle some of the character assignments around last minute. Make sure you know which characters you absolutely need and which ones are not required to play. For the non-required characters, the host can read the cards out loud or set them up in the corner (along with a prop) for guests to stop by to read during the game.
Set the vibe. Answer the door in character as guests arrive. Decorate your space to fit the theme. We lit coconut candles to make our home smell like a resort and played Caribbean music (we set a speaker on the front porch too).
Go all out with your costume. Let everyone know there will be a prize for best costume too. There were tons of fake tattoos, fake cigarettes, lots of sunglasses and oversized hats at our party.
Booze. Have plenty of it. We provided a full bar and the specialty cocktail was a huge hit. Matt bartended all night and by the second round the guests were giving their best performances.
Have plenty of food that is easy to grab and go. Normally I would say guests don't eat very much during a party — but this one was the exception. Make sure to have small bites that guests can easily grab and continue mingling.
Move the party along. The kit estimated 2-4 hours to play the game, and we completed our mystery just a little over two hours. The longer you drag it out, the more opportunity there is for people to fall out of character.
Prizes. And don't forget to make a few extra in case there are ties for best dressed or more than one person guesses the murderer.