Alright, I'm tackling one of the most requested post topics — new house project details! We've got several projects going on right now but I thought I would start with the kitchen renovation.
Renovating the kitchen in our new home is one of the bigger projects we wanted to knock out before we move in. We used Atreum Construction for all the renovations in our current home and have always had an amazing experience, so they were our first call when we went under contract. And like with our previous projects, they have been excellent, patient, responsive, and move quick.
Here's where we started….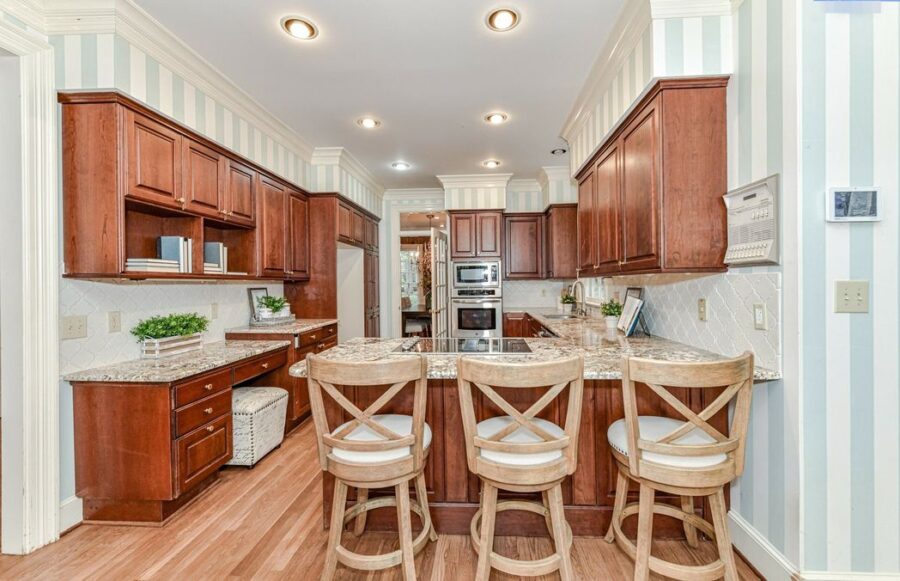 While the original kitchen wasn't terrible, our vision was to open it up, brighten it up, and lay it out in a way that is more functional for our family.
To be completely honest, it took hours and hours of standing in the kitchen with our contractor, our designer, friends with good design vision, and LOTS of painter's tape to figure out how to reconfigure this space.
Finally, Atreum (who we trust immensely) recommended we demo the kitchen and then draw up plans. This way, we would know exactly which walls could come down, navigate any surprises, and visualize the space better without walls and cabinetry.
I am so glad we did this. Right away we were able to pinpoint some limitations and determine the best placement for a gas range, kitchen window, fridge, cabinetry, etc.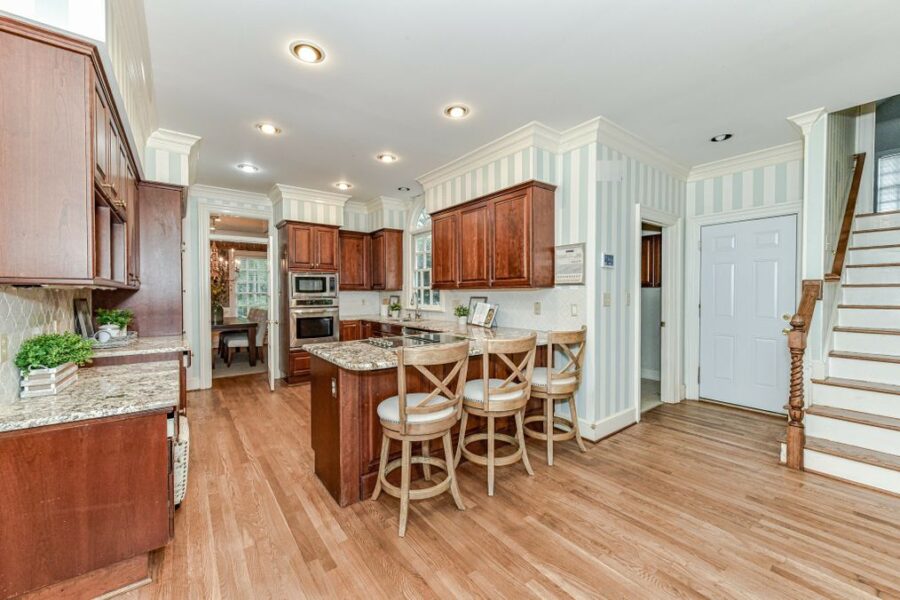 To open up the space, we took down 3 walls.
The easiest wall to take down was the one between the kitchen and the dining room. While this meant we were going to lose some cabinetry and appliance space, we really wanted these two spaces to flow together and feel part of the kitchen. The dining room in our current home is at the front of the house and we use it a few times a year for special occasions. The goal for our new dining room is to use it every night as our primary eating area.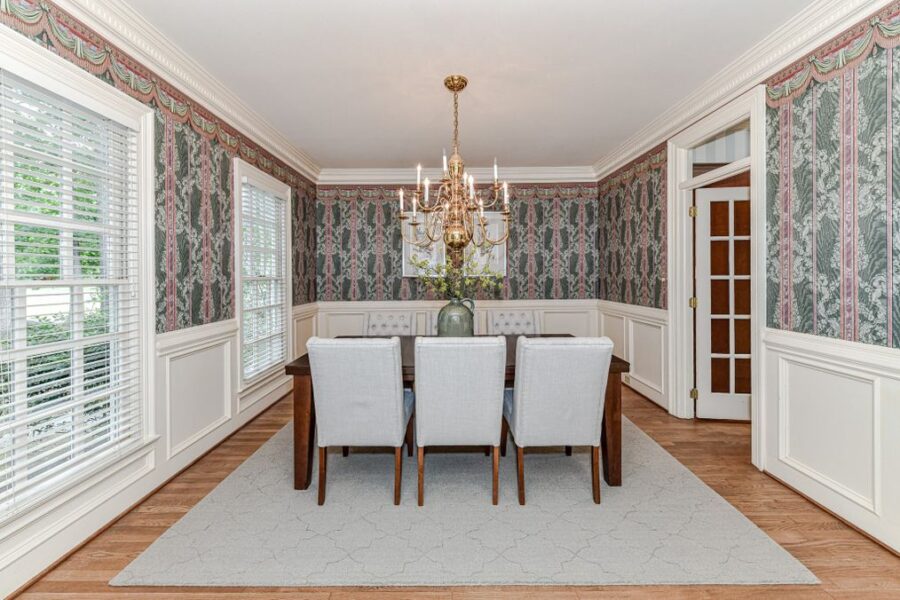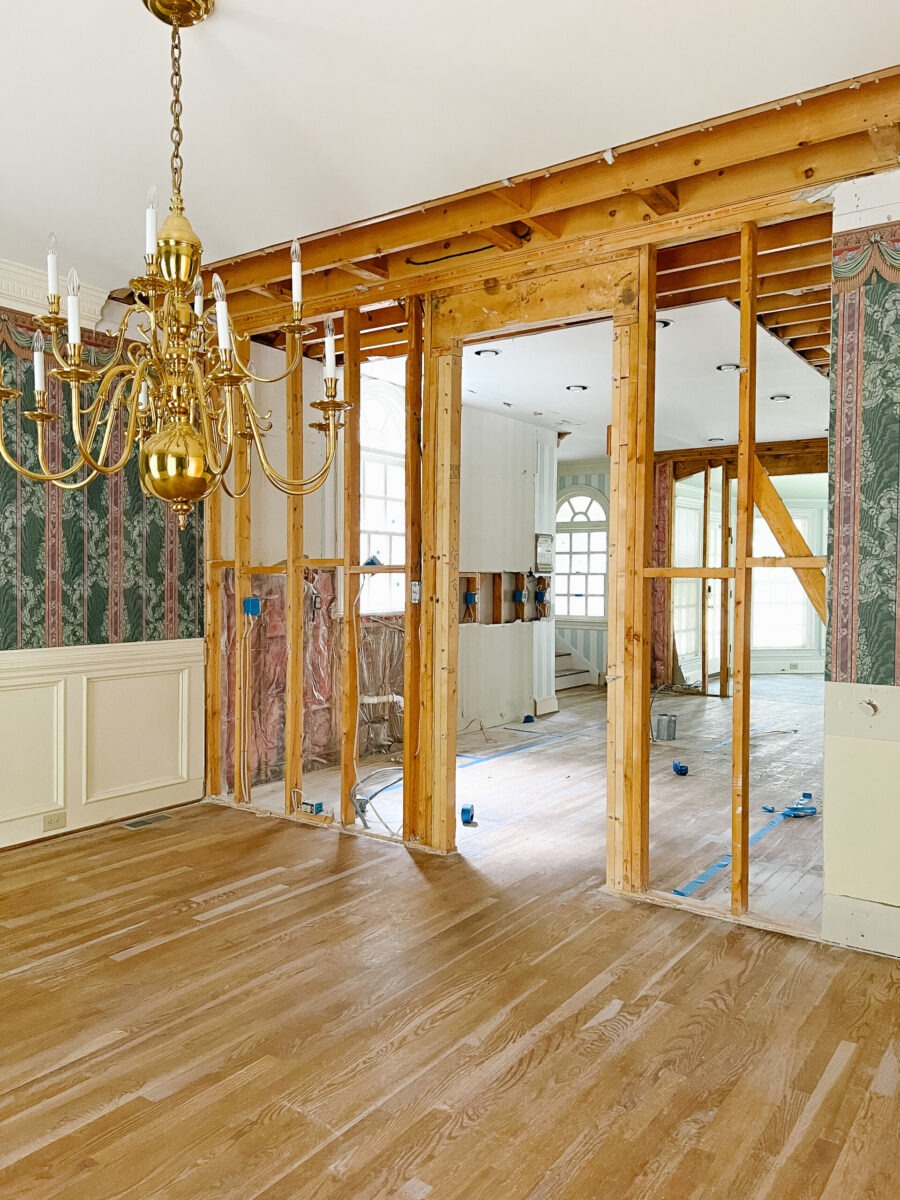 We also demo'd the striped wallpaper wall that separates the sunroom and kitchen, as well as the desk wall that separates the family room and kitchen.
These two walls were structural so in order to remove them Atreum brought in a structural engineer to design two support beams. The timing of this project couldn't have been cuter. These walls came down right around our 11th wedding anniversary, and the traditional anniversary gift for 11 years happens to be STEEL! So Matt and I decided to gift each other a steel beam for our anniversary — a gift we'll never forget!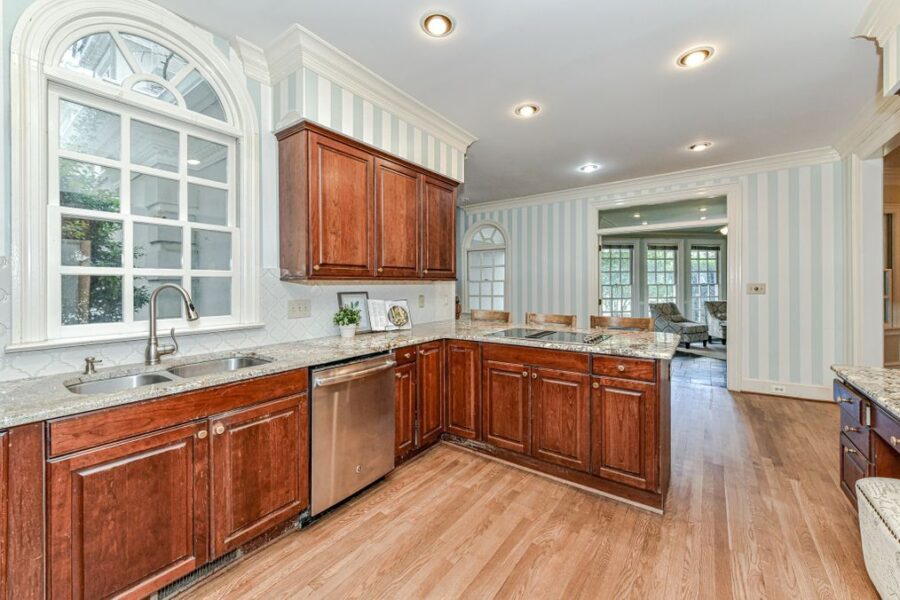 The sunroom is on the other side of the striped wallpaper and is definitely the most awkward part of the house. We are still completely stumped on what to do with it.
The previous owners enclosed their wrap-around patio so the space is narrow and wraps around the back of the house. I'm sure there will be a post dedicated to this room in the future, but in the meantime, our designer came up with a brilliant plan to extend the kitchen into the sunroom to use up some of the space.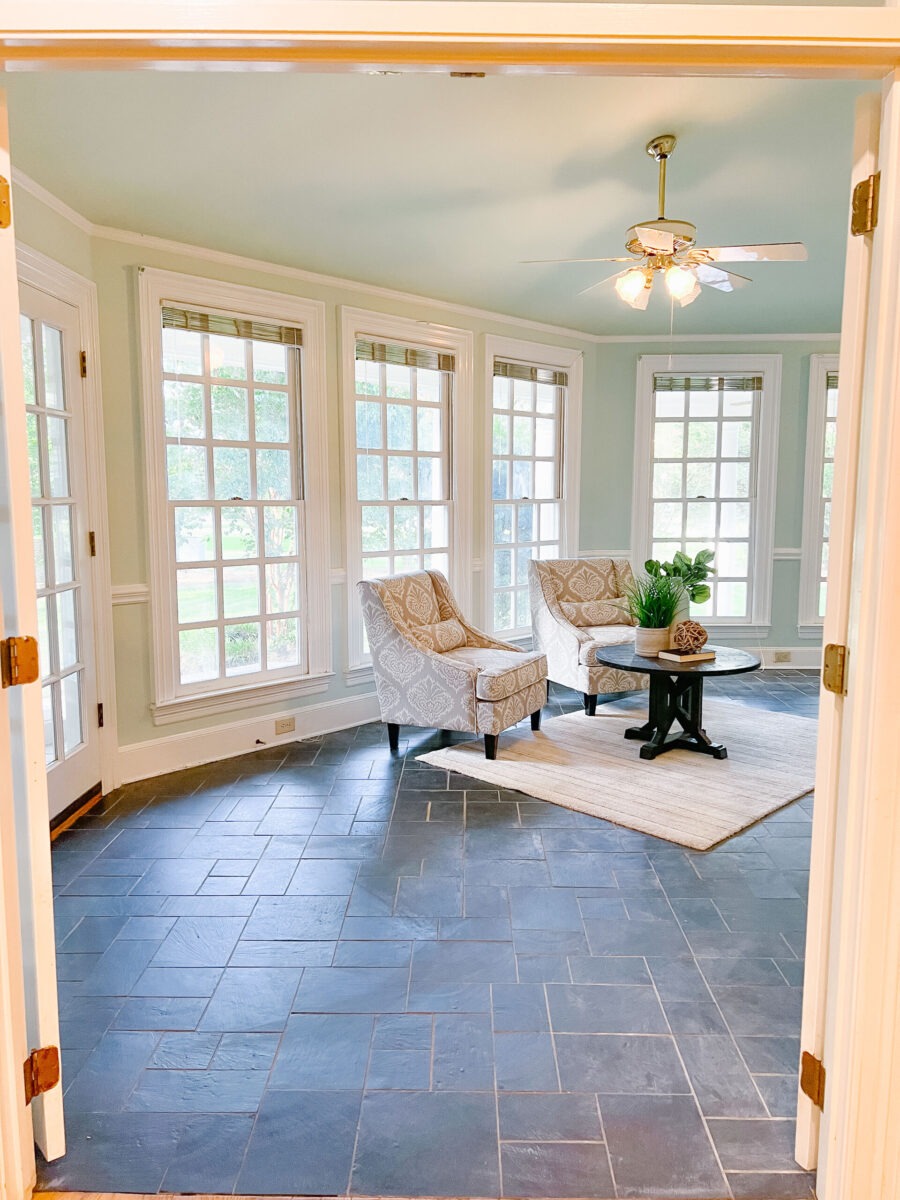 Once these walls came down we uncovered our first big curve ball.
Behind the insulation was water damage from an active roof leak. Unfortunately, surprises behind walls are hard to identify during the home inspection, so this was a disappointing twist to our plans — and budget. We fully renovated our current house so we were prepared for some curve balls and surprises, but it's still never fun when they pop up.
We knew we were going to replace the 35 year old roof eventually, but we had not anticipated replacing it immediately. And unfortunately, it was beyond repair, so we decided to table a few other projects that hadn't yet started in the home and reallocate our budget towards putting on a new roof.
Back to the fun part, here's the space all opened up!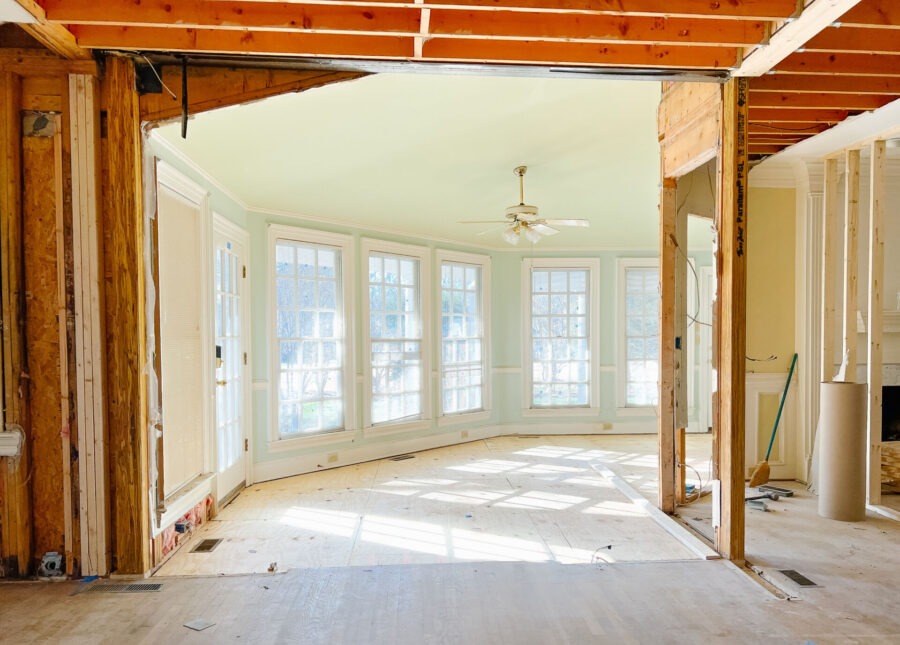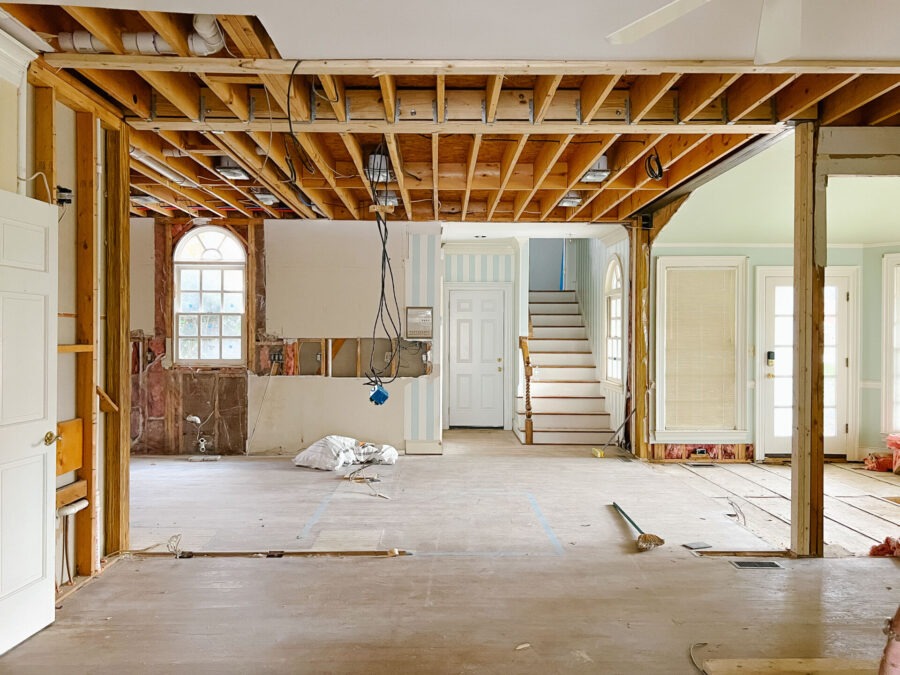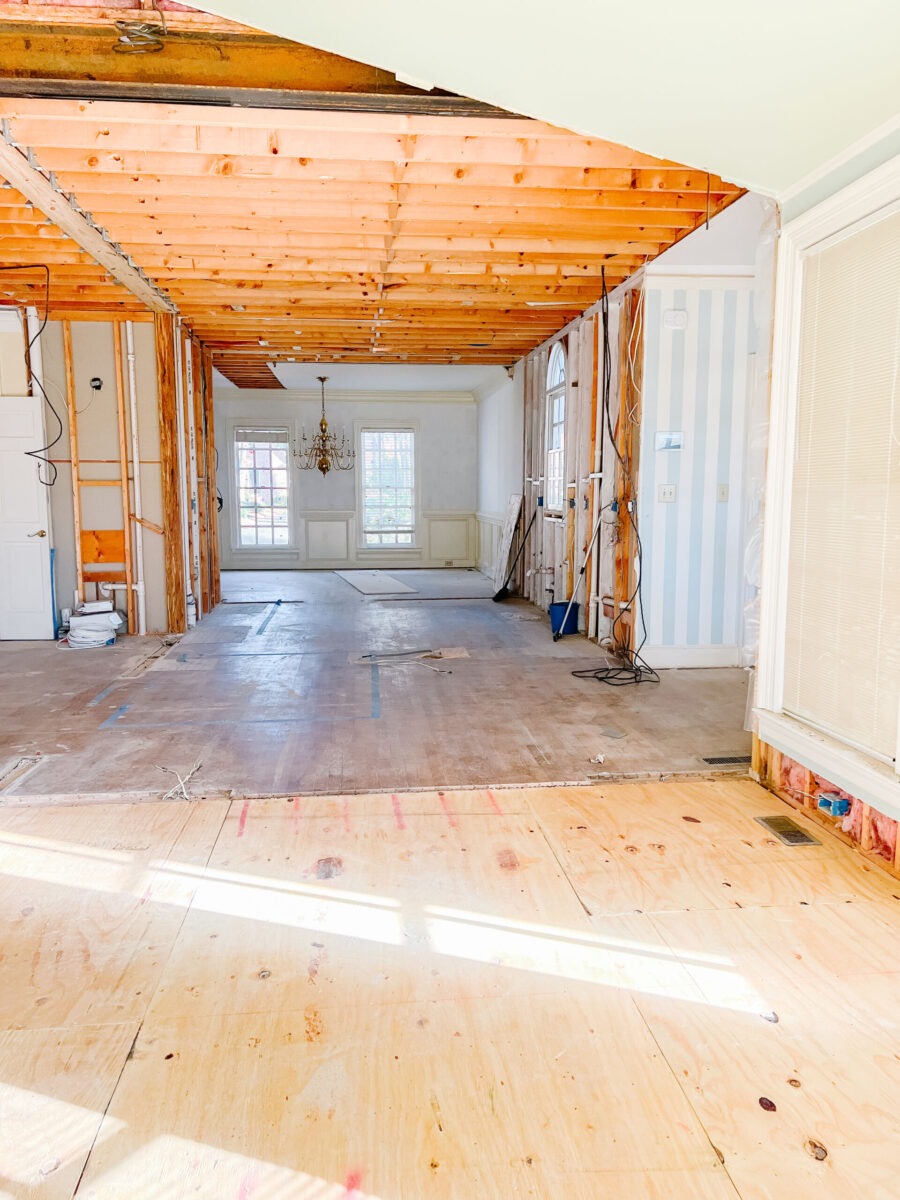 Design Plans
As I mentioned, designing the kitchen was definitely more challenging than we anticipated. It's hard to tell but the kitchen is actually very narrow so running a large island down the center wasn't an option, even after opening the walls up.
Our wish list for this space looked like:
A large island with lots of storage, space to entertain, and seating for all of us.
Opening up the dining room to the kitchen and actually using this space as our primary eating area for family sit-down dinners.
A large bar area for coffee and cocktails. We love our current bar area so much and use it a ton, so we wanted to include this in our new kitchen! And yes, Matt is getting his beer tap in this kitchen too.
A walk-in pantry. The laundry room is right off the kitchen so we're relocating it upstairs next to all the bedrooms and converting that space into a pantry for all our snacks, small appliances, drop zone for backpacks, etc.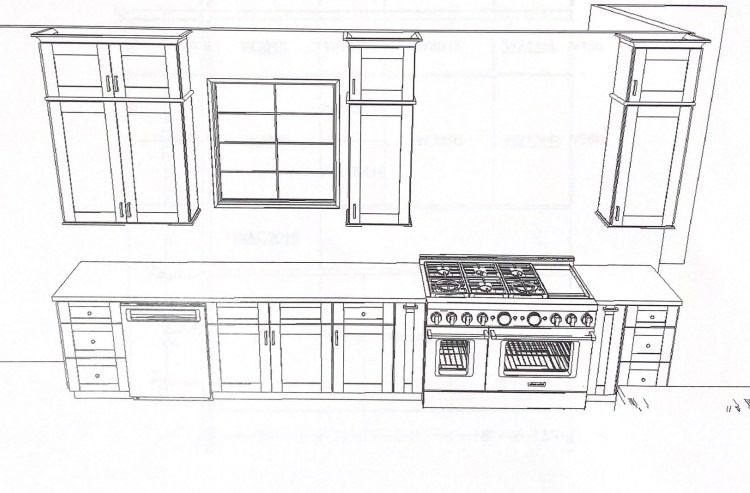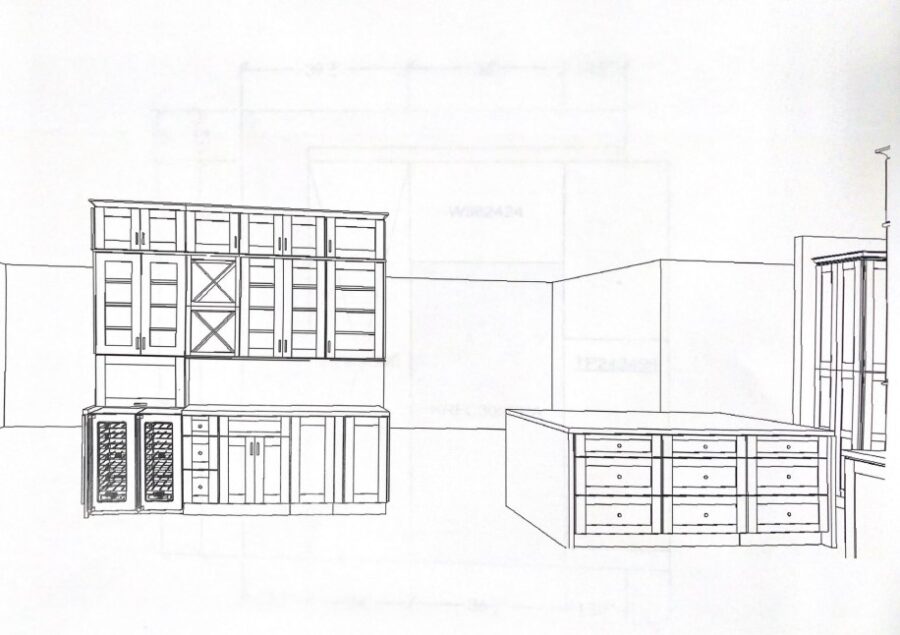 So those are the plans! I will keep you updated as they come to life!
Posts You May Also Like