A few of my favorite old and new items from Amazon lately…
HOME
I am so mad it took me until the end of summer to discover these magical fly fans! We have been using these a lot for outdoor dinners lately and they work really well to keep the flies away from our food.
My friend Stephanie shared these amazing rug gripper pads on her recent Amazon Live and I purchased them immediately in hopes that our family would stop slipping and tripping over every rug corner in our house. And these WORK — really well. The pads come in a 4 pack, but I was able to cut a few of the pads up into smaller squares to tackle more rugs. The pads are like little stickers that you place directly onto the rug and they are washable too. We were previously using rug pads under our rugs which drove me crazy because no matter how small I cut them down they were always hanging out of the sides of the rug. My Roomba and I are also so very happy to no longer have curly rug corners!
BEFORE
AFTER
I recently grabbed this no-frills note pad for my daily to do lists and it is awesome. I like how clean and simple it is (no quotes or random sections I'll never use), there's a schedule section to help me keep track of my work day and lots of space for to do lists. It's full sized too (8.5″ x 11″)!
I recently purchased a lap desk that is pretty awesome. I love how big it is (can fit up to 15.6″ lap tops) and has a built in mouse pad!!! There's also a little slot in the corner that holds your cell phone which is super handy. I purchased the white marble lap desk but it is available in 6 colors! If you like to use your computer on the couch or in bed, I highly recommend this lap desk (which has almost 30K reviews on Amazon too)!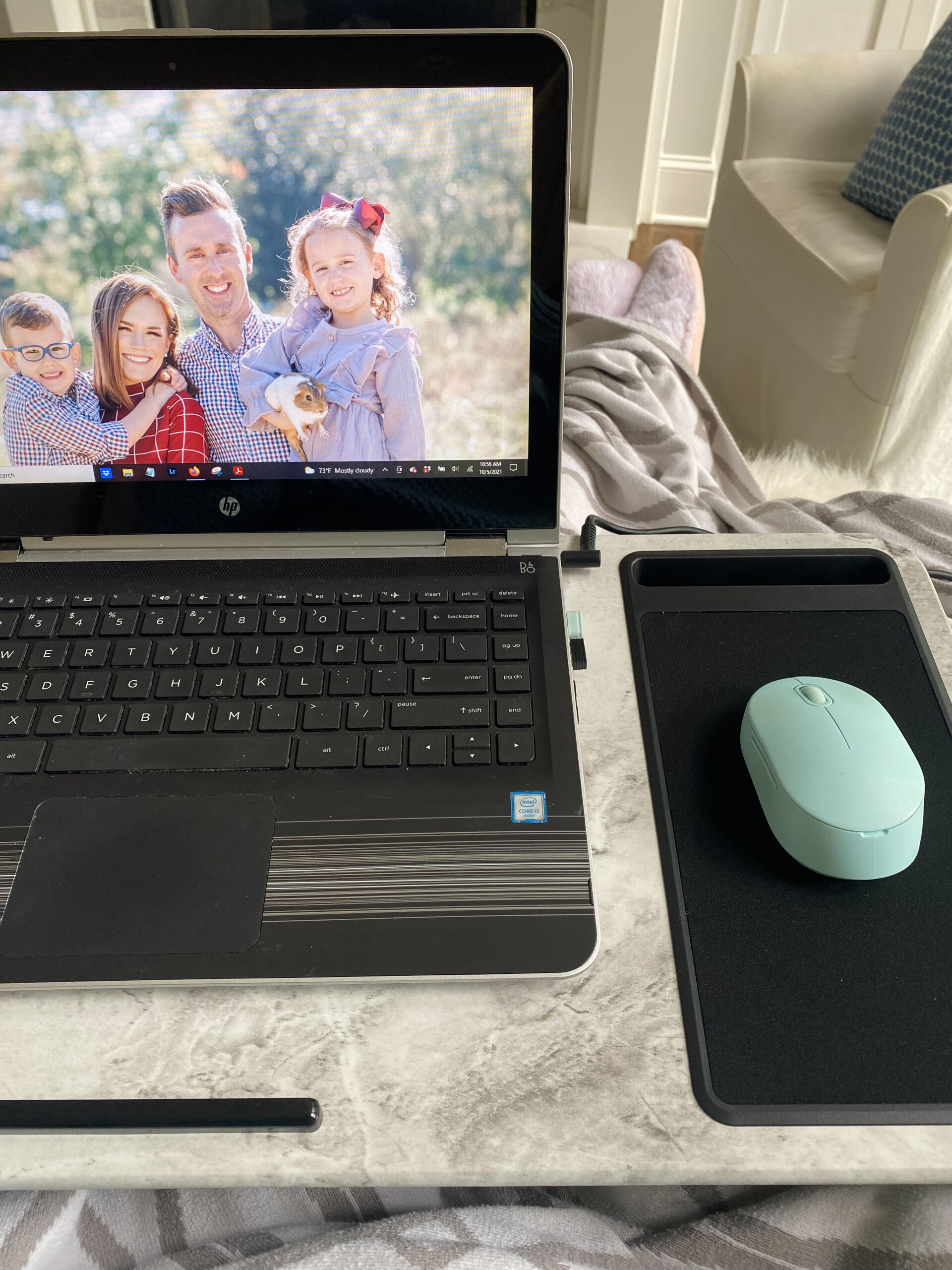 A few weeks ago I tackled many areas of our home with a Magic Eraser — walls, trim, cabinets, etc. It felt so good to finally check this task off the list. I had polled y'all on Instagram on your favorite things to clean with a Magic Eraser and wanted to round up the most popular responses I received. Note: all of these areas should be white and scrubbed carefully. Also, I had some questions about our wall paint. When we moved in we had the interior painted top to bottom with an eggshell finish which is wipeable! You will want to make sure whatever your cleaning is safe to use an eraser on first!
Things to Clean with a Magic Eraser
Home Interior: Cleaning the walls within your home (especially white ones) was hands down the most popular recommendation for removing food splatter, crayons, sharpie, marker and all the mystery marks that kids leave behind. Following the walls is doors, trim, baseboards & window ledges.
Shoes: You can bring your white sneakers back to life with the magic eraser! You can also clean kid shoes — especially Natives!
Kitchen: So many great places to scrub in your kitchen! The most popular recommendations? Kitchen cabinets (especially ones with food splatter or scuffs), glass stove tops, microwaves & range hoods!
Bathroom: This includes the bathtub, shower, sinks, shower floor, shower glass, grout and soap scum!
Misc: A few other recommended items that blew my mind to clean included the outdoor play slide, Mac keyboard and leather handbags.
BEAUTY
I recently picked up a tube of Revision Lip Replenisher at the recommendation of my friend Lindsey and LOVE it! It stays on my lips for hours and the hyaluronic acid provides hydration and a plumping effect.
PSA for mamas of little girls (especially ones with long hair in school) — you're gonna want to stock up on this lice prevention conditioning spray by Fairy Tales! We've been using it for years and it smells amazing and works well as a detangler. This leave-in conditioner contains a blend of rosemary, citronella, tea tree oils to help repel lice. We haven't had any lice encounters yet but I fear the day we receive an outbreak email from school.
I have been meaning to round up my skincare products forever and finally sorted through all my drawers to inventory my favorites!
To be honest, I used to bounce around with my products a LOT before I learned how much my skin hated the adjustment to new formulas. So now I am pretty consistent with my routine and have figured out what I really love! You've probably seen me feature lots of these products many times before on the blog too…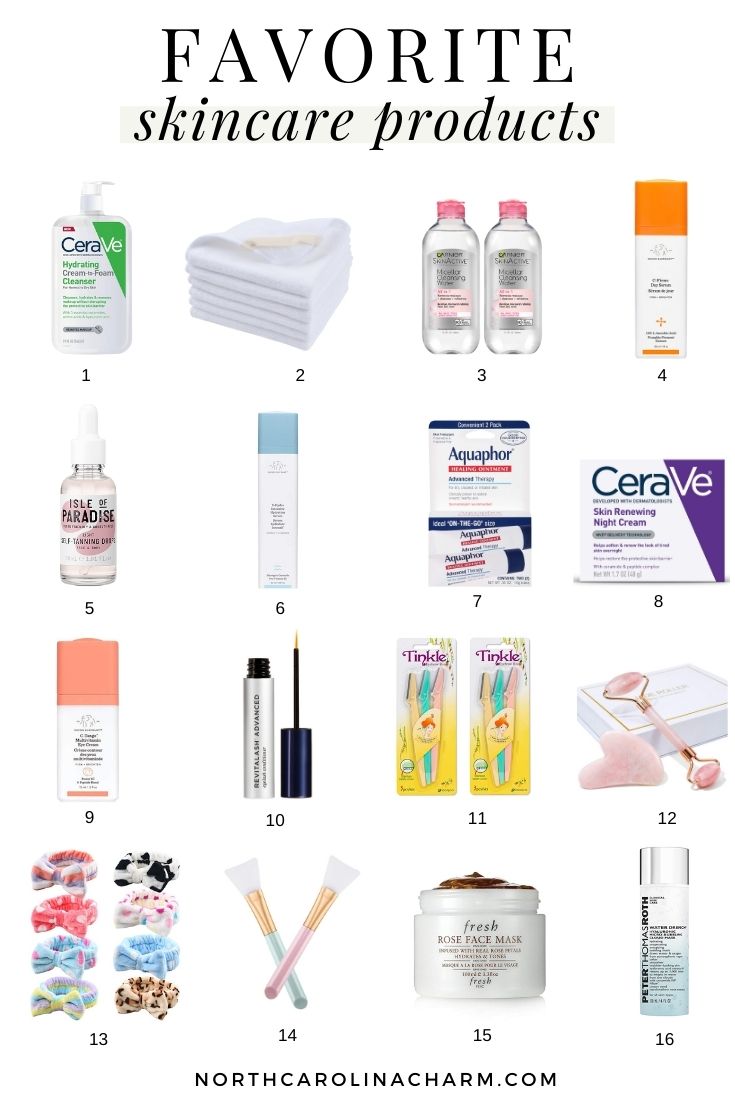 CeraVe Hydrating Cream-to-Foam Makeup Remover Cleanser

: This is the cleanser I use twice daily to wash my face and remove my makeup. My dermatologist highly recommended it during my last appointment earlier this year and I LOVE IT. This foam to cream cleanser is formulated with

hyaluronic acid

to hydrate the skin and works well to remove makeup. I love this stuff so much and am thrilled to have found a cleanser that is affordable! Highly recommend!
Microfiber Facial Cleansing Cloths: These suuuuper soft cloths are made for removing makeup, grease, oil and dead skin cells and exfoliate the skin! I've been using them for years now and still remember after my first use how grossed out I was by the amount of makeup I was clearly not removing before. Every 6 months'ish, I'll toss my set into the "rags for cleaning" bin and purchase a new set.
Micellar Cleansing Water: This is the makeup remover I use for my eye makeup!

Drunk Elephant C-Firma Day Serum

: I really love this tightening and brightening serum that is packed with antioxidants. I use it twice daily (morning and night).

Isle of Paradise Self Tan Drops Light

: My love for these self tan drops runs deeeeeep! These are the tanning drops I use for my face. I just add a generous dropper to my moisturizer (or #4 Drunk Elephant C-Firm Serum) and apply it all over my face and neck — it's a gorgeous glow color!! I usually use these every 2-3 days.
Drunk Elephant B-Hydra Intensive Hydration Serum: Another favorite Drunk Elephant product! This anti-wrinkle serum is lightweight and is designed to hold moisture to the skin. I like to use this in combination with the C-Firm Serum in the mornings.
Aquaphor Healing Ointment: I keep these everywhere (nightstand, makeup drawer, kitchen drawer, etc.) for chapped lips and apply it frequently throughout the day. During the winter, I also use it on the kids faces to protect their little cheeks and lips.

CeraVe Skin Renewing Night Cream

: I love and use a LOT of CeraVe products, but the skin renewing night cream is my favorite. This is the cream I use at bedtime! It's honestly been really hard to find lately though because CeraVe is having a hard time keeping it stocked.

Drunk Elephant C-Tango Multivitamin Eye Cream

: Matt bought me this eye cream for Christmas a few years ago and I've been using it ever since. This m

ultivitamin eye cream features a brightening combination of eight peptides, five forms of vitamin C and cucumber extract for firmer, stronger-looking skin around the eye area.

RevitaLash Advanced Lash Enhancing Conditioner

: The eye lash serum I've been swearing by for years. I've tried lots of competitor serums and always come back to this one. It.is.so.good. And it WORKS!
Tinkle Razors: For at-home dermaplaning!
Jade Roller: I love using this roller at night to help massage my thicker products into my skin before I go to bed. This roller also provides

muscle tension relief and lymphatic drainage to help firm your skin and make it look dewy and lifted.

Makeup Headbands: New!! I just scooped these up a few weeks ago and looooove them. They caught Caroline's eye immediately so I'm glad they come in an 8-pack because it's only a matter of time before she starts swiping these from me.
Face Mask Brushes: The brushes I use to apply my Fresh Rose Face Mask (#15).


Fresh Rose Face Mask

: I've been using this mask since 2018 and have blogged about it a million times (and always include it on all my gift guides. This silky gel infused with rose petals is hands down my favorite face mask for hydrating and toning.
Peter Thomas Roth Water Drench Hyaluronic Micro-Bubbling Cloud Mask: I AM SO DANG OBSESSED WITH MASK. I have never experienced a face mask like this before but it legitimately feels like a bubble bath on my face. This whipped and creamy mask is packed with hyaluronic acid and uses moisture in the air to bring oxygen to your face (or something like that. I don't know. But it's MAGIC).
KIDS
If you are looking for a gift for a boy (or girl) age 6+, look no further. Thomas received a Water Rocket Science Kit from one of his friends for his birthday last month and it has provided endless hours of entertainment for our kids…and all the neighbor kids too. This stem toy is seriously impressive (and slightly terrifying – ha) and blasts insanely high (90 feet!!!!) into the air. I cannot recommend this rocket high enough. It is so fun, the kids were able to put it together on their own and it's really durable (I expected it to break after hitting the ground a million times but hasn't)!
FASHION
Reader Favorites
I was cracking up over the messages on Instagram about my work outfit that Matt called an "office mullet" (business on top, party on bottom). But my favorite message was from a friend who calls her similar outfit a "zoomlet." Man, I'm going to be so sad when I have to return to my office.
And if you asked me about my puff sleeve top — it's from Amazon! And it comes in almost 50 colors. The quality is excellent and it runs true to size. It's been one of my go to work tops for almost 2 years now.
I recently purchased this midi/maxi dress from Amazon and love it so much. It comes in 4 patterns, is lightweight and has tie up ribbon straps so the length is adjustable which is really nice. Technically it's a "midi" dress but fits as a maxi dress for shorter girls like me who struggle to find a maxi dress that doesn't drag on the floor. I loved wearing this dress all summer and have added a jean jacket to it for fall!
This sweater is suuuuuper soft, comes in 8 colors and has the cutest little shoulder pleat.
Last week while Thomas was at golf practice, Caroline and I decided to hit some tennis balls…for approximately 5 minutes before she got too hot and called it quits. I couldn't blame her, it was pretty dang hot. But at least she got to wear her cute little tennis outfit that she is obsessed with right now!
I scooped up the cutest set of sun visors for Caroline for the beach after seeing Annie post about them. Caroline LOVED her hats and looked absolutely adorable in them! They come in a 2-pack, roll up (so easy to pack), offer a wide brim for extra sun protection and have the cutest little bow on the back.
Amazon Girls Fall Dresses
Every fall I stock up on lots of long sleeve dresses from Amazon for Caroline. Some of these we love so much (ahem, rainbow dress, giraffe dress and apple dress) that we've purchased every fall the last few years. I wanted to round up a few cute options in case you're ready to start shopping for fall! (Heads up, some of these prints do sell out quickly or take forever to ship).
Find more of my Amazon Favorites HERE!