Happy Friday!
I've been making my own taco seasoning for years but decided to try a Taco Bell copycat seasoning recipe recently and REALLY liked it!!!! I tripled the recipe (and wish I had made an even bigger batch) and am storing it in this cute $3 glass container. And of course, I labeled it…because I am obsessed with my label maker and am on a huge labeling kick right now! (See #4)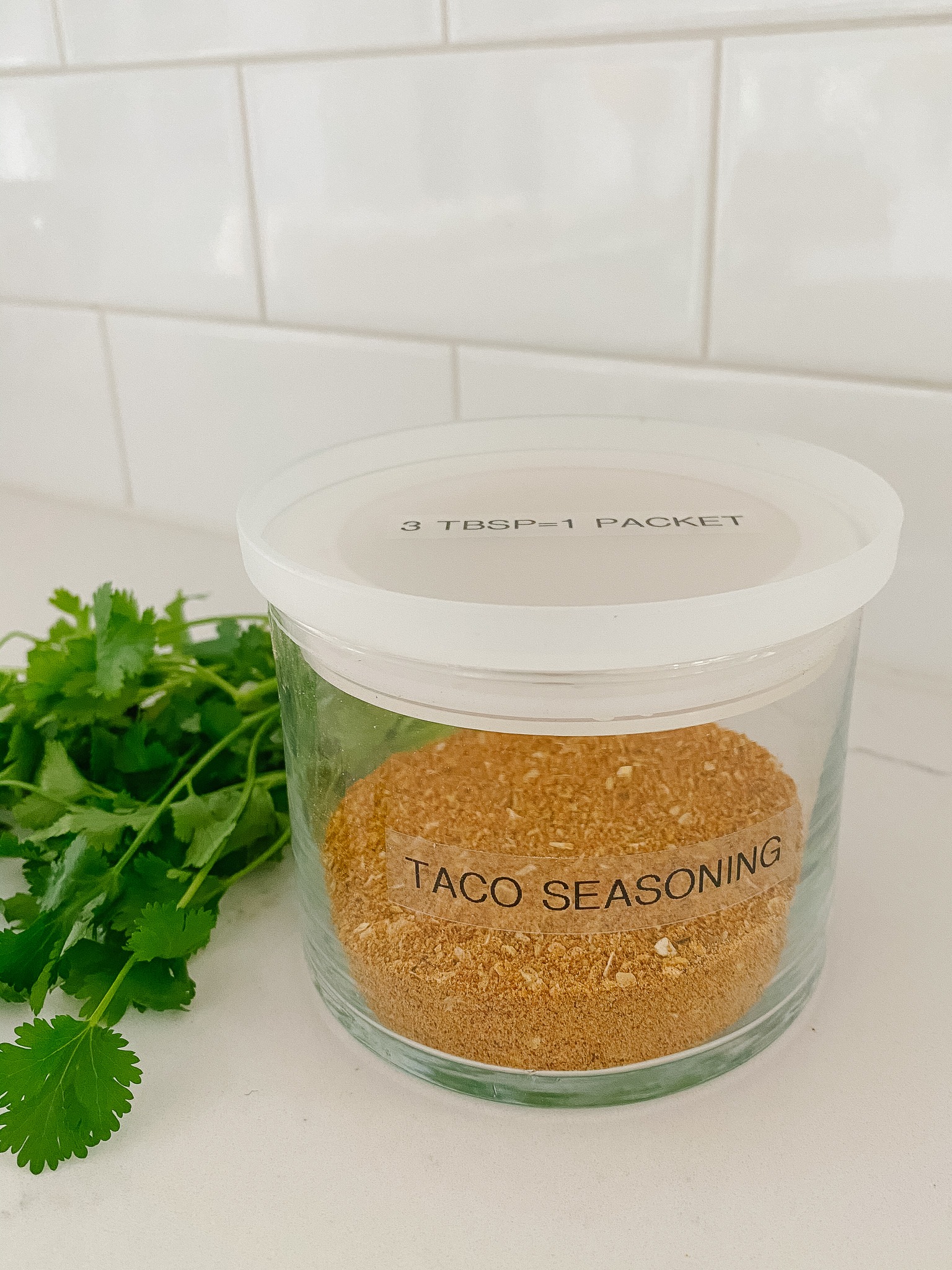 Taco Bell Copycat Seasoning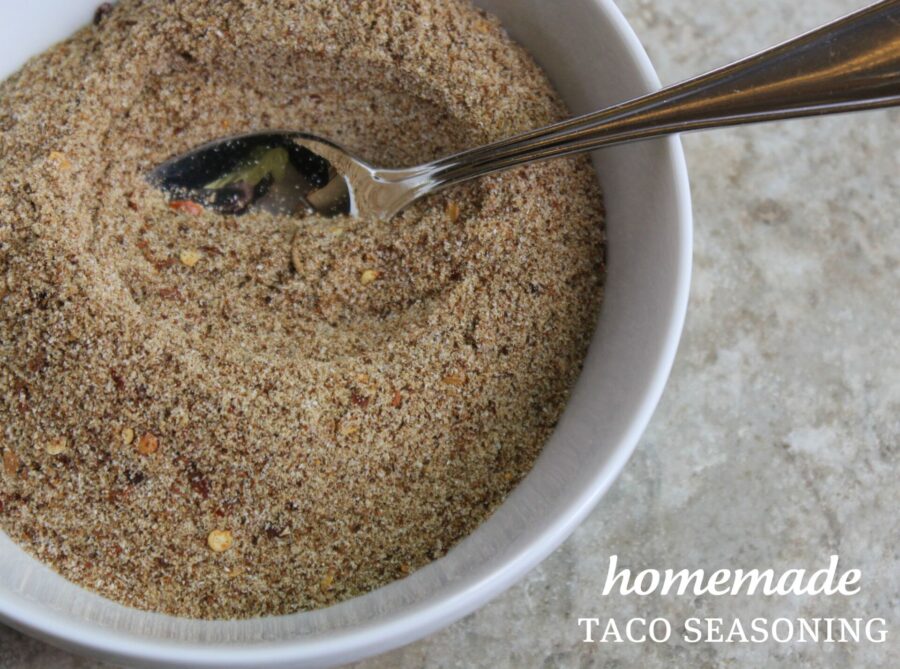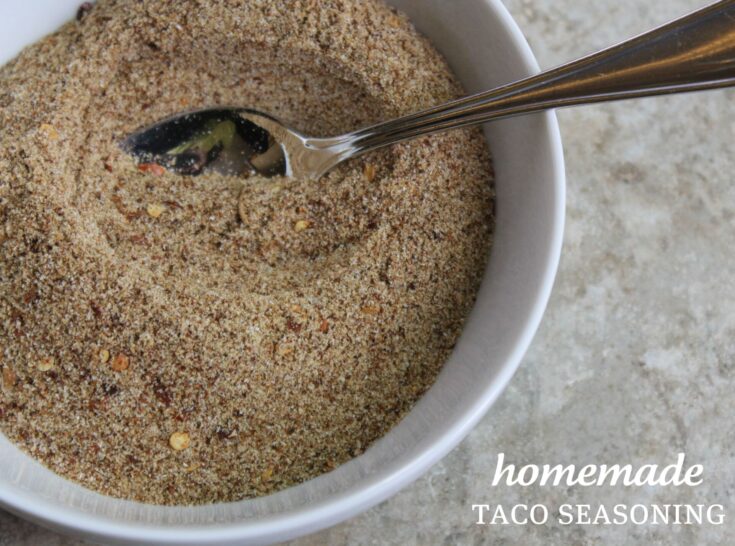 Ingredients
1 tablespoon dried onion flakes
1 teaspoon all-purpose flour
1 teaspoon beef bouillon granules
1 teaspoon garlic salt
1 teaspoon ground cumin
1 teaspoon paprika
1 teaspoon chili powder
¼ teaspoon cayenne pepper
¼ teaspoon white sugar
Instructions
Whisk onion flakes, flour, beef bouillon, garlic salt, cumin, paprika, chili powder, cayenne pepper, and sugar together in a bowl.

Notes
Use 3 tablespoons of seasoning for 1 pound of ground beef.

2. Book Reviews
I was really excited when the audiobook of Lisa Jewell's The Family Upstairs finally became available for download. There are 17,000+ Amazon reviews raving about this New York Times bestseller, plus several of you recommended it too — so take my review with a grain of salt. I had a hard time with this book. And I think the main reason was because I listened to most of this while multi-tasking this week. In fact, I restarted it 3 separate times because I kept missing important parts and then just couldn't keep up with the storyline or all the characters. The book is narrated by 3 different readers so that also confused me at times. Anyway, I would recommend reading the Amazon reviews for yourself and opt for reading the book versus listening to the audio version!
Book Summary: Be careful who you let in.
Soon after her twenty-fifth birthday, Libby Jones returns home from work to find the letter she's been waiting for her entire life. She rips it open with one driving thought: I am finally going to know who I am.
She soon learns not only the identity of her birth parents, but also that she is the sole inheritor of their abandoned mansion on the banks of the Thames in London's fashionable Chelsea neighborhood, worth millions. Everything in Libby's life is about to change. But what she can't possibly know is that others have been waiting for this day as well—and she is on a collision course to meet them.
Twenty-five years ago, police were called to 16 Cheyne Walk with reports of a baby crying. When they arrived, they found a healthy ten-month-old happily cooing in her crib in the bedroom. Downstairs in the kitchen lay three dead bodies, all dressed in black, next to a hastily scrawled note. And the four other children reported to live at Cheyne Walk were gone.
In The Family Upstairs, the master of "bone-chilling suspense" (People) brings us the can't-look-away story of three entangled families living in a house with the darkest of secrets.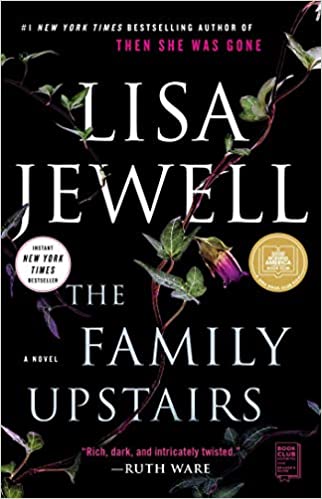 Another book checked off Abby's list, Hidden Valley Road: Inside The Mind of An American Family by Robert Kolker was named a "Best Book of the Year" by The New York Times, The Washington Post, NPR, TIME, Slate, Smithsonian, The New York Post, and Amazon. An extraordinary true story about a midcentury American family with twelve children, six of them diagnosed with schizophrenia, that became science's great hope in the quest to understand the disease. The riveting book was very well written and I flew through it in a few days.
Book Summary:
Don and Mimi Galvin seemed to be living the American dream. After World War II, Don's work with the Air Force brought them to Colorado, where their twelve children perfectly spanned the baby boom: the oldest born in 1945, the youngest in 1965. In those years, there was an established script for a family like the Galvins–aspiration, hard work, upward mobility, domestic harmony–and they worked hard to play their parts. But behind the scenes was a different story: psychological breakdown, sudden shocking violence, hidden abuse. By the mid-1970s, six of the ten Galvin boys, one after another, were diagnosed as schizophrenic. How could all this happen to one family?
What took place inside the house on Hidden Valley Road was so extraordinary that the Galvins became one of the first families to be studied by the National Institute of Mental Health. Their story offers a shadow history of the science of schizophrenia, from the era of institutionalization, lobotomy, and the schizophrenogenic mother to the search for genetic markers for the disease, always amid profound disagreements about the nature of the illness itself. And unbeknownst to the Galvins, samples of their DNA informed decades of genetic research that continues today, offering paths to treatment, prediction, and even eradication of the disease for future generations.
With clarity and compassion, bestselling and award-winning author Robert Kolker uncovers one family's unforgettable legacy of suffering, love, and hope.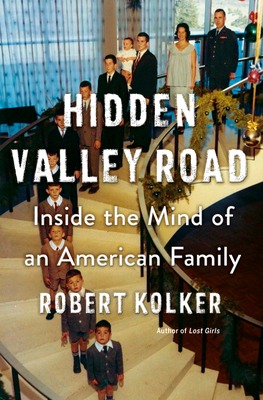 Friends, I am coming up on one year of my Butcher Box subscription and wanted to share how much I have loved this service. I originally subscribed for the monthly Classic Box (9-14 lbs of meat) at the beginning of the pandemic when meat was scarce. And then I just kept going because it's been such a lifesaver. The meat is consistently high quality, shipping is free and I can change up my preferences anytime I want. You can also pause or change the frequency of your delivery EASILY at anytime. We almost always load up on chicken breasts, Filet Mignon steaks, 100% grass-fed ground beef, and rotate between cod and salmon. I also like to grab the burgers every now and then, as well as the flat iron steak! OH! And I cannot forget THE BACON! Anyway, I highly recommend this service, as I've had such a great experience!
4. Amazon Faves
I am obsessed with labeling things with my label maker right now. From light switches to tupperware containers, I cannot stop putting stickers on things. A few weekends ago I reorganized the laundry room and labeled every shelf which made Matt laugh when he opened up a cabinet looking for light bulbs. But hey — he found them very easily!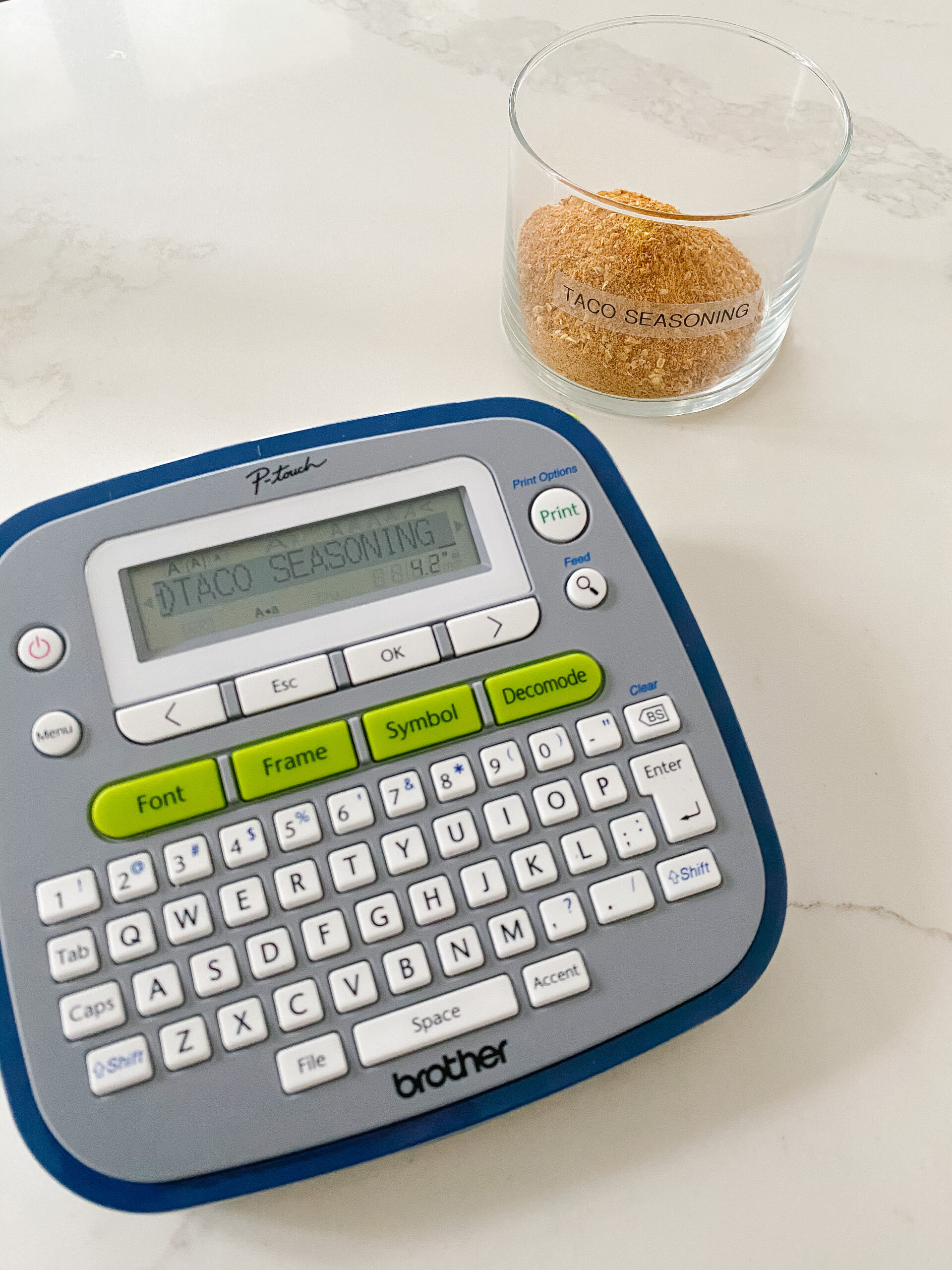 I almost prefaced this product recommendation with "I cannot believe I splurge on…laundry detergent"…and then I remembered all the bottles of Dreft I once purchased. And also, this luxury detergent is worth it…and will last awhile as it is highly concentrated. I discovered this heavenly detergent back in December when April gifted it at our Community Group Favorite Things Party with the suggestion to use it on our own clothes (not the kids' dirty socks and underwear), sheets and towels! Solid advice. While it's not the cheapest detergent, I have been using a tiny bottle on towels and sheets for a few months and just ran out…and purchased the larger size!
Quick disclaimer & story: This is a VERY strong fragrance and you will either love or HATE it. So start with a small bottle, maybe even split one with a friend to try. I was so excited to wash our sheets the very next day after receiving this detergent that I actually decided to clean out the washer machine filter just before using. After throwing the sheets in the wash on the extra long deep clean cycle, I sat on back to back calls the rest of the afternoon only to find my laundry room was completely FLOODED when I returned to flip the wash. Apparently I had not screwed the filter back in all the way so the water just poured right out all over the floor for 90 minutes. Anywayyyyyyy, the fragrance was SO strong that my ENTIRE house smelled like this laundry detergent for DAYS! When Matt walked into the house that evening (not knowing about the flood), he could not stop raving about the fragrance! I couldn't believe how powerful the scent was and then read the instructions on the bottle — you only need a CAP FULL. Lots of users even mix their cap full of detergent with a fragrance free laundry soap to make it last longer.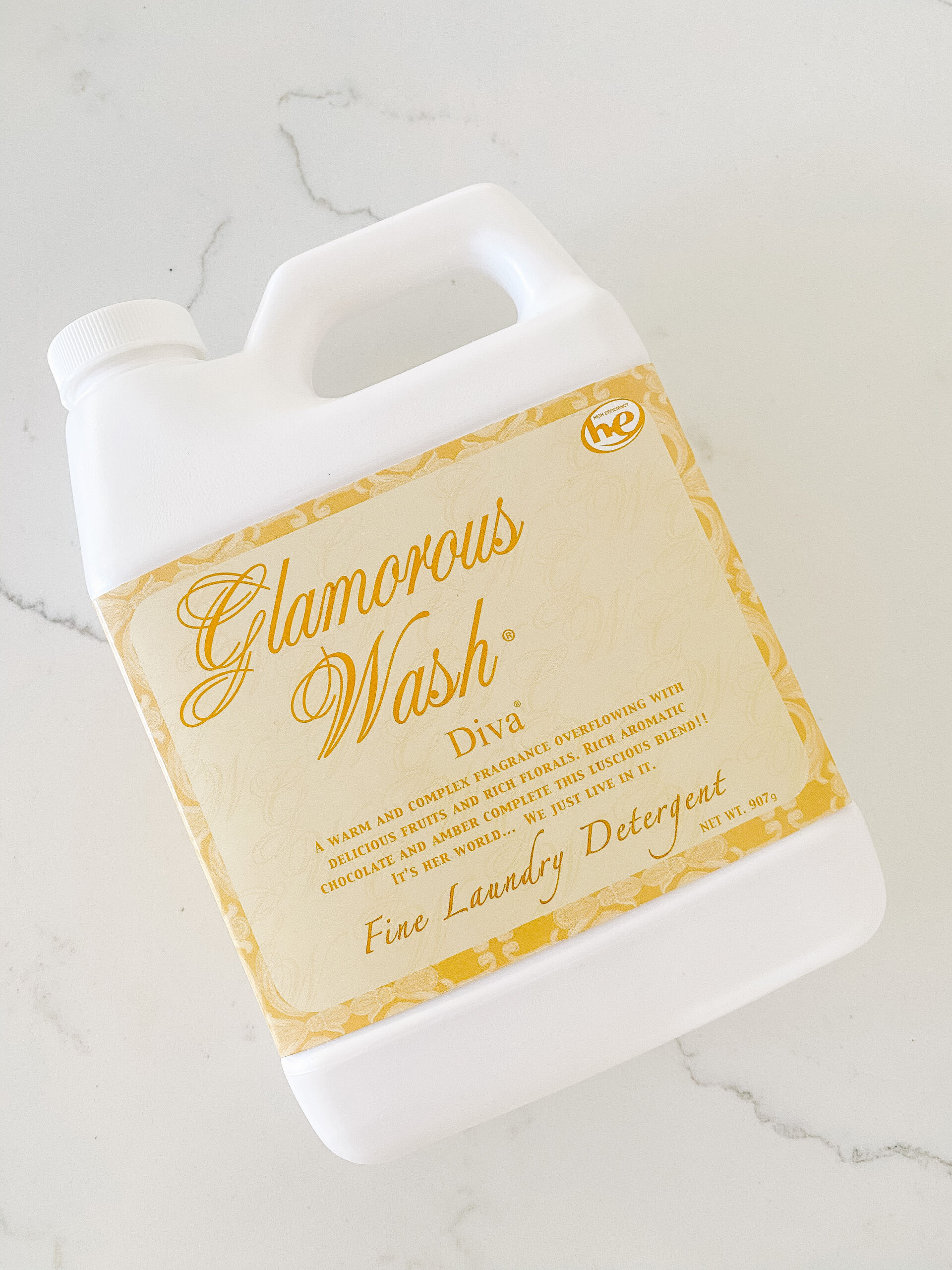 I have never been SO happy to pack a lunch for Caroline right now. Last year I started including these super adorable pop-open cards in her lunchbox and she loved them SO much. In fact, she gets so excited about them that she typically opens her lunchbox first thing in the morning before school just to check her card. It's so cute. Anyway, I have the You Can Do It version, but there are some other super cute options like Dream Big, I Love You, You're Amazing and there's even a Pop-Open Card 3-pk if you want to switch up your message theme each day! There's also room on the back of each card for you to write a personal note. I highly recommend these cute little cards for lunch boxes, school bags, pockets, or anywhere you want to leave a love/empowerment/motivational/happy note for your kids! I should also mention there are adult versions of these too (with 21 different message themes to pick from) which would be fun to leave for your spouse/partner, neighbor, co-worker, mailman, etc.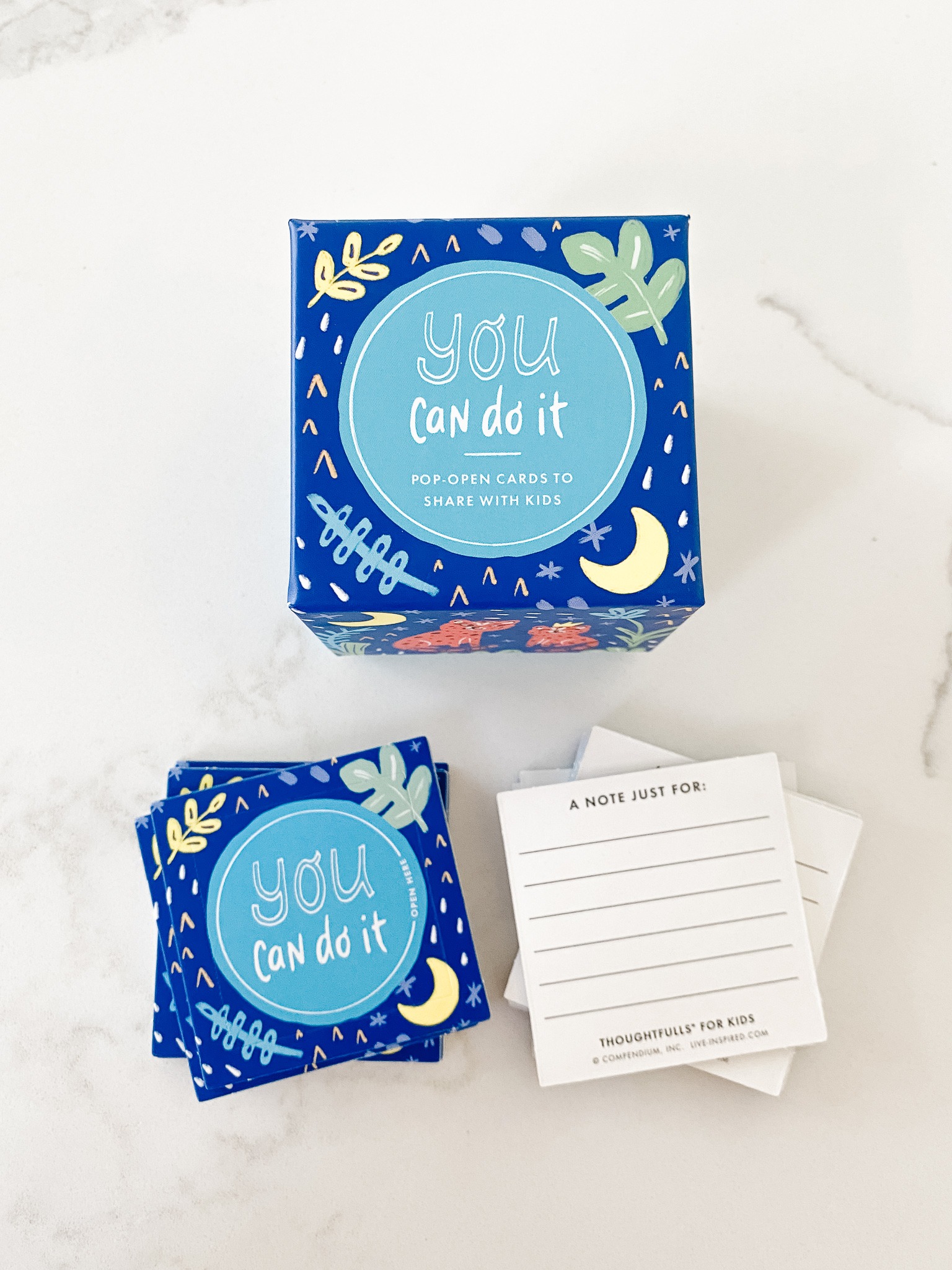 Here are some examples of the messaging inside the cards!
5. Target Finds
I am getting very antsy for spring clothes and wanted to round up some fun things I spotted from Target! Today is the last day Target is offering 20% off women's dresses! Almost ALL of these items come in a variety of sizes (including plus sizes), prints and colors! And most are $15-30! Shop Target Dresses

Shop Target Dresses

In Case You Missed It