Happy Friday!
We have a 3 day weekend ahead and have a really fun surprise planned for the kids!
Let's get down to it!
1. Supper Club
Last week Sara hosted us for March Supper Club in her new home! She is known to always cook the best meals and made us a delicious pork tenderloin, a rice casserole, her famous salad (she's been making this since as far back as 2016 for us and it's SO DANG GOOD), and cobbler for dessert!
And look at her incredible flower arrangement..!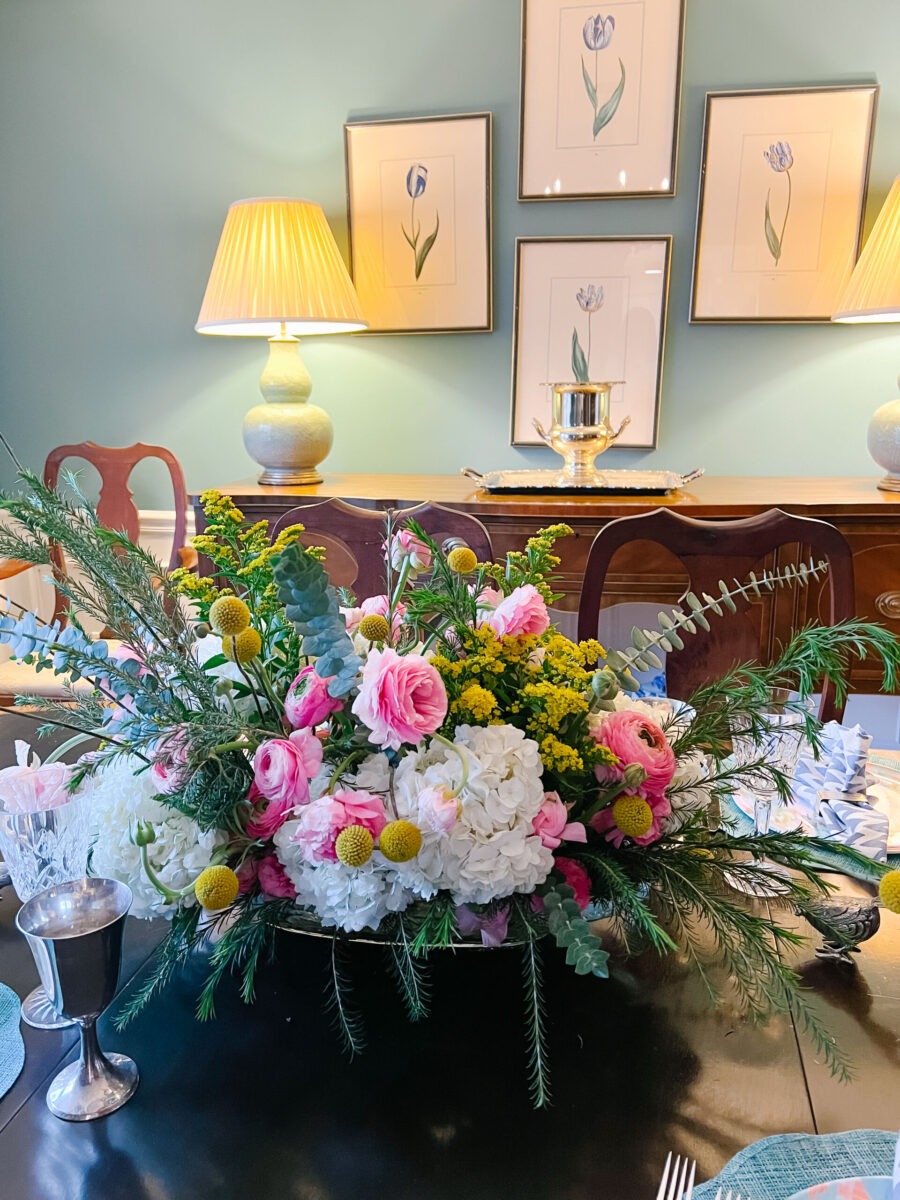 Sara's Salad Recipe
There are no measurements on this recipe. I've watched her make this a million times and she literally just adds things "until it tastes good." But it's a salad I look forward to every time she hosts!
In a small bowl marinate two bunches of chopped green onions and some diced tomatoes in olive oil and red wine vinegar for a few hours.
To make the dressing, whisk together some red wine vinegar, olive oil, minced garlic and 2 tablespoons Dijon mustard.
Assemble the salad (one head of chopped lettuce, carrots, cucumbers), add in the tomatoes and green onions and top with Jane's Krazy Mixed Up Salt and Cavender Greek Seasoning "until it tastes good."
The best we could do for our group photo using a pillow tripod…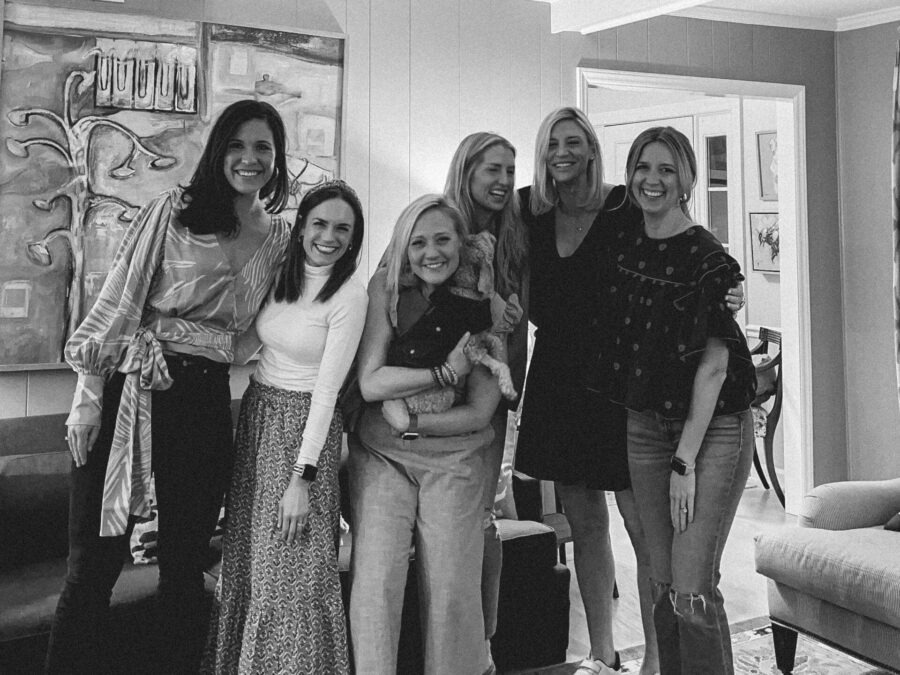 2. Fruit Centerpiece
Last weekend I made a fun centerpiece with fresh fruit in a dough bowl and am loving this pop of color in our dining room! It reminds me of the time I created a full tablescape of fruit and flowers!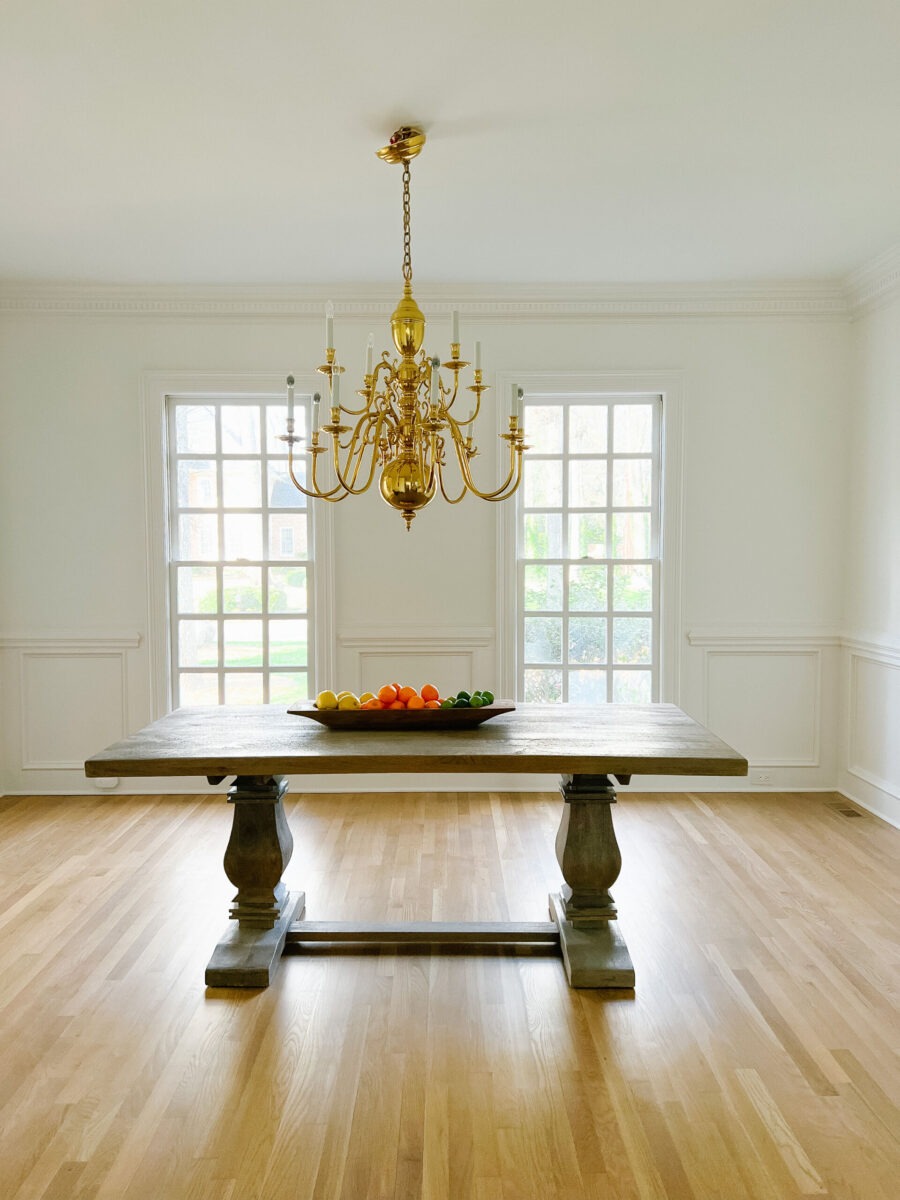 It's also nice to be fully stocked on citrus for the week!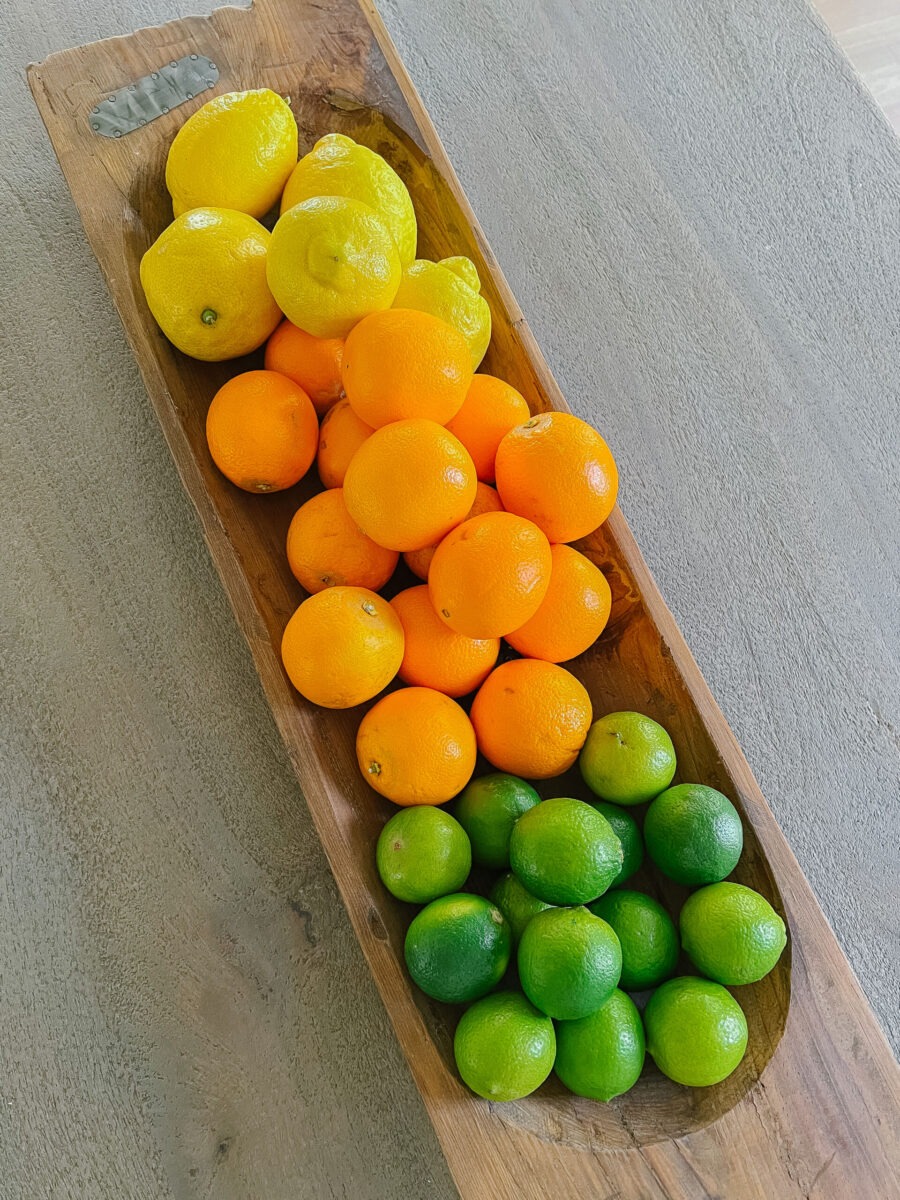 3. Renovation Progress
It has been a big week of renovation progress over here! We wrapped up construction yesterday on the kitchen and family room! We are still finishing up some painting and a few small things, and of course the punch list, but the major construction is complete! So, today you can find me deep cleaning the first floor (construction dust is coating every square inch of our home), and unpacking the rest of our kitchen boxes!
My laptop bag broke this week so I replaced it with a new one from Target and really love it. It comes in 3 colors, is affordable, and features a zippered laptop pocket and two roomy side pockets for your charger, planner, pens, etc. If you're looking for a new tote for your laptop, I highly recommend checking this one out!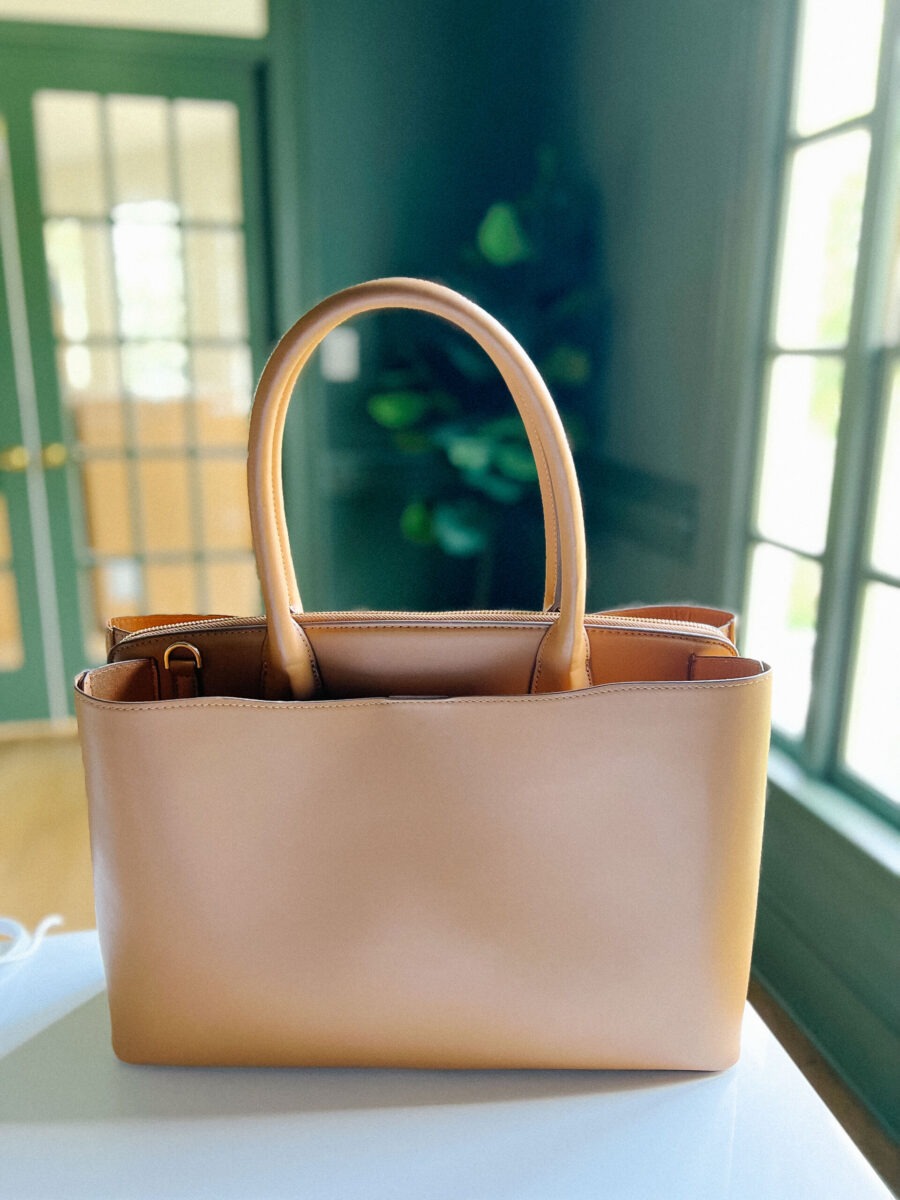 And these are the zippered vinyl bags I love. They come in a pack of 4 and are perfect for keeping your bags and purses organized. I keep all of my purse contents in these zippered pouches so when I want to quickly change purses (I usually switch to a backpack on the weekends), I can easily transfer the pouches to the next bag. These are size small but they come in several other sizes — all the way up to XL. I also love these for the pool bag because they are waterproof and I use them for travel too. They really are the best bags!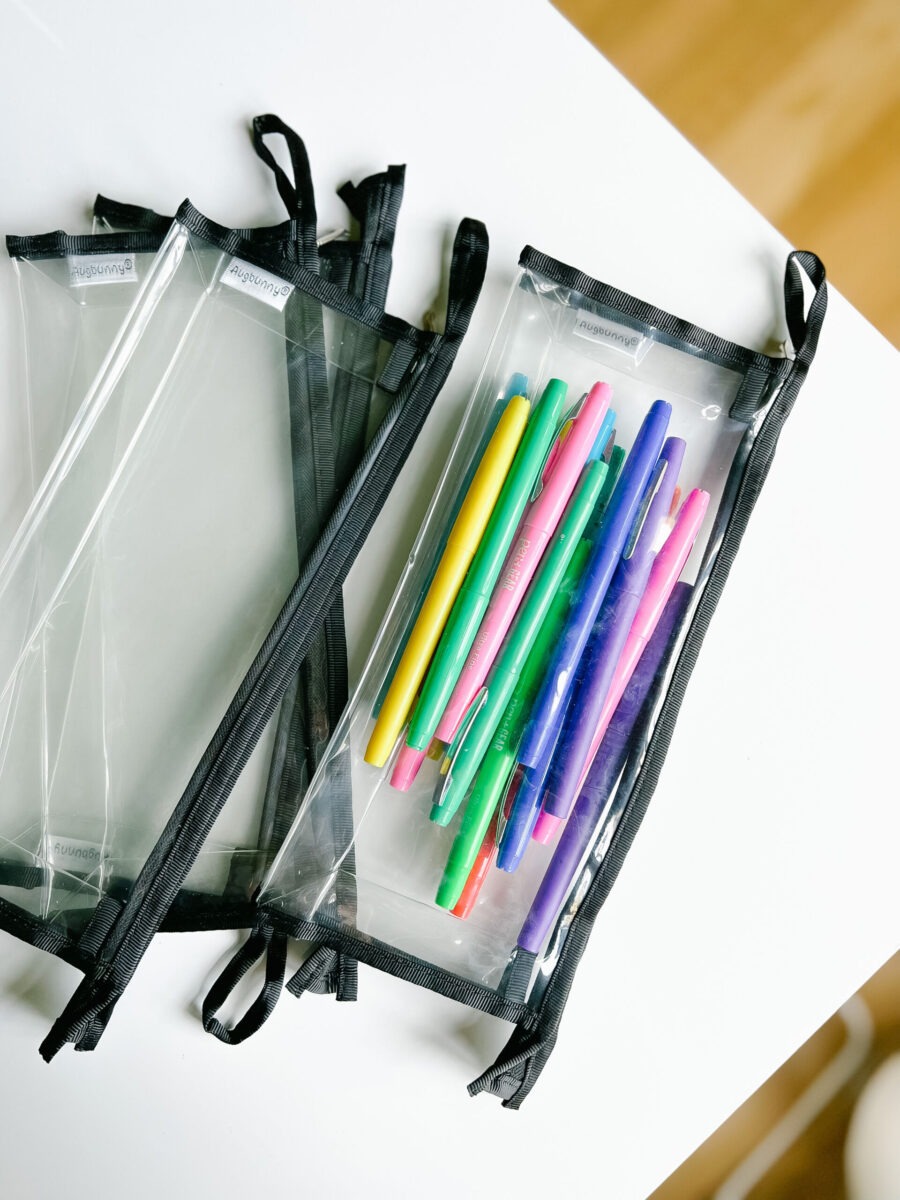 Matt recently purchased this water bottle organizer and I absolutely love it. This stacking organization makes accessing our water bottles so much easier than when they were all piled in front of each other inside the cabinets.
I had a few people ask me how these fit the Stanley cup and I'm not sure since I don't own one but it does fit the large Tervis Tumblers (am I the last person on the planet holding on to my beloved Tervis Tumblers?)!
Have a great weekend, friends!
In Case You Missed It