Happy Friday from Scottsdale!
I am ELATED to spend a girl's weekend with my hometown/high school/college bestie to celebrate her upcoming wedding! I have been counting down to this trip for months and am over the moon to not only be reunited with Shannon, but to also celebrate with spa time, long hikes, good food, and some other fun agenda items.
You can follow along on Instagram stories if you want to see what we're up to! In the meantime, check out these cute (and very practical) Rally Bags I surprised the girls with to kick off the weekend…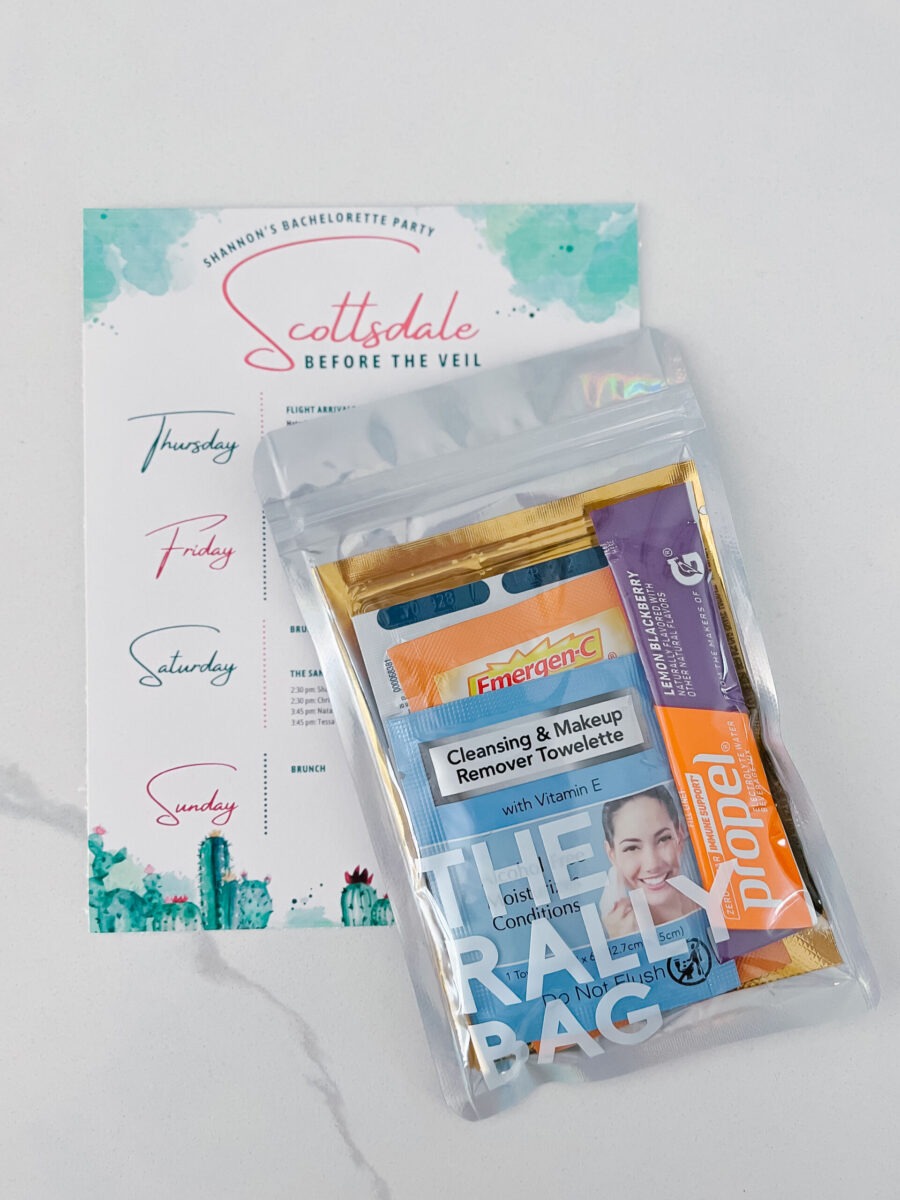 Alright, we've got lots to cover so let's dive into this week's best sellers…
TOP 5 Reader Favorites This Week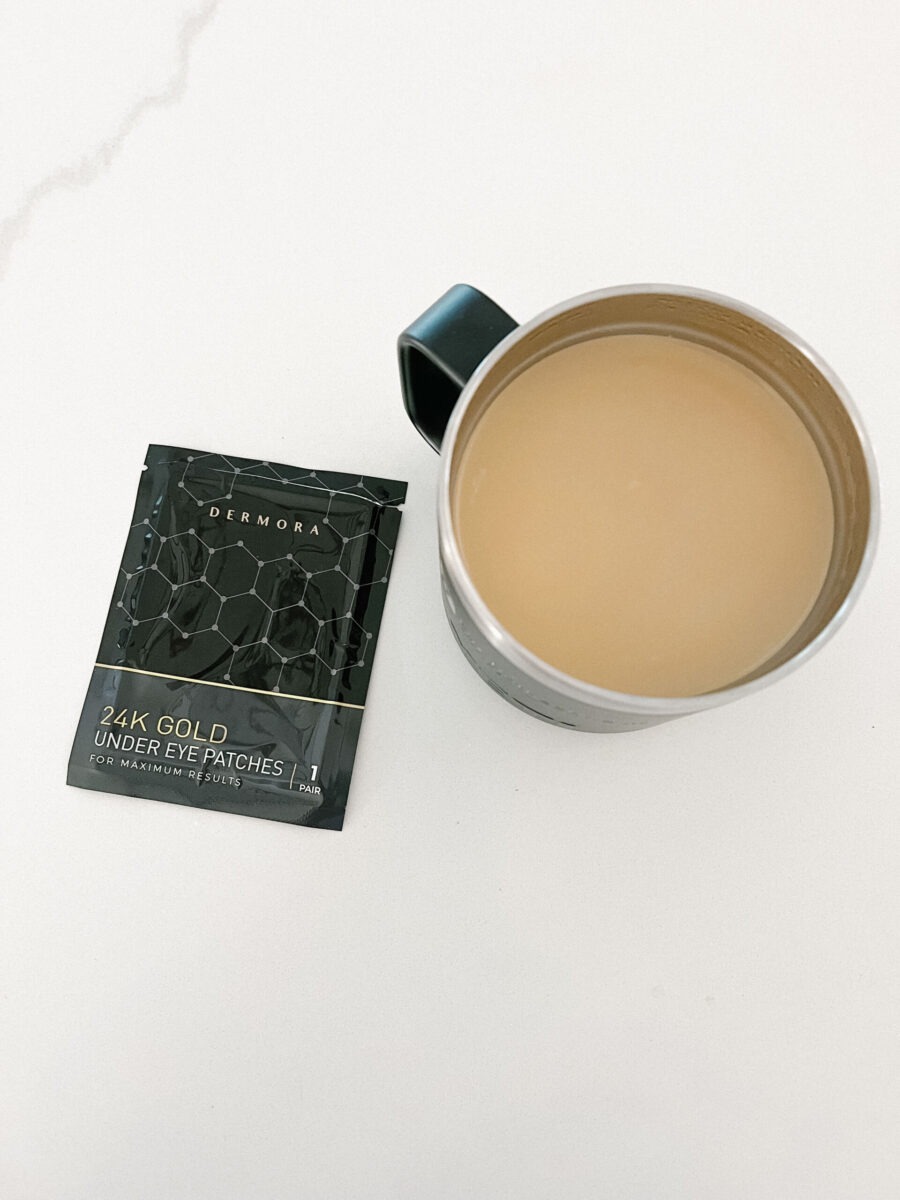 1. Chef Dinner
Last week McKinsey and Bobby hosted 6 couples from our neighborhood for a private chef dinner in their home — and it was incredible. Upon arrival, McKinsey had the most delicious Cinnamon Palomas waiting for us before we sat down for 5 amazing courses by Chef David! Every bite was unbelievable.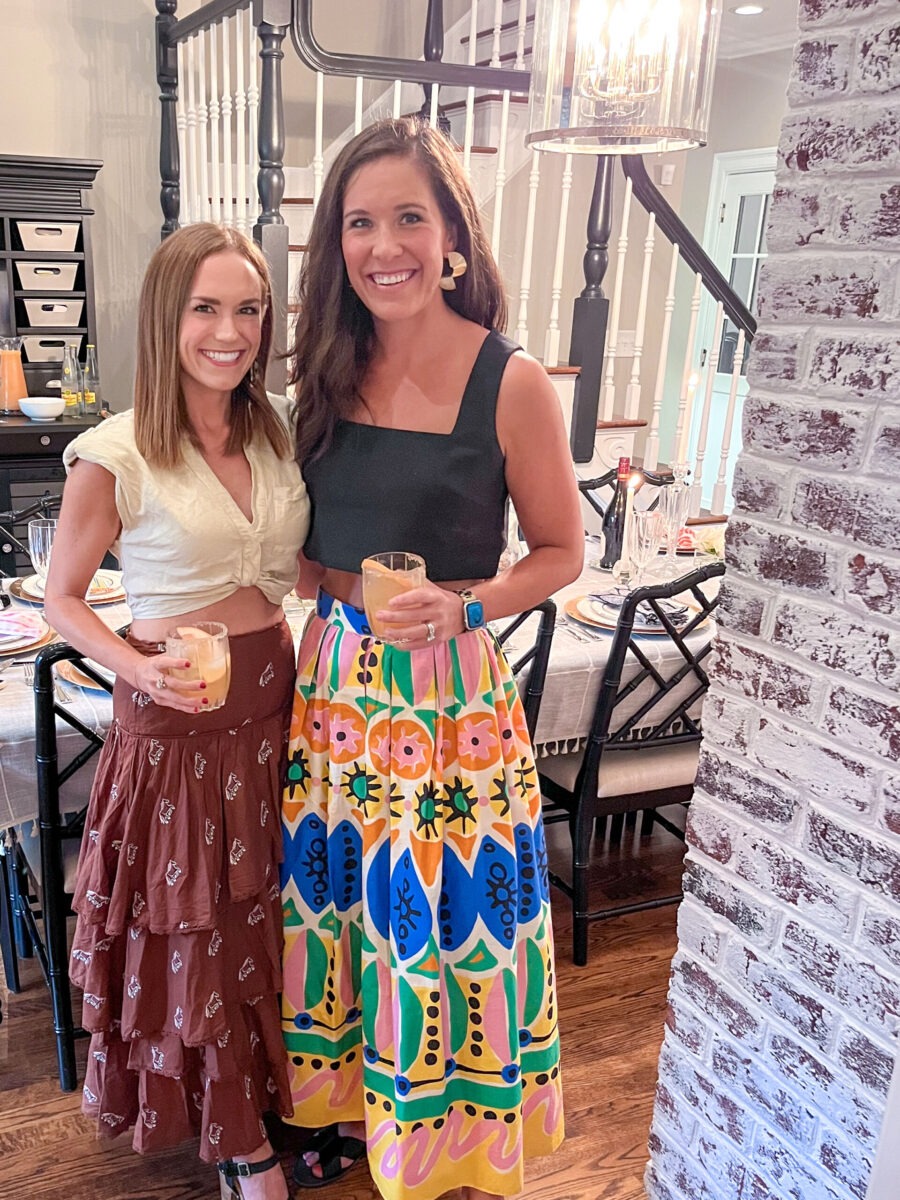 For my local Charlotte readers, if you're looking to celebrate a special occasion from the comfort of your home, we highly recommend Chef David! He uses a lot of local ingredients and can customize your menu! Oh, and he also happens to be our friend Caroline's husband!
For our 5 courses, we did:
Seared duck breast with a guava red wine reduction, red pepper jam, and basil guava reduction.
Handmade burrata with hickory wood grilled peaches, speck ham, mint vinaigrette, and flake salt.
Raspberry/blackberry sorbet with local spiced raw honey.
Grouper with toasted pistachio parsley gremolata. Fondant potatoes with garlic, rosemary, chicken stock, and butter. Oven charred garden carrots. Cast iron corn.
Brown butter toasted corn pound cake with gelato and homemade caramel.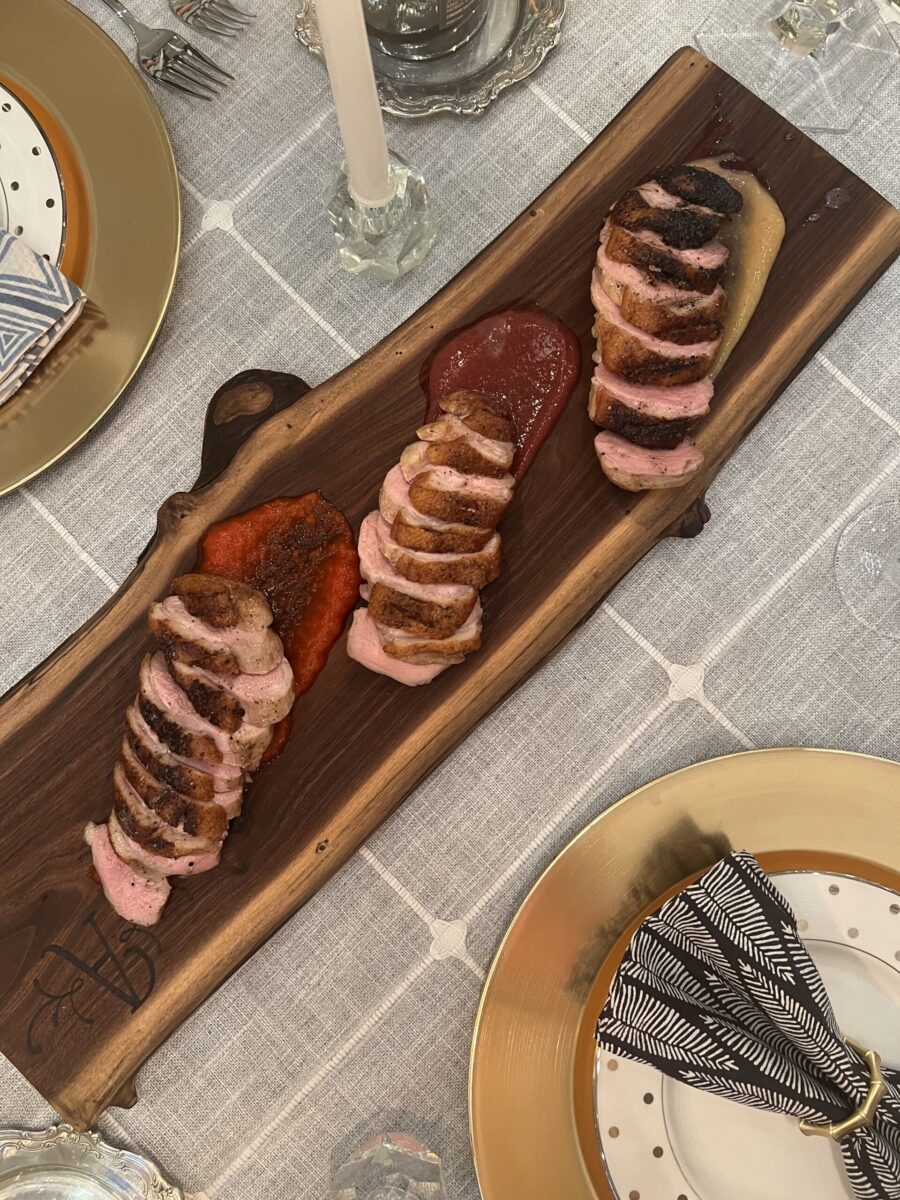 2. Lavender Matcha Tea Latte
I've been experimenting with matcha tea lattes for a while and finally perfected my afternoon iced pick-me-up! If you've been wanting to try matcha, I've got a few tips for you that I've learned along the way (mostly from baristas every time I try a new coffee shop).
First, the matcha powder is the most important. I've gone through SO MANY trying to find one that I love. And the matcha by Rishi is SO good hot or cold, has a smooth taste, and fully dissolves (I can't stand it when the last few sips contain clumps of powder — gross!). It's pricier than some of the others I've tried but still cheaper than the matcha tea lattes from Starbucks (which are also LOADED with sugar).
I pour my powder into a mug and then froth it with a little bit of hot water. I swear by the super cheap milk frother from IKEA. Then I add 1-2 pumps of lavender syrup and whisk it again before placing my mug in the freezer for a few minutes to cool it down.
For the final step, I fill my glass with almond milk and then pour in some ice!
Lavender Matcha Tea Latte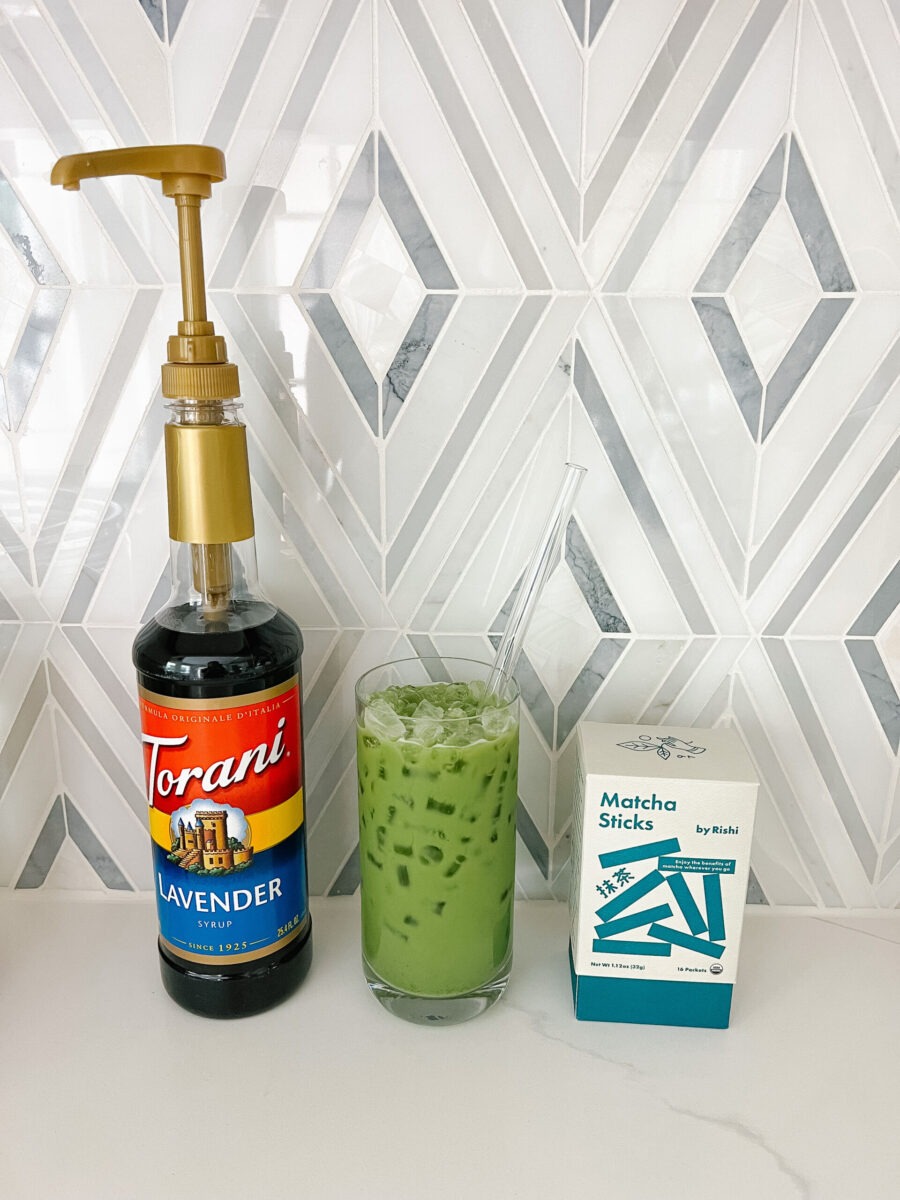 3. Fall Outfits
I wanted to share a few new fall things in my closet!
These cropped wide-leg pants have been on my wishlist for a bit and I was excited to scoop them up in a fun fall color! They are also super comfortable and very stretchy. They run true to size and are offered in 10 colors in standard/tall/petite/plus sizes! I paired this sleeveless mock-neck ribbed sweater with them and love the combo. This stretchy sweater top is a great fall transition piece and is available in 3 colors.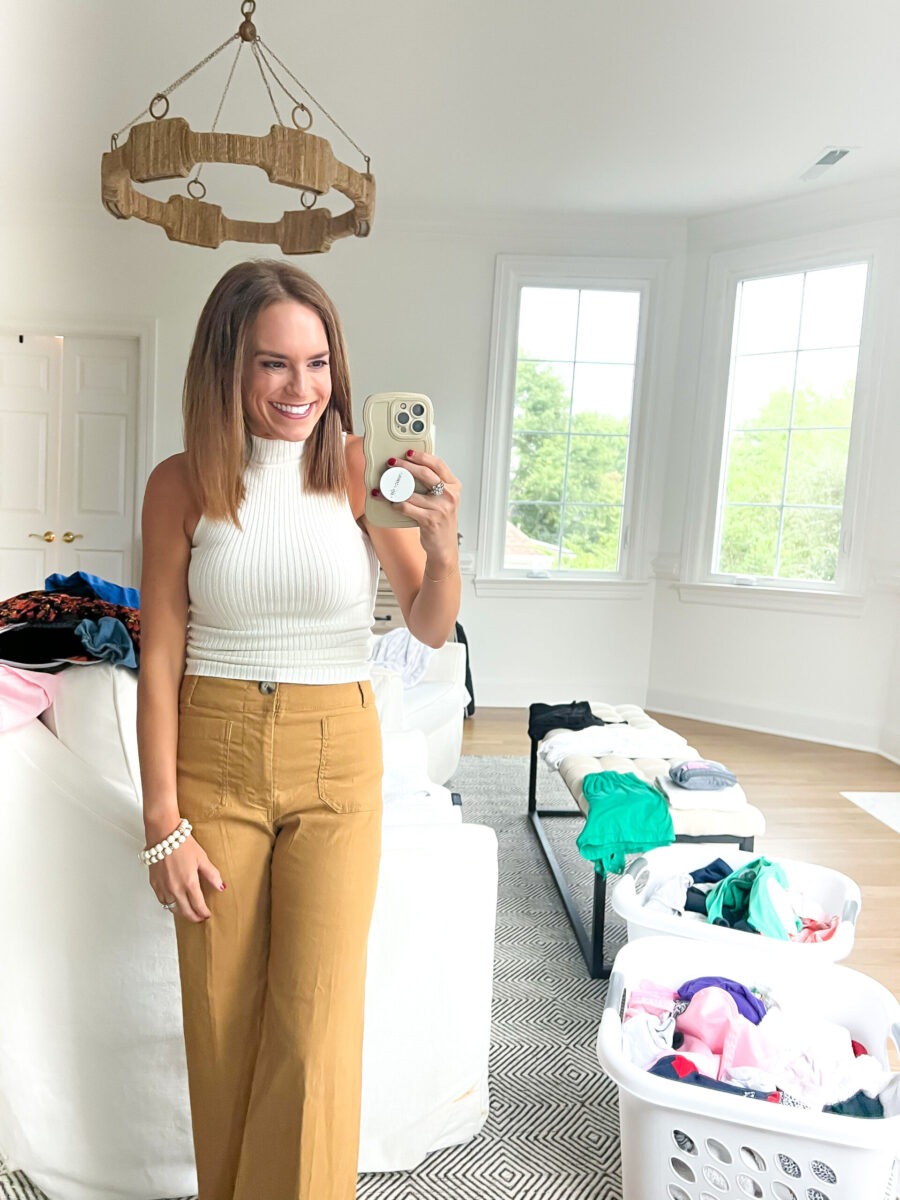 Sorry my mirror is so filthy, but here is another fun fall outfit! This embroidered horse ruffle skirt is suuuuper cute. I've worn it a few times already and received several compliments! It's hard to tell in my photo, but the ruffles are trimmed with a really pretty scalloped lace too. Runs true to size! I'm wearing this twist front cropped top with it. I love the structure of this top with the padded shoulders, but don't love that it's dry-clean only.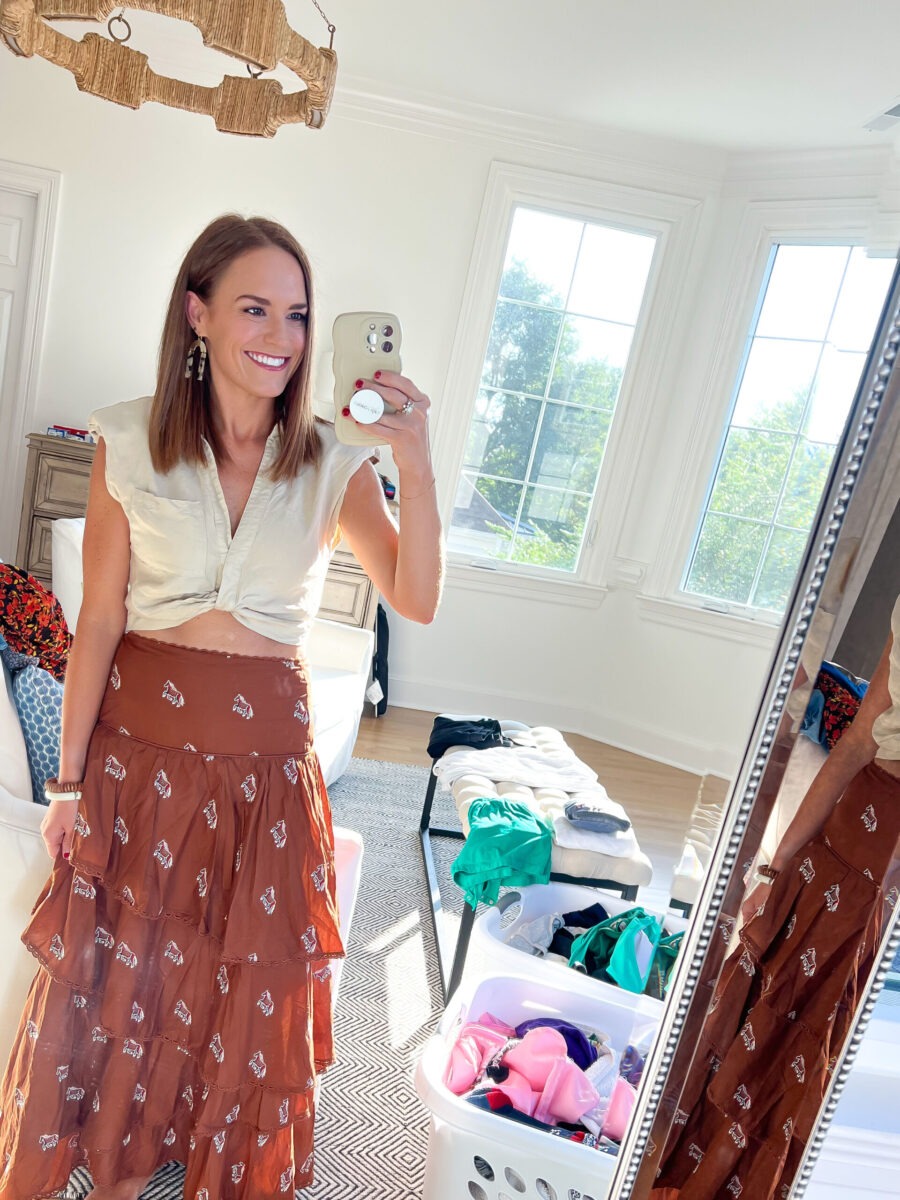 Last but not least, this In My Spooky Era Sweatshirt from Girl Tribe's Spooky Season Collection! It's cute, festive, and comfy! And I've got a promo code for you! Use code CAROLINACHARM15 for 15% off your Girl Tribe order!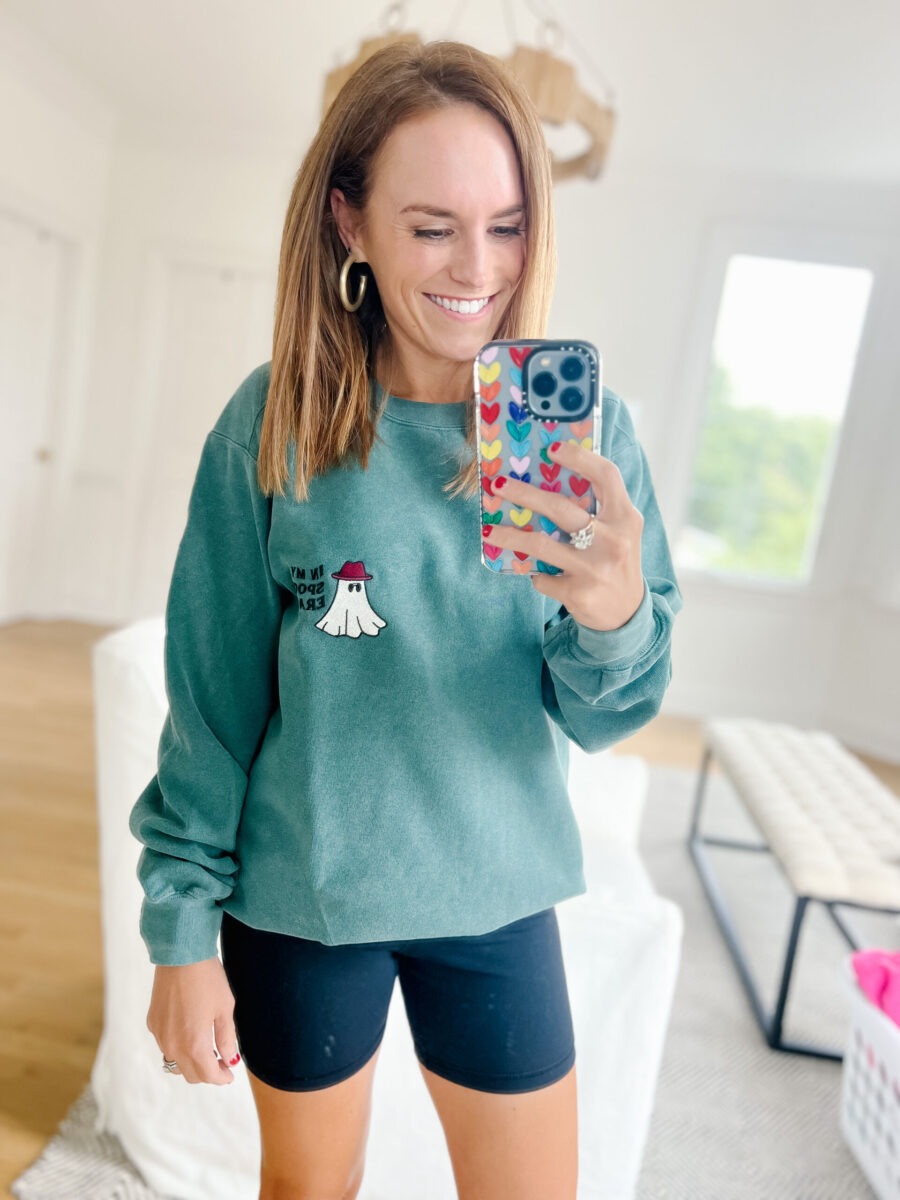 Earlier this week I made Greek Shrimp Salad for dinner and it was a hit all around! It is simple to pull together and I especially love that I didn't have to remember to pull anything out of the freezer ahead of time.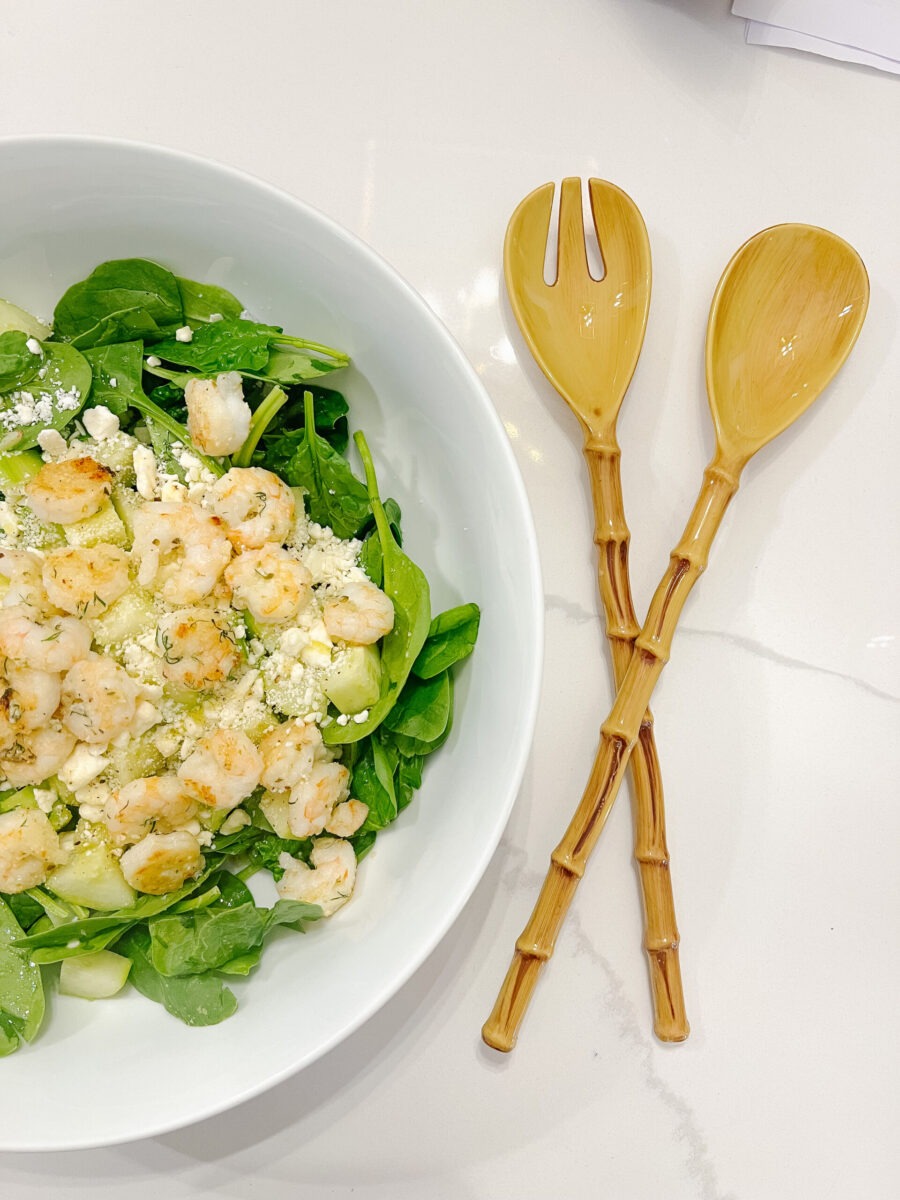 5. Recent Gifts
I wanted to share a few gifts I've gifted this! I've shared these products a few times over the years, so you may have seen them (they are gift guide staples), but they really are the best gifts!
First, a birthday gift for kids (boys or girls) — this water rocket kit. Thomas received this from one of his friends for his (6th) birthday a few years ago and it has provided endless hours of entertainment for our kids…and all the neighbor kids too.
This stem toy is seriously impressive (and slightly terrifying – ha) and blasts insanely high (90 feet!!!!) into the air. I cannot recommend this toy enough. It is so fun, the kids were able to put it together on their own and it's really durable (I expected it to break after hitting the ground a million times but hasn't)! The description says it's good for ages 8+, but Thomas received it at age 6 and it was totally age-appropriate.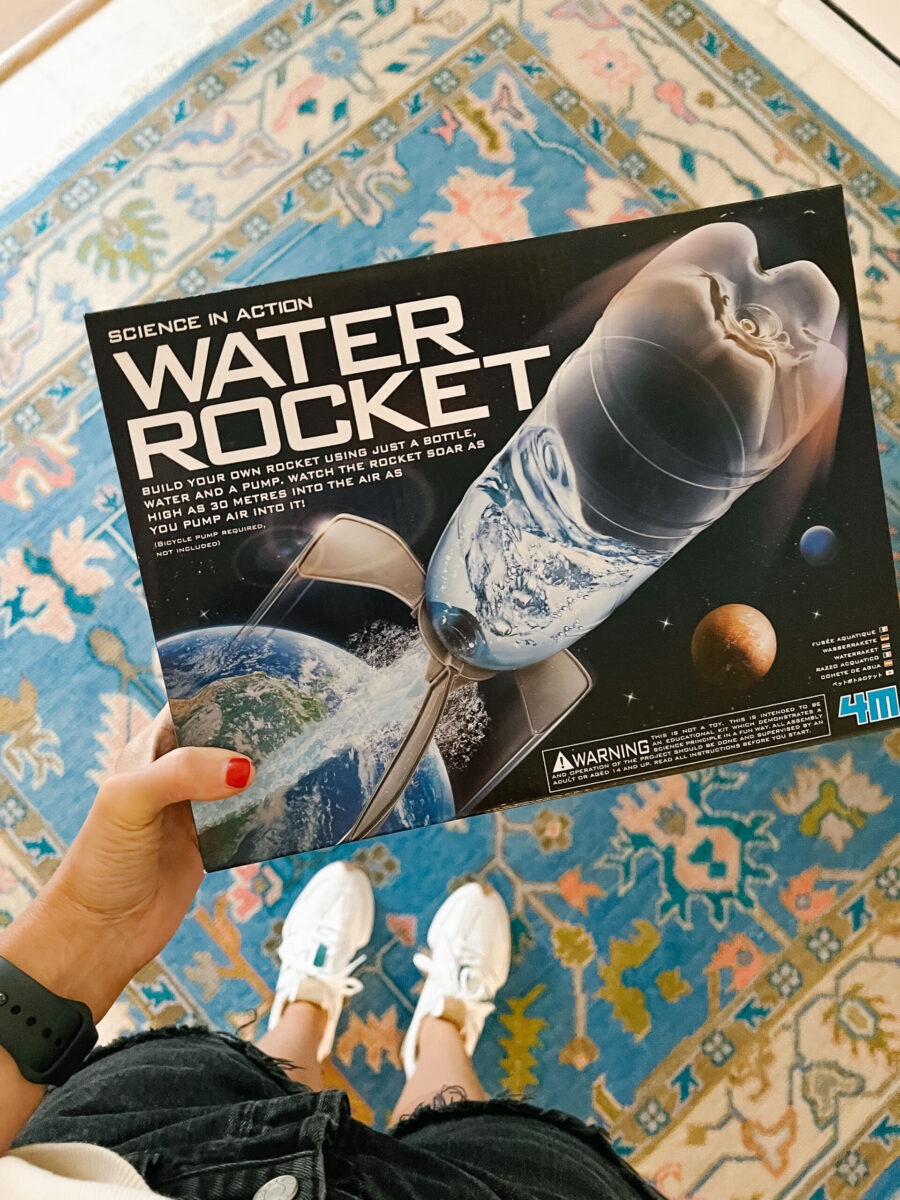 And two — the BEST OLIVE OIL EVER. I've shared this a million times after receiving it as a Favorite Things Party gift and continue to purchase for myself and for friends. This makes for a great hostess gift or a housewarming gift!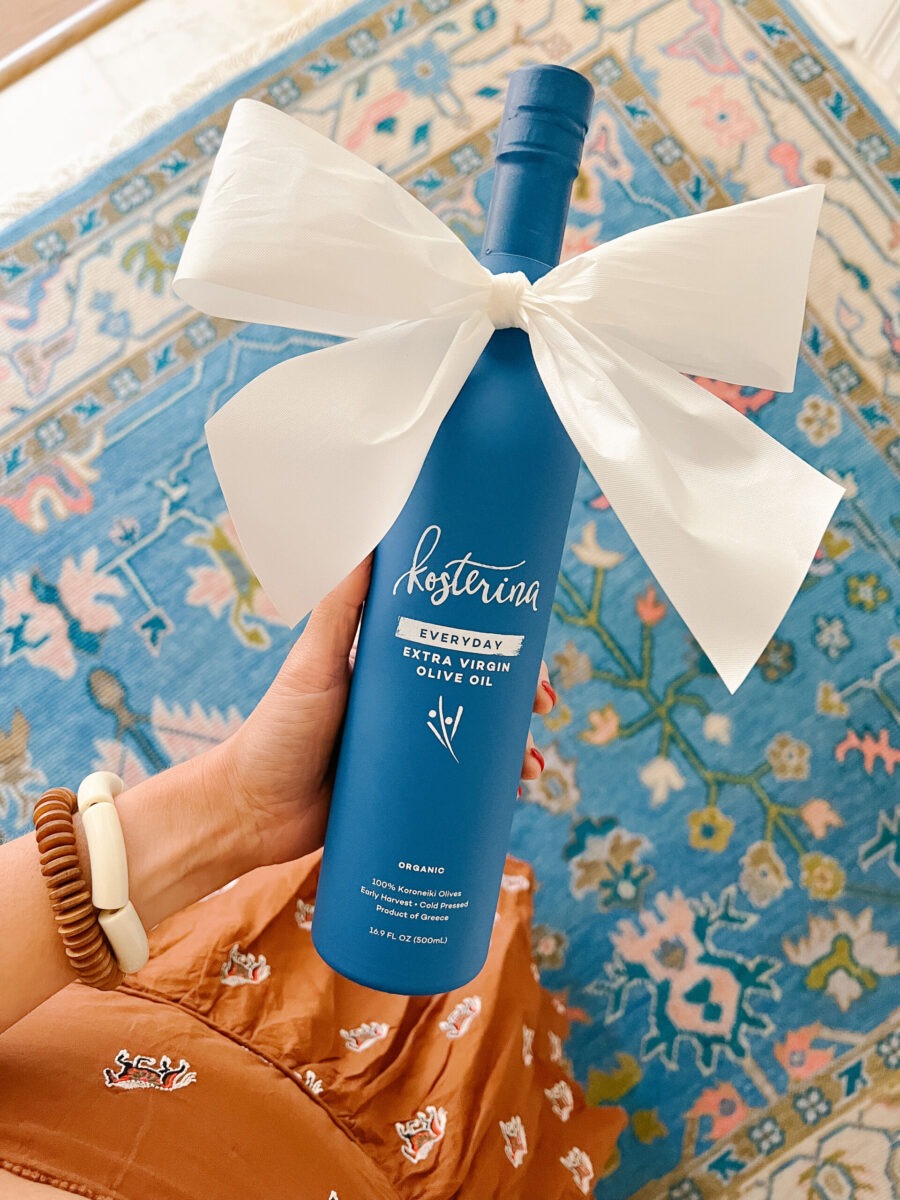 In Case You Missed It