A few weeks ago I shared our 2018 family photo album on Instagram that I finally sat down and created over the holidays. I received lots of follow up questions which I promised to answer in a blog post. Actually, I had forgotten I shared a lot of this information when I posted our 2017 album but today I'll go into a little more detail…
Photo Book Program
We've been using Blurb to create a book each year since creating our 2011 wedding album. I originally picked Blurb because I liked the cover, layout and paper options. The photo quality is also pretty great. I honestly don't know if this is still the best program out there for family photo albums, but I like our albums to match so I've continued to use the program. Although, many of you said you love to use Chat Books, Shutterfly and a few other popular design sites. So do your research on the best program for you!
Once you download the Blurb software, the books are a ton of work to create (probably 15'ish hours per book), but the kids love flipping through the albums from time to time which makes it worth it. You can add text to the pages if you like to include captions or longer paragraphs. I used to write a lot of text in my albums but now I just do photos to save a ton of time.
The exact book we use is the Standard Landscape (10×8 in., 25×20 cm) book with Standard 80# paper with a Hardcover ImageWrap with a matte finish. I accidentally ordered one of our books with a dust jacket one year and it drives me crazy that it doesn't match the rest and is bound to be destroyed by my kids at some point.
Depending on my page count, my books have ranged in price from $36 – $52. However, I always, always, always wait for a promo code to order. Blurb runs 40% off promotions all the time.
My most recent album was actually the shortest one I've ever created (56 pages) because I used collages on most pages. In previous years I've created albums with lots of single photo pages and have pushed 125 pages in my album.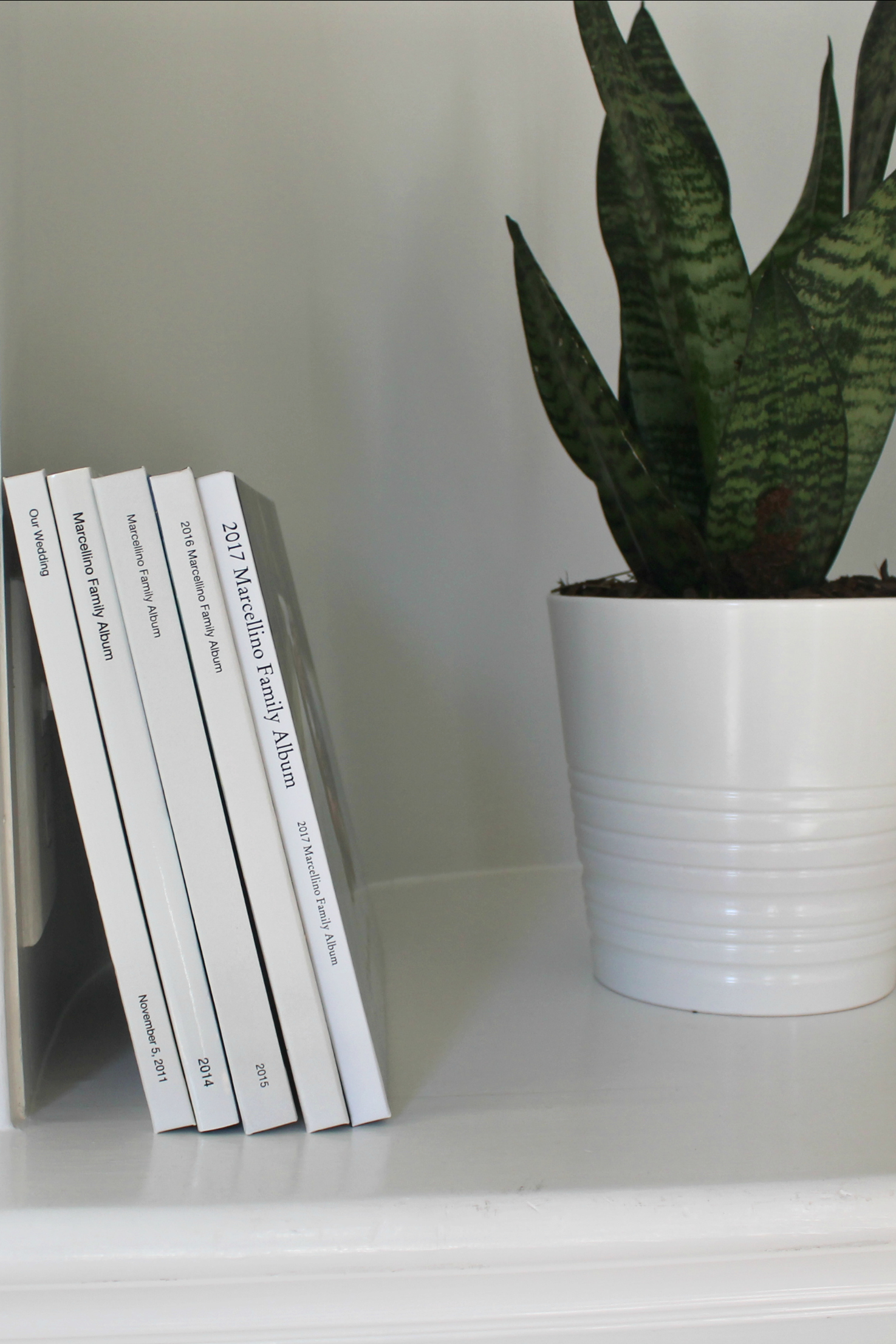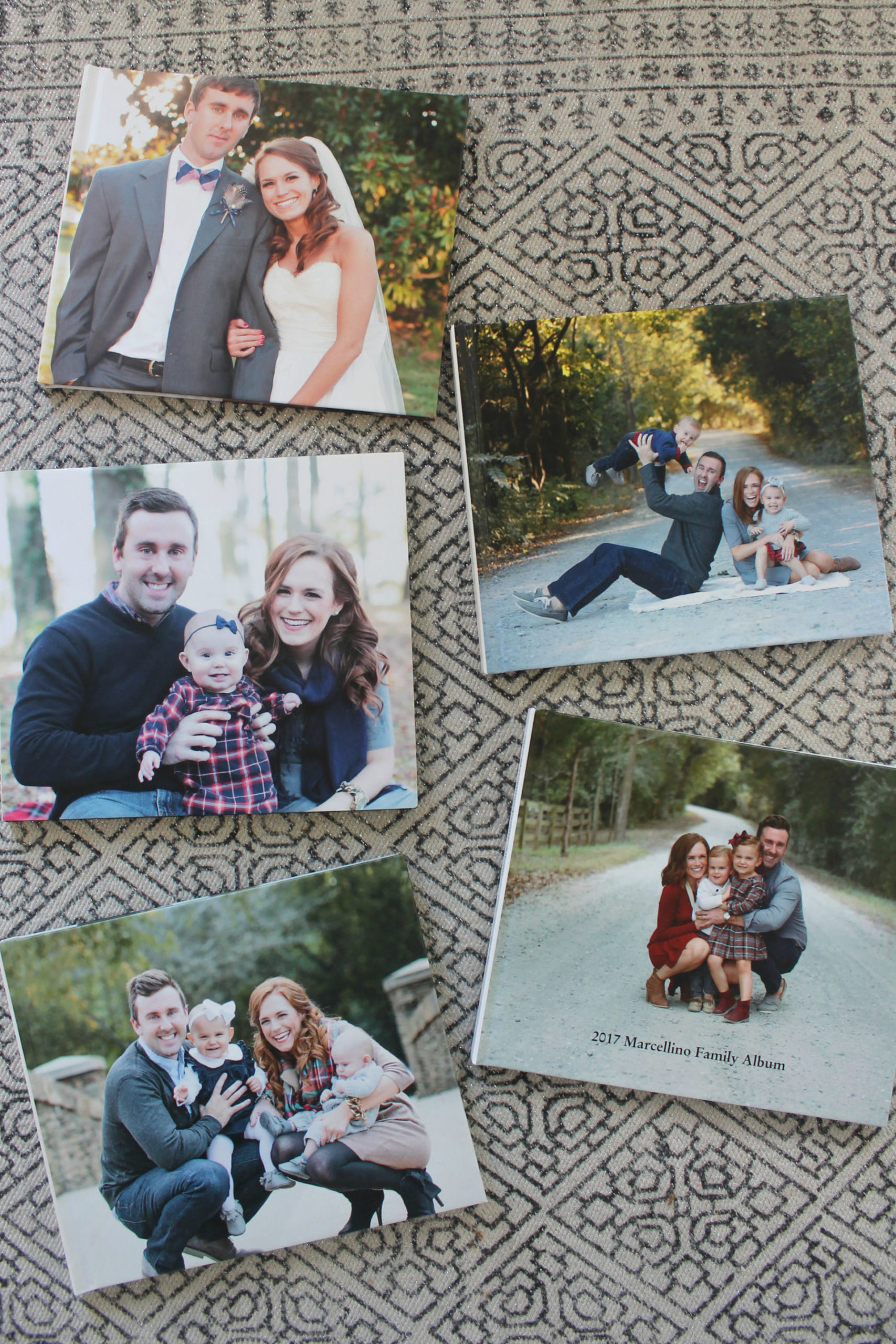 Photo Organization & Storage
If you're committed to creating a book each year, my biggest piece of advice is to keep your photos organized throughout the year to make this process easier. Admittedly, I'm a crazy organized person (a trait I get from my dad) and blogging really does require a lot of organization so you can easily find photos.
I've been using Dropbox to stay organized since my maternity leave project in 2015. There is a free version you can use, but my storage has gotten so large that I think I pay $9.99 a month, which is worth every single penny. I actually use Dropbox for lots more than just photo storage. Every electronic document I could ever need is filed in my Dropbox cloud which syncs to my app so I can easily find a spreadsheet, receipt, photo, file and more anytime from my phone or any computer. I also use Dropbox shareable links to quickly share forms, folders of photos and more with others. This also comes in handy when I'm working with a brand or company and they want copies of my photos.
Each year I create a family folder for the entire year (ex: 2020 Marcellino Family) and then inside that folder I create a folder for each month (ex: January 2020). This is where I upload most of my iPhone camera photos & videos every few days (and then delete immediately from camera roll). However, if there's an event that month with a lot of photos, I'll create an additional folder within the month just to keep those photos organized together (ex: Family Camping Trip). I originally created this system for blogging, but it is hugely helpful at the end of the year when creating my photo album, which I organize in chronological order.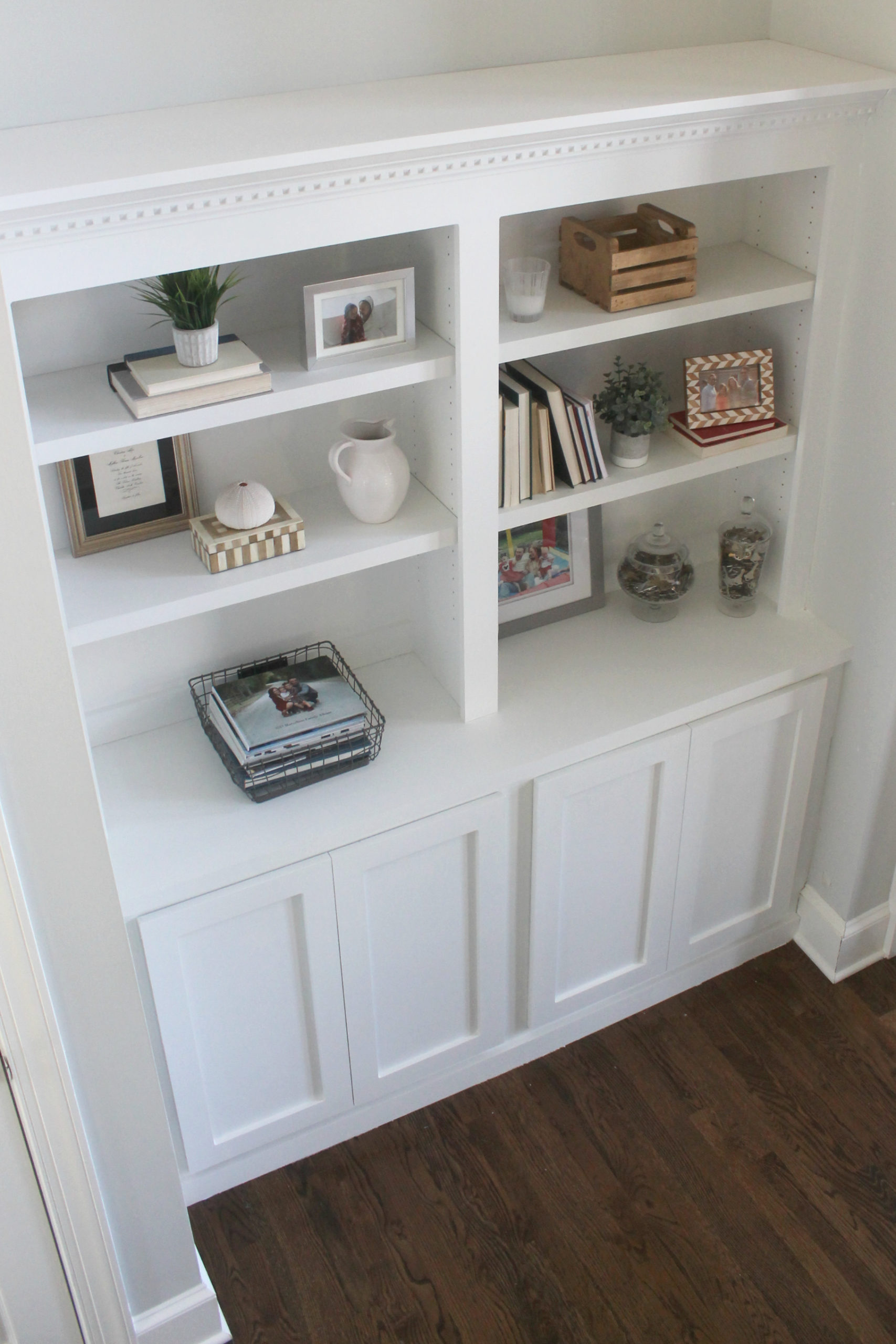 And that's how I organize and create our family albums! If I didn't address your question, drop it in the comments and I'll answer!