One of the projects we've been working on is a little powder room makeover!
So far, this glow-up has been one of the easier and quicker projects to tackle, and it's been so fun watching another room come to life in our home!
As with every other project in our new home, Crystal Nagel designed the space and Atreum Construction is doing the work! Y'all already know how much we love them both so I won't dive into another lengthy rave review, but I will say that we are super happy with everything as usual!
Alright, let's get to it…
The Powder Room BEFORE
Here's what we were working with when we purchased our home. You may remember some of these pictures from Our Wallpaper Home Tour!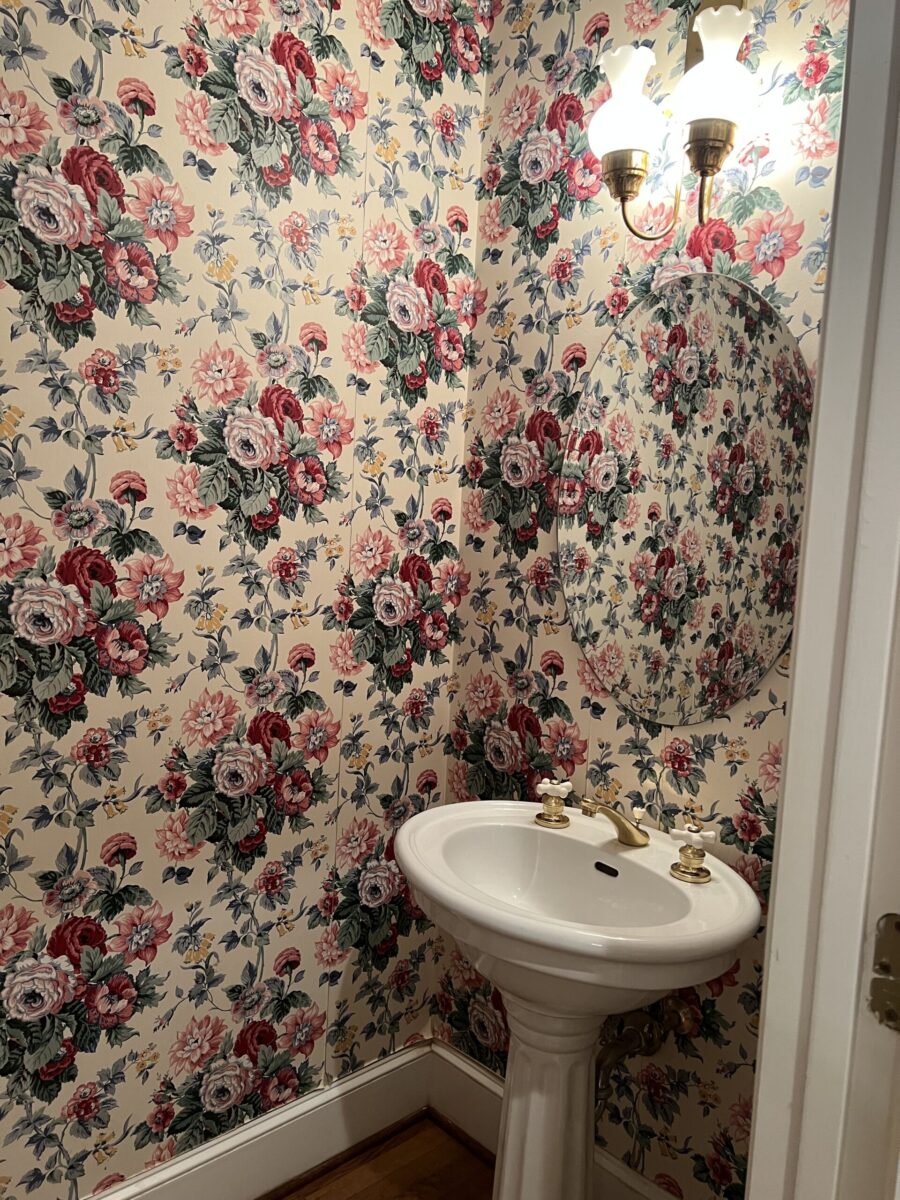 Everything is original from 1988 and the wallpaper was hanging on for dear life just begging to come off the wall. It was time.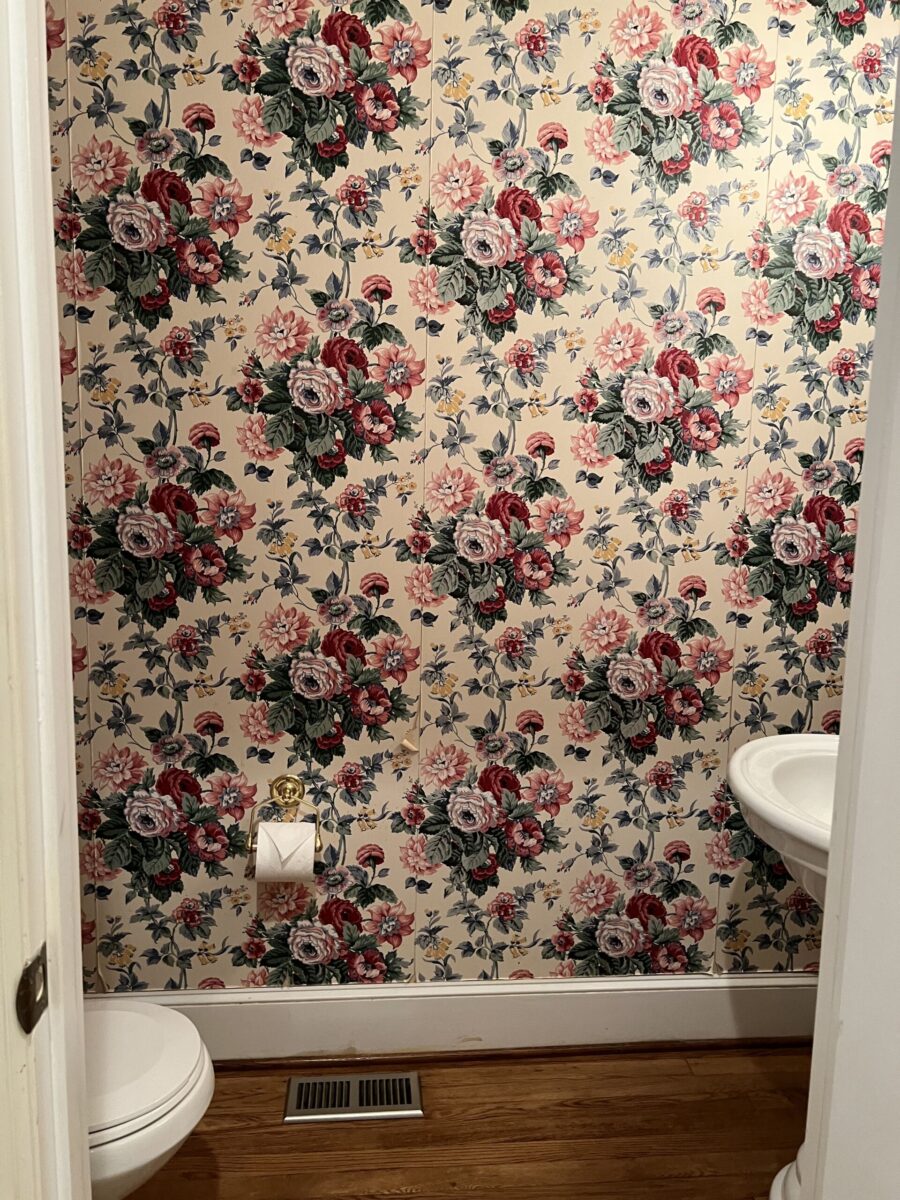 Powder Room Design Board
Here's the inspiration board behind this little project! I love the warm brass metal mixed with woven elements. But I really think the wallpaper will steal the show on this one!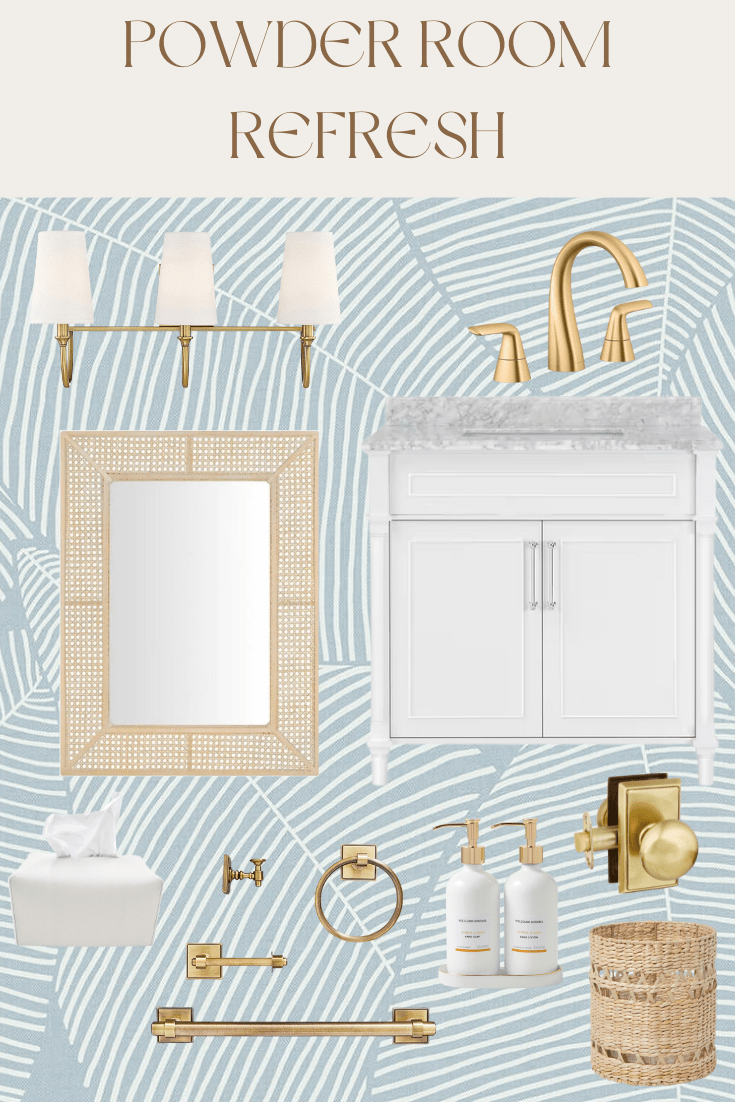 Vanity With White Carrara Marble Top + Kohler Avail Vibrant Faucet / Toilet / Vanity Light / Rectangle Natural Rattan and Cane Mirror / Wallpaper / Hardware Set / Hand Soap Set / Tissue Box / Woven Waste Basket / Door Knob (color: Satin Brass)
SHOP POWDER ROOM ITEMS

Products & Sources
A little more info on the items we selected and why!
Not pictured in the collage, but replacing all the toilets in our home was first priority before we moved in. I spent a silly amount of time researching toilets for our home and ended up going with the KOHLER Highline White Elongated Chair. My designer recommended this one and it had really good reviews. It also wasn't wildly expensive, has a slow close lid, good flush, and looks nice for a toilet.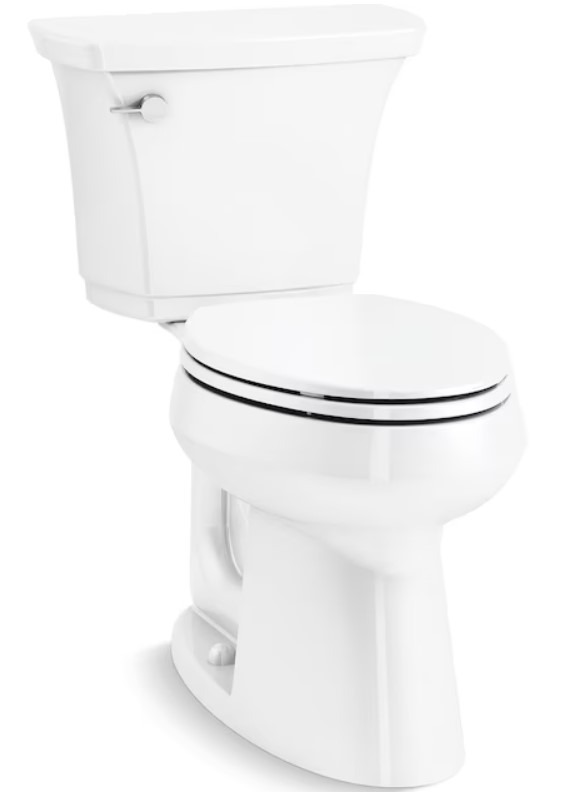 I love this vanity so much that I've purchased it twice for two bathrooms in our new house! The quality is excellent and it is absolutely stunning. And the best part — it's super affordable considering it comes with a marble top, sink, and cabinet hardware. It's offered in 5 vanity colors and lots of sizes too.
We purchased the Kohler Avail Vibrant Faucet (in brushed brass) to go with it and will be replacing the cabinet hardware with our favorite Ulster Pull.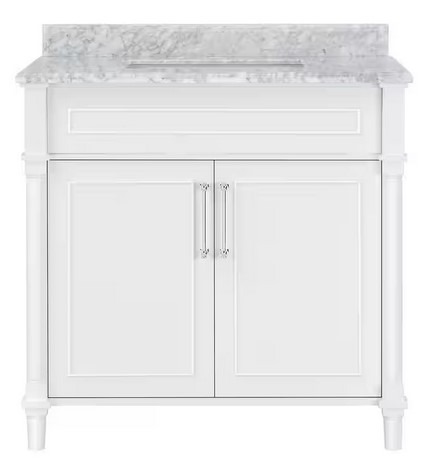 This classic vanity light is really pretty and I love the dramatically curved arms! You can find it at Walmart too. It's available in 3 colors and we purchased it in warm brass.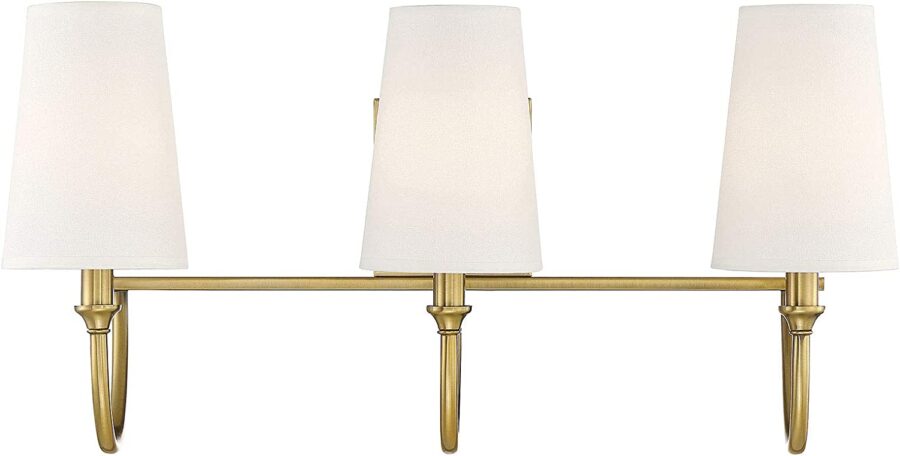 I bet you didn't expect that link to take you to Home Depot! When Crystal sent me this I couldn't purchase it fast enough. It arrived quickly and I love it so much. It really brings the bathroom together.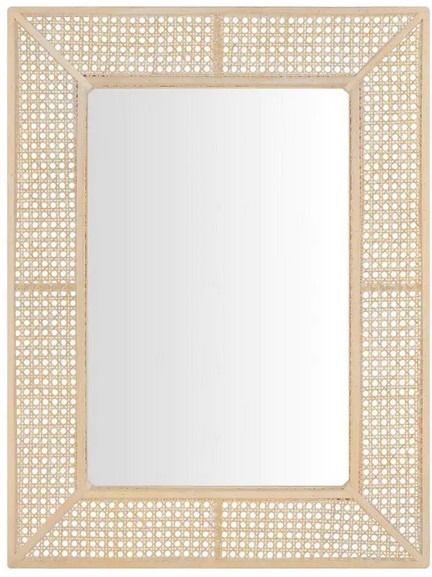 We had the hardest time choosing between 3 wallpaper prints and ended up picking this one! I cannot wait to see it installed…hopefully soon!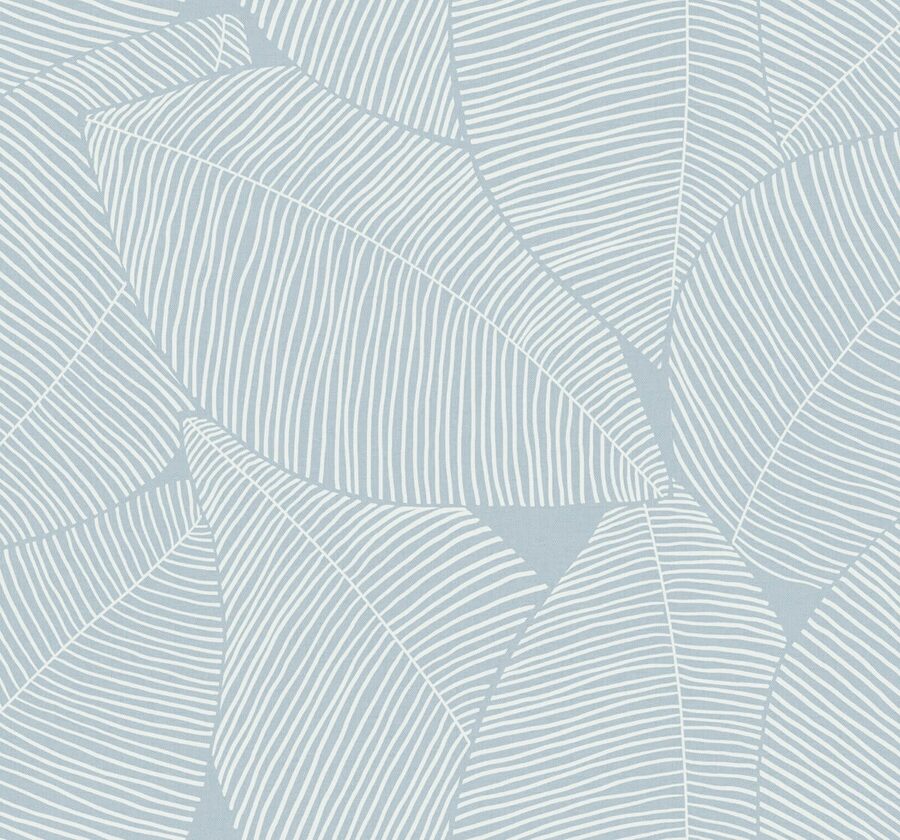 Powder Room Makeover Project Progress
We are still working on this space but here's a sneak peek at some of the progress so far! It's amazing how much of a difference just removing the wallpaper has made!
We still need to have new wallpaper installed (our wallpaper installer is booked out for months), add some small accessories, and install the hardware, but I am loving the progress!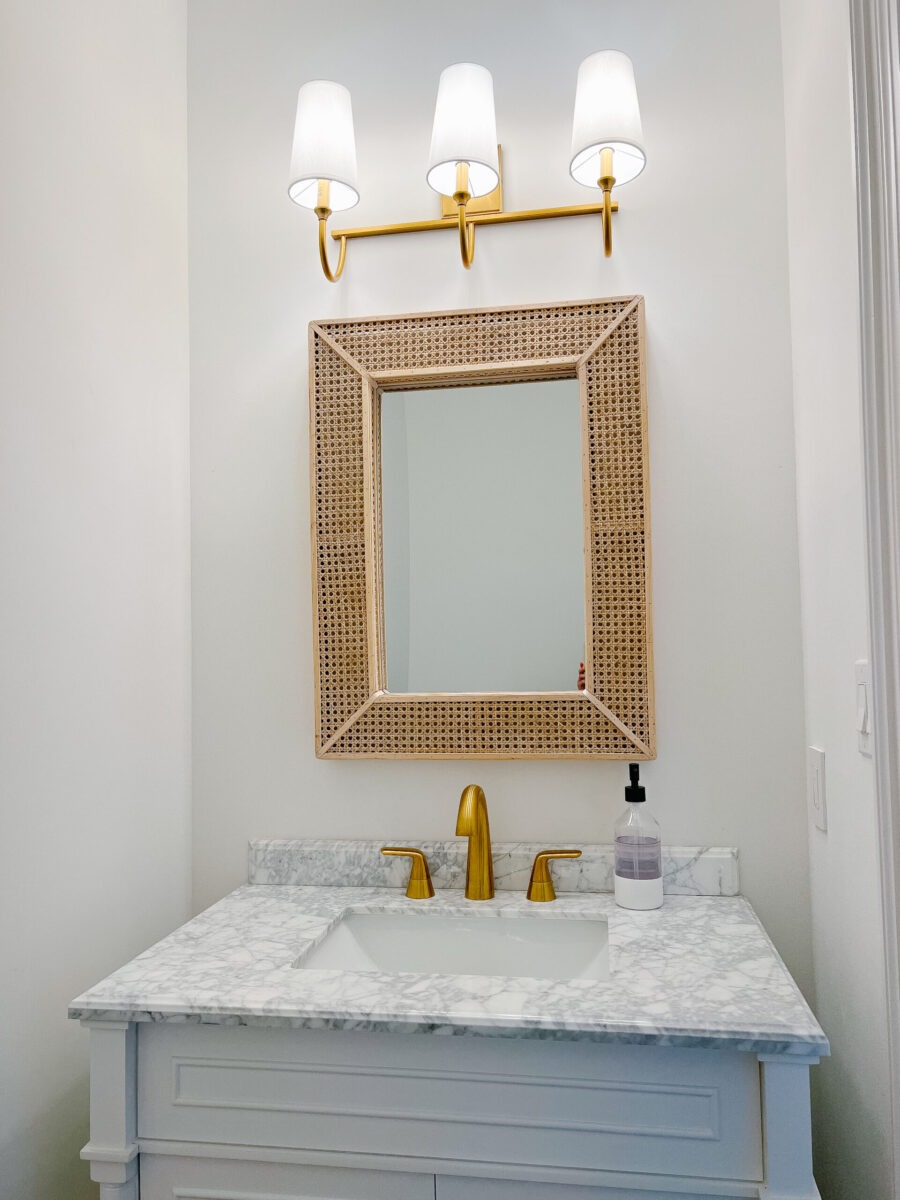 I can't wait to share this room with y'all when it's finished!
Similar Posts You May Like