Happiest Friday, friends!
We've had a great and very busy week around here.
We celebrated Thomas's birthday on Monday, Matt was in court and traveling several days this week and I spent lots of time re-organizing our summer a bit, as well as prepping and sharing the Prime Day sale!
It was honestly so much fun to be able to cover the two-day sale this year and I hope you scooped up some great items.
Thank you all for shopping with me, sending me such nice messages on Instagram and sharing my account with others! That truly means the world!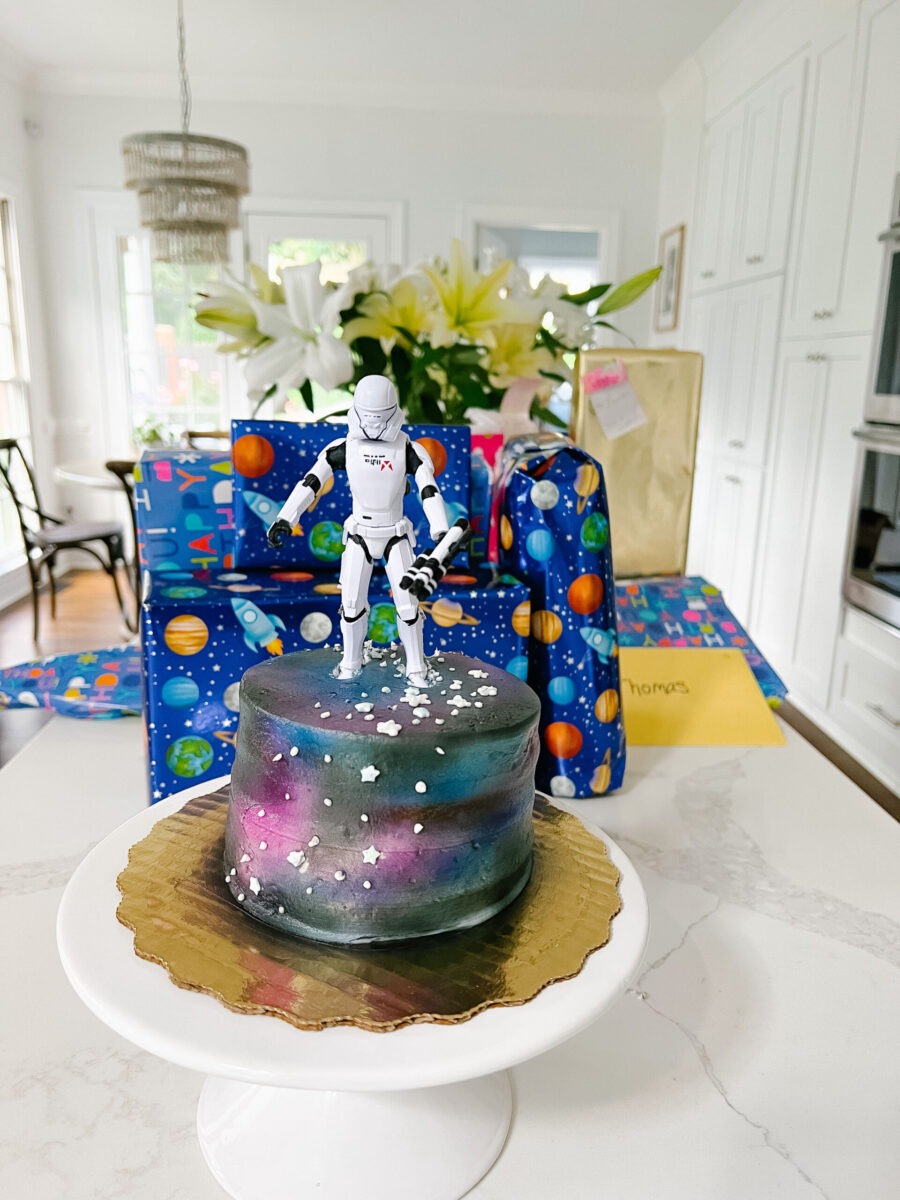 1. School Spirit Rock
I'm a little backed up on IG messages but wanted to answer a question I've seen asked a lot in my DM's this week — the school spirit rock!
We didn't have these in Florida, but in Charlotte most schools have a spirit rock — public, private, elementary, middle, high school…it's kind of a thing! I can't speak to how other school spirit rocks work, but ours is run through our PTA.
At the beginning of the year, a sign-up genius is created and is first come, first served. If your date is available, you can secure it for $10! (Yes, it can be difficult to get your date if you don't move fast. Caroline's birthday was unavailable and we ended up booking it for the weekend of her party which worked out great). And then you have it for 24 hours.
You can either paint the rock yourself or there's a super talented (and affordable) spirit rock artist you can hire to paint it for you!
Our rock is front and center of our school carpool line so all the kids get a HUGE kick out of seeing their name on the rock for their birthday.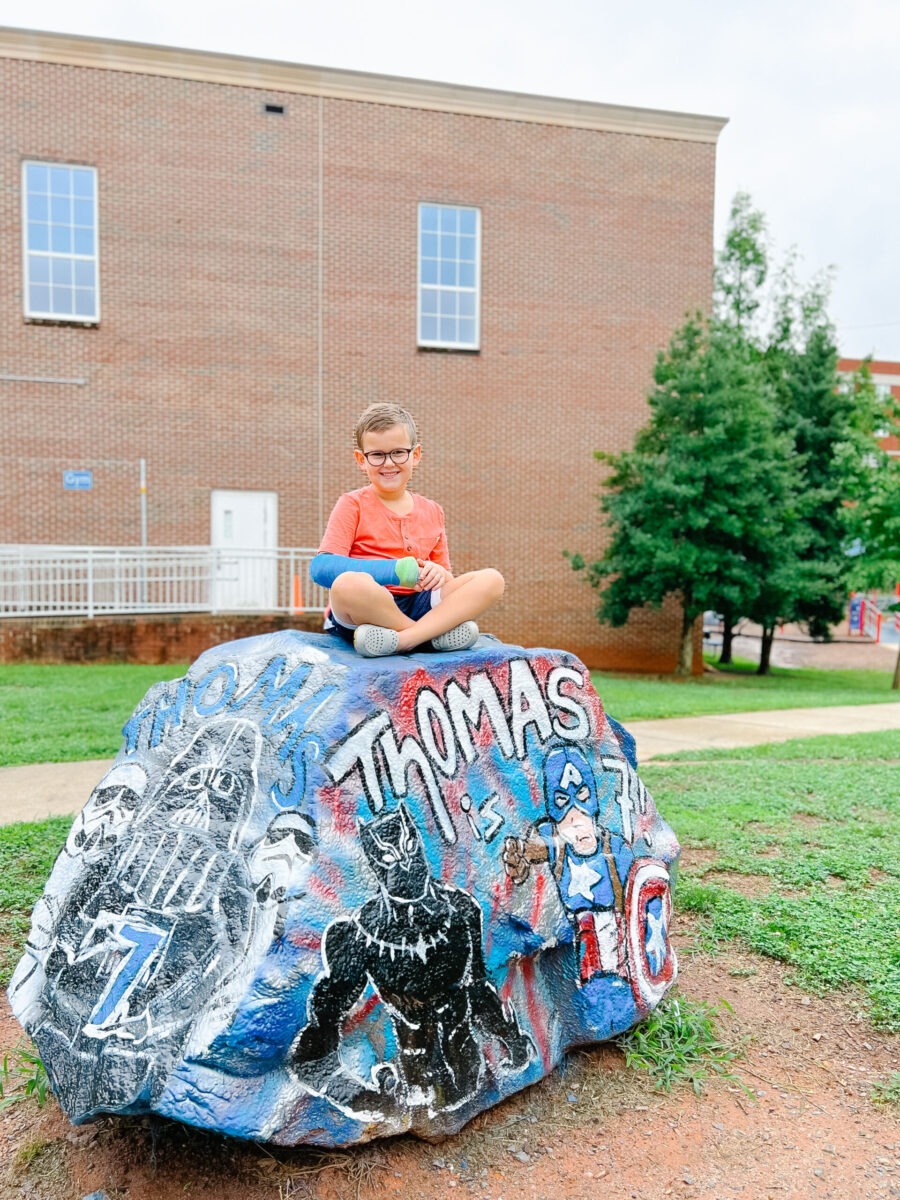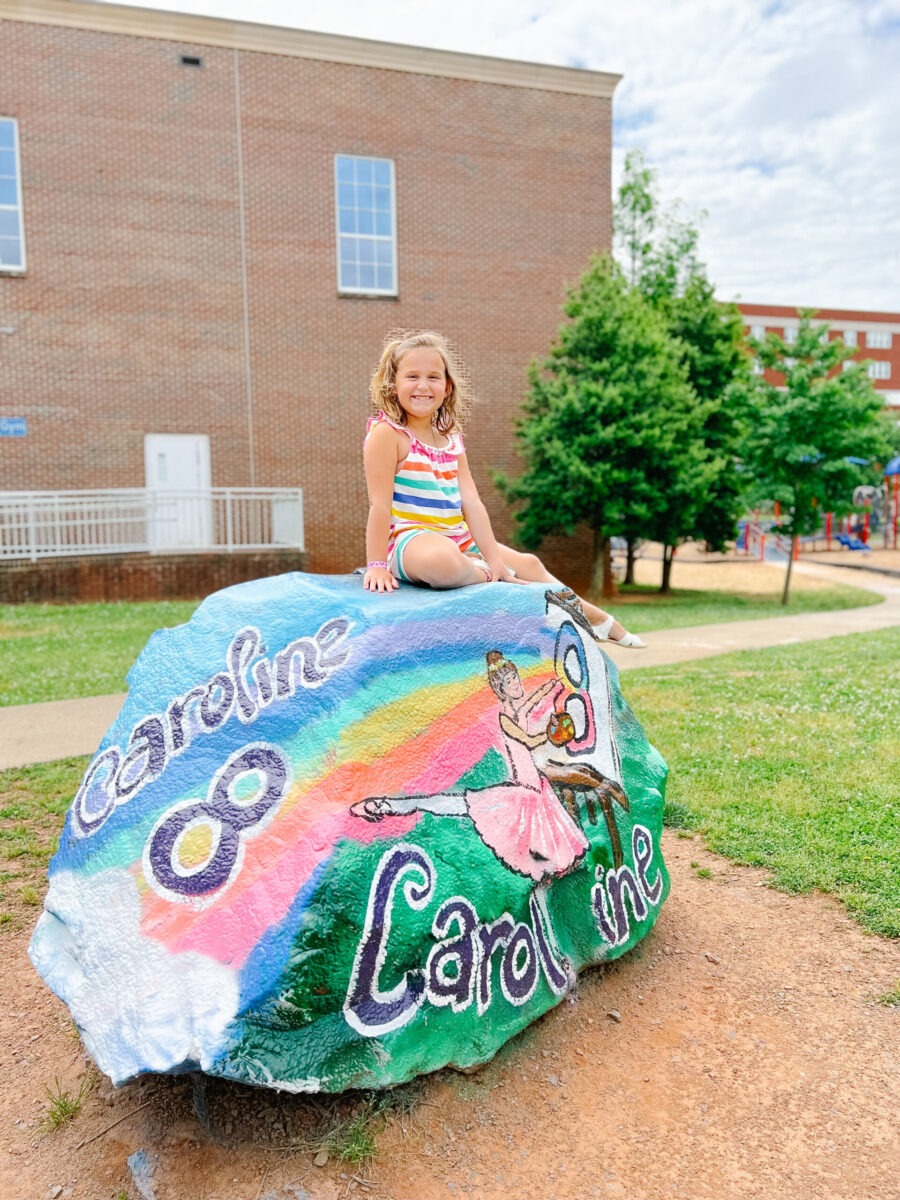 2. Burn Bootcamp
So I joined a new gym this week — Burn Bootcamp! Y'all know I've been a loyal 9Round member for almost 5 years and a few weeks ago my location closed! I was super bummed as I loved that 30-minute workout so much.
I wasn't really sure what sort of gym membership to try next so I polled y'all for gym recommendations and at-home workout programs and got SO many helpful responses. I decided to give the Burn 7-day trial a go and immediately loved it, although I could barely walk for several days after my first workout. All of the women there are SO dang strong and while I thought I was in pretty good shape, IT IS SO HARD and I feel like I might die by the end of every 45-minute class.
But what I really love about the workout is that a different muscle group is targeted every day, so you can go every day and work on something new no matter how sore you are from the day before. And a few workouts are full-body each week too.
The trainers are excellent too and have been super helpful in teaching me all the new exercises and correcting my form when I'm not doing something right. Oh, and since the membership is "universal," I'm able to visit other locations (last weekend I worked out with my friend McKinsey who is a member at another location and it was so fun).
As part of the membership, you can sign up for 1:1 "focus meetings" with a trainer for a body assessment and create goals. My first week I had my body composition analysis done which was really eye-opening and helpful in setting fitness and nutrition goals.
The other two things that sold me — class times. I need flexibility with class time and love that there's a class almost every hour so if I can't make it to 8:30, I can hit up the 9:30 after the kids are in school or camp or go during lunch. AND childcare is free (hugely helpful during summer)!
So I'm committed — for a year at least! This is definitely not sponsored in any way, just a genuine review I wanted to share in case any of my readers are looking to change up their fitness routine and are curious about Burn!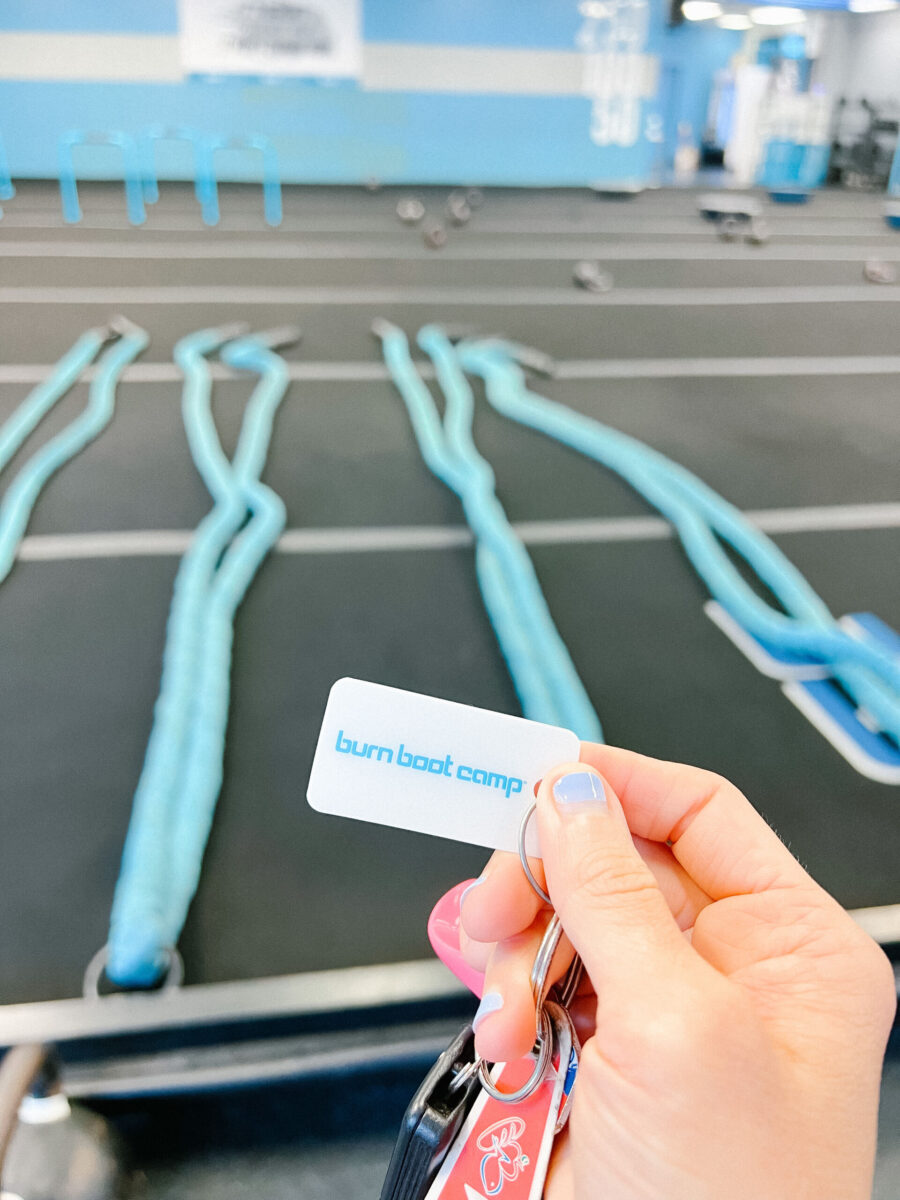 Rating 5/5: So many of y'all recommended this book after I raved about The Martian and woah, this book did not disappoint! I saved it for our drive down to Florida a few weeks ago so Matt and I could listen together and he also gave it 5/5 stars. The book was just as good as The Martian and we will absolutely be going to see it in theaters when the movie comes out!
Book Summary: Ryland Grace is the sole survivor on a desperate, last-chance mission—and if he fails, humanity and the Earth itself will perish.
Except that right now, he doesn't know that. He can't even remember his own name, let alone the nature of his assignment or how to complete it.
All he knows is that he's been asleep for a very, very long time. And he's just been awakened to find himself millions of miles from home, with nothing but two corpses for company.
His crewmates dead, his memories fuzzily returning, he realizes that an impossible task now confronts him. Alone on this tiny ship that's been cobbled together by every government and space agency on the planet and hurled into the depths of space, it's up to him to conquer an extinction-level threat to our species.
And thanks to an unexpected ally, he just might have a chance.
Part scientific mystery, part dazzling interstellar journey, Project Hail Mary is a tale of discovery, speculation, and survival to rival The Martian—while taking us to places it never dreamed of going.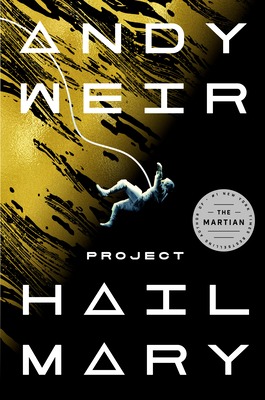 4. Unruly Tulips
These unruly tulips are making me so happy right now! I arranged them for Matt's birthday party last weekend and they are just so pretty and still going strong.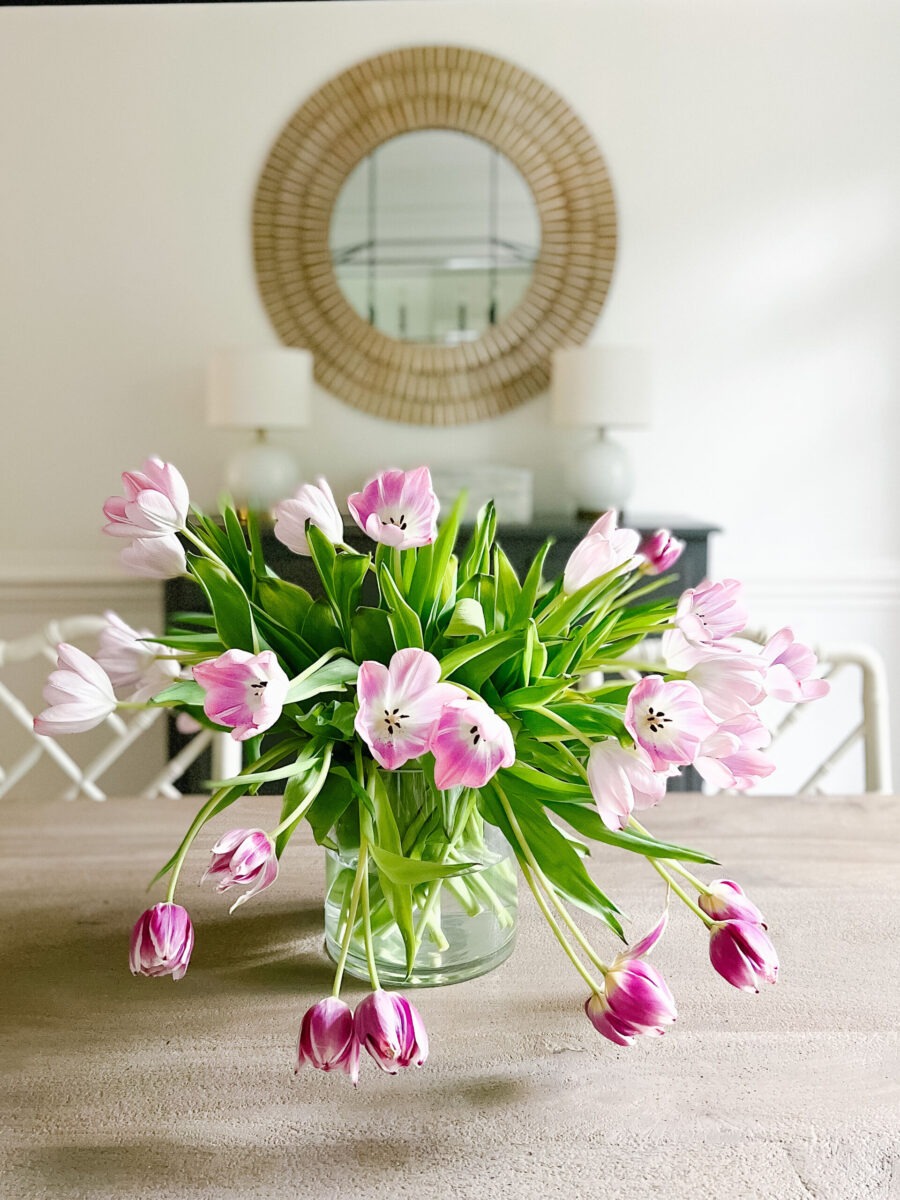 5. Thomas Update
It was an exciting week for Thomas! On his birthday this past Monday he got his new WATERPROOF cast!!!!
I mentioned last week that we decided to seek a second opinion on his wrist fracture and got him an appointment at OrthoCarolina. We had a really terrific experience and were grateful his x-rays showed his fracture healing really nicely — so he was eligible for a waterproof cast (which was not offered at the first practice we visited)! I was close to tears when they approved the waterproof cast and am just SO happy for Thomas.
He went with bright green and is so happy to have a little mobility back now that he can use his elbow again. And of course, we all signed it immediately — Caroline first!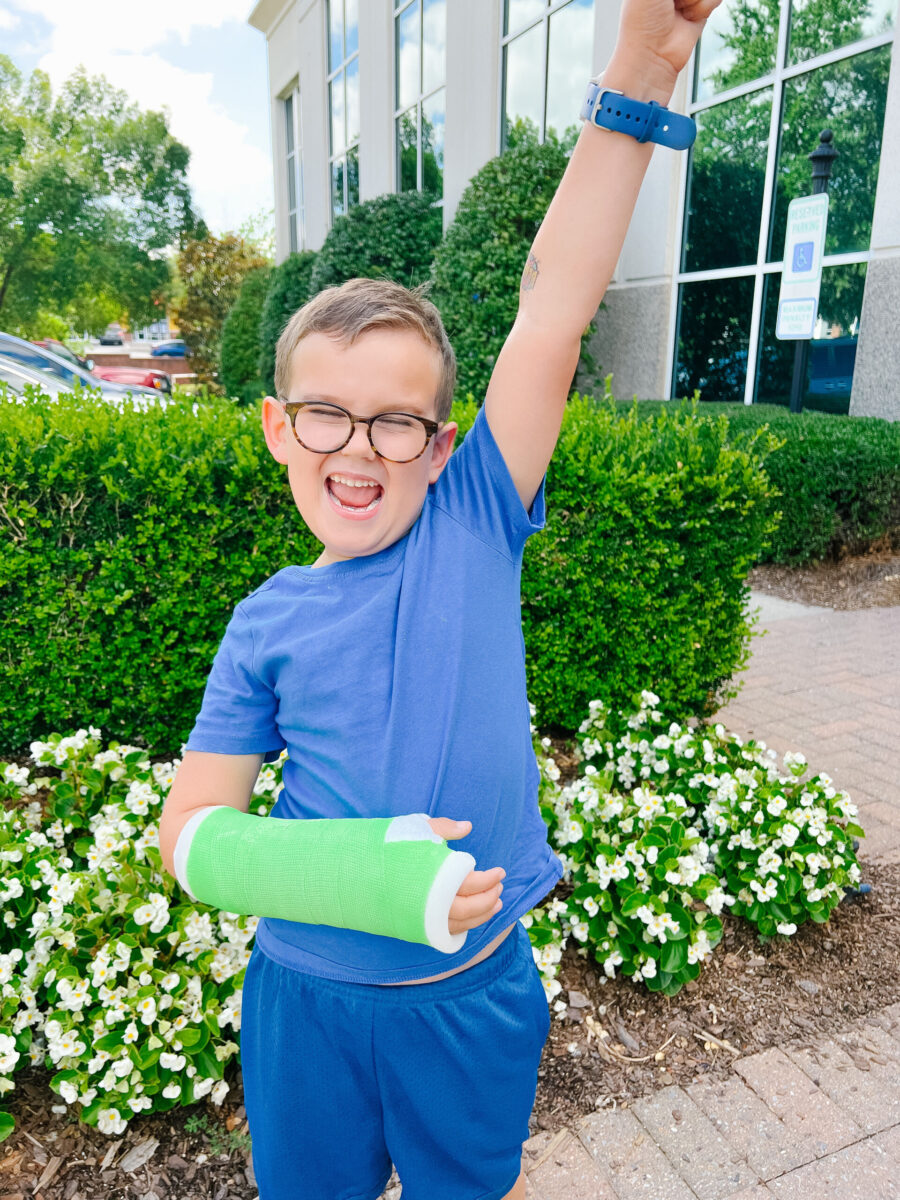 Hope you all have a wonderful weekend!
In Case You Missed It