In preparation for the snow last week I decided to pick up enough ingredients to make several soups. And although all of the soups were delish, the lasagna soup beat them all by far. I can't believe I waited this long to try out this recipe. Matt and I loved it, even though he refuses to call it "lasagna soup" since it technically doesn't call for lasagna noodles. Anyway, I have to share this one with y'all. It would just be selfish of me not to!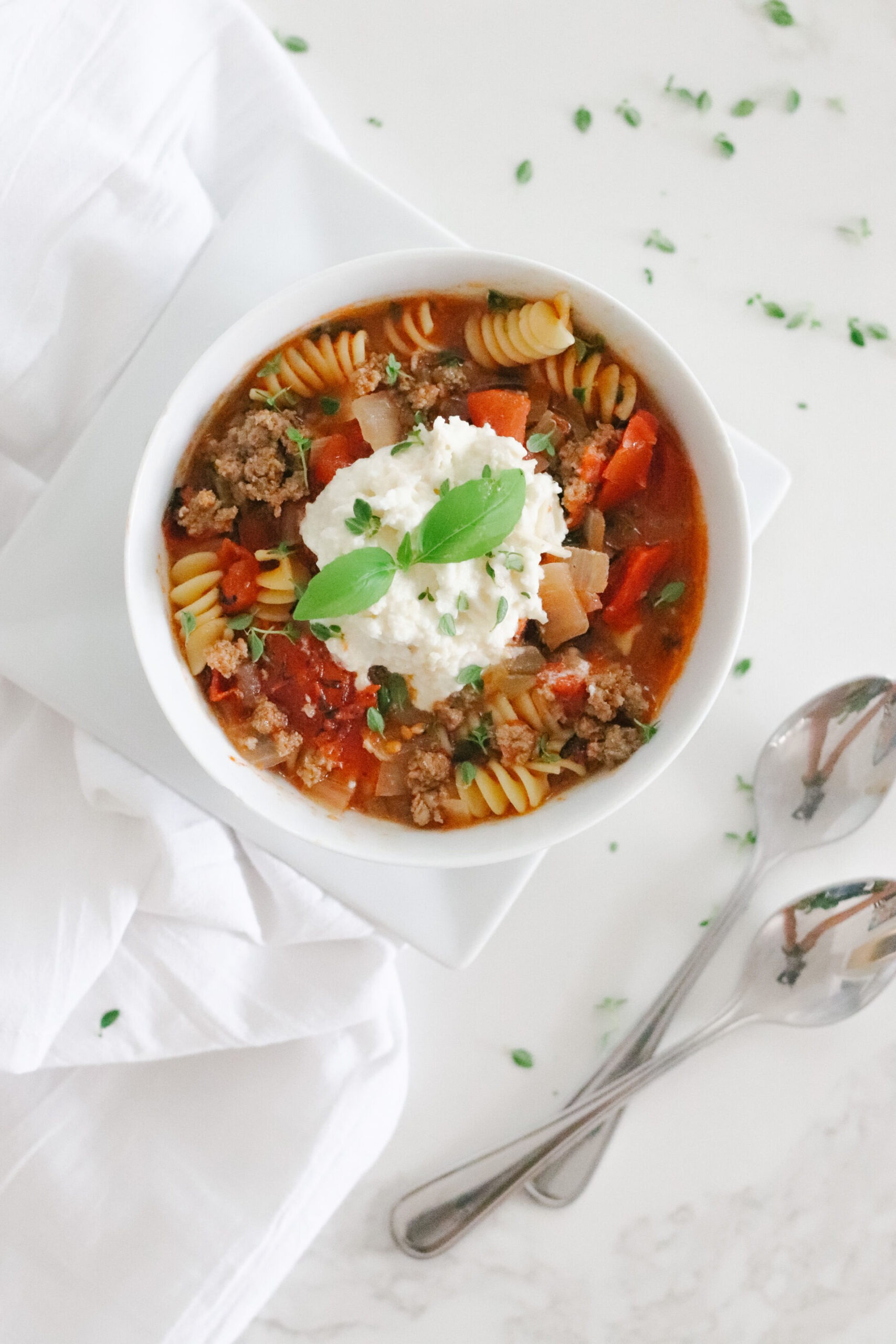 I think I now prefer my lasagna in soup form. It's that good.
photos updated 9/27/20 and recipe tweaked by swapping the sprinkled mozzarella with the ricotta mixture for the topping.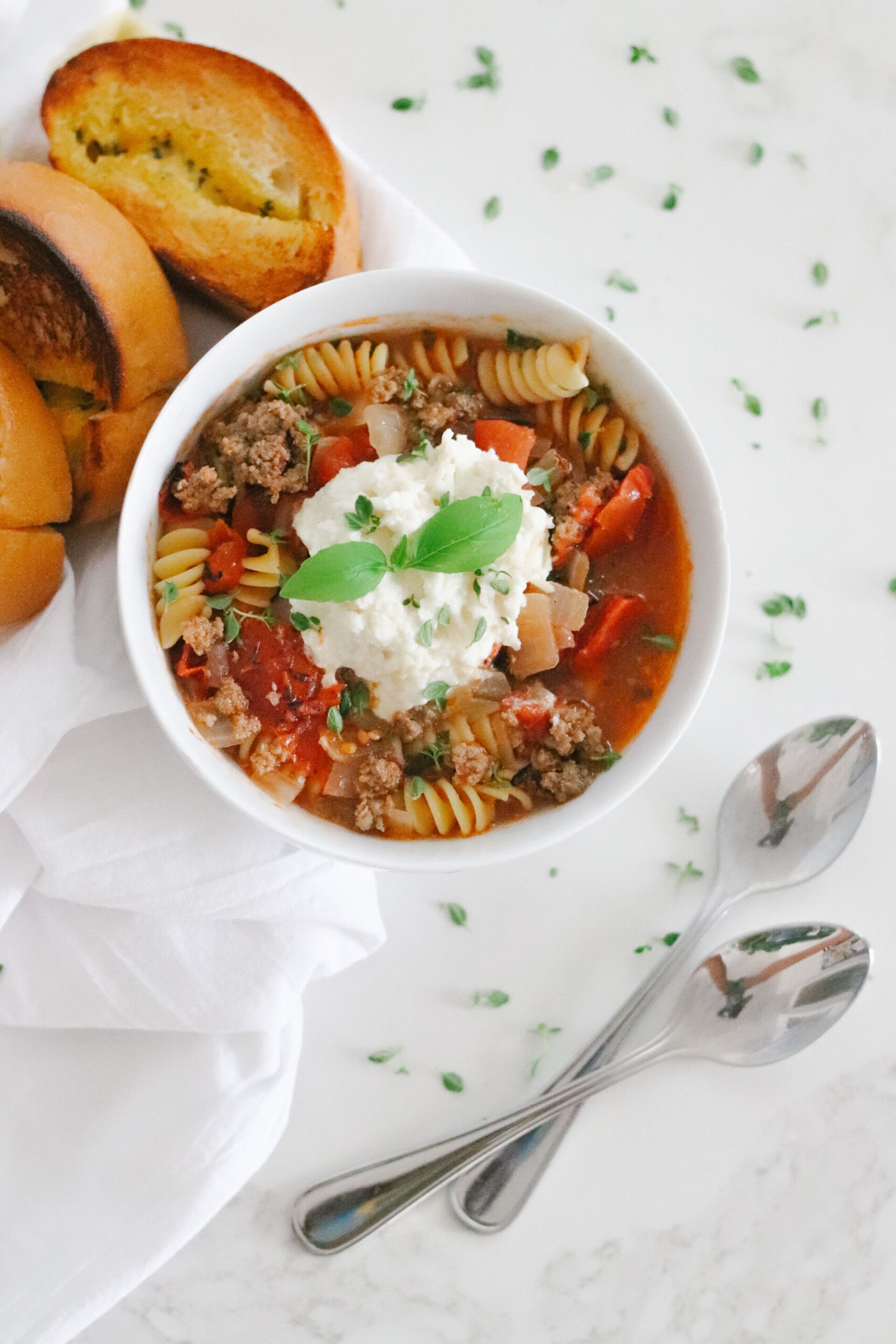 Lasagna Soup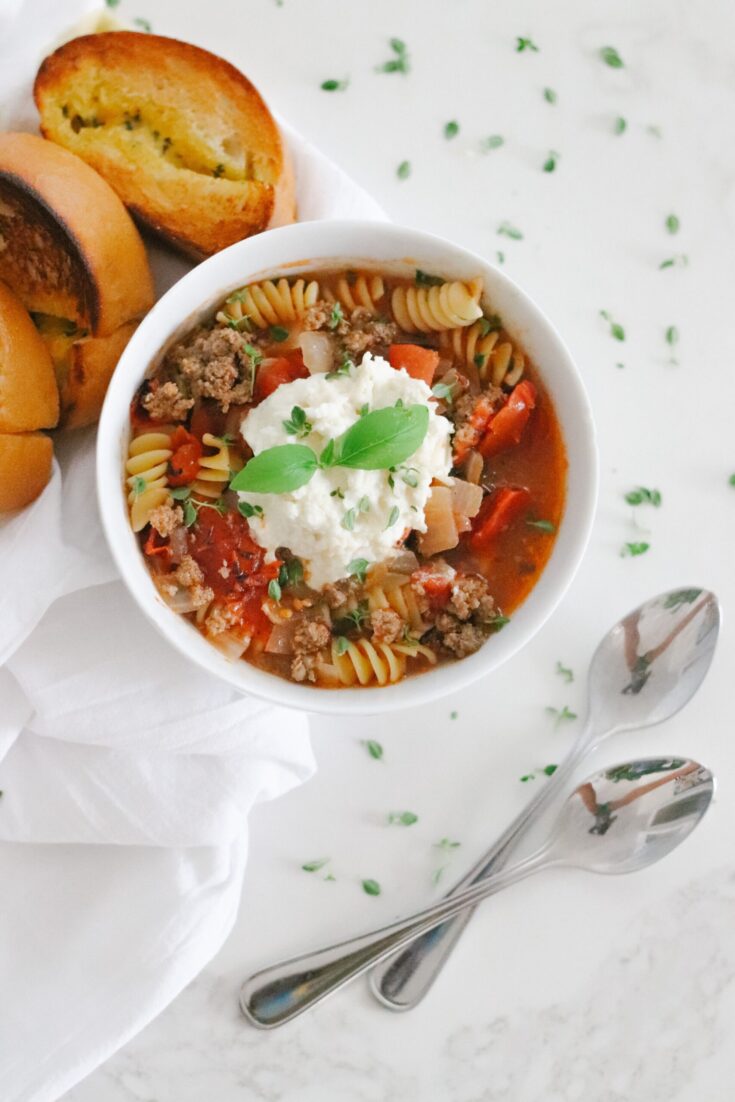 The dish that made me start preferring my lasagna in soup form!
Ingredients
8 ounces pasta (I like elbows or rotini noodles)
1 tablespoon olive oil   
1 pound ground beef or Italian sausage
3 cloves garlic, minced   
1 sweet onion, diced   
2 teaspoons fresh oregano, chopped
1/2 teaspoon crushed red pepper flakes   
2 tablespoons tomato paste   
4 cups chicken stock   
1 (28-ounce) can fire roasted diced tomatoes   
2 bay leaves   
Kosher salt and freshly ground black pepper, to taste   
1/4 cup fresh basil leaves, chopped
For the Ricotta Mixture
8 ounces ricotta   
1/2 cup grated Parmesan   
Kosher salt and freshly ground black pepper, to taste
Instructions
In a small bowl, combine ricotta, Parmesan, salt and pepper, to taste; set aside.

In a large pot of boiling salted water, cook pasta according to package instructions; drain well.

Heat olive oil in a large pot over medium high heat. Add meat to the skillet and cook until browned, about 3-5 minutes, making sure to crumble the meat as it cooks; drain excess fat.

Add garlic, onion, oregano and red pepper flakes. Cook, stirring frequently, until onions have become translucent, about 2-3 minutes.

Stir in tomato paste until well combined, about 1 minute.

Stir in chicken stock, diced tomatoes and bay leaves; season with salt and pepper, to taste.

Bring to a boil; reduce heat and simmer until slightly thickened, about 30 minutes.

Stir in pasta and basil.

Serve immediately with a heaping spoonful of the ricotta mixture. Garnish with parsley or chopped basil.
*consider pinning to save for later[o